Hurricane Harvey update
Read an update about Best Friends' Hurricane Harvey animal rescue, including how we will be moving rescue operations closer to Houston.
By Best Friends Animal Society
A few days ago, Best Friends opened a temporary base for our rescue efforts in the aftermath of Hurricane Harvey. It's called the Rescue and Reunite Center, in conjunction with the Montgomery County Animal Shelter and Best Friends Animal Society, and it's just north of the areas hardest hit by the floods, and we opened it in collaboration with Montgomery County Animal Shelter. It was only possible because so many of you have stepped forward with donations to help this massive rescue effort.
Rescuing pets affected by Hurricane Harvey
Lives are being saved there every minute, families are being reunited, and the work is going on 24 hours a day. The key word for the center is reunite. Our goal for every animal that we or others pull from the floodwaters is that they will be reunited with the families who miss them. And it's already happening.
Below, you'll see a sweet moment when Orego was reunited with his loved ones. When his people evacuated from Brazoria, Texas, to stay in a relative's house, they took their dogs, but their dogs got away from them. It caused a panic! But Orego and Teddy were soon with us at the new Rescue and Reunite Center, and when Orego saw his family again, this happened:
Moving animal rescue operations closer to Houston
And now the second piece of news: In the coming week, we'll be moving to an even bigger center, right in Houston so that we can be even closer to the greatest need. In this endeavor, we're partnering with Austin Pets Alive, Houston Pets Alive, and Houston Pet Set. Together, we will soon open an enormous lifesaving operation, based at NRG Park in Houston.
Best Friends will continue to focus the most heavily on reuniting pets with their families, while Austin Pets Alive and Houston Pets Alive will focus heavily on helping homeless pets in the area. Houston Pet Set will provide space and resources for smaller local organizations who have been instrumental in Hurricane Harvey rescue work.
Caring for pets in need
Over the last week, we have had a team braving the floodwaters, rescuing pets in trouble. We have teams bringing supplies and expertise to our network partners in the area. We are caring for hundreds of pets who have either been rescued or whose families are in a nearby shelter. And, of course, there's the extremely rewarding work of reuniting displaced pets with their families.
As one of our team members, Marc Peralta, put it: "Seeing this firsthand is equally devastating and uplifting. There's so much to do for these neighborhoods to get back to normal, but so many people are banding together to put their lives back in order."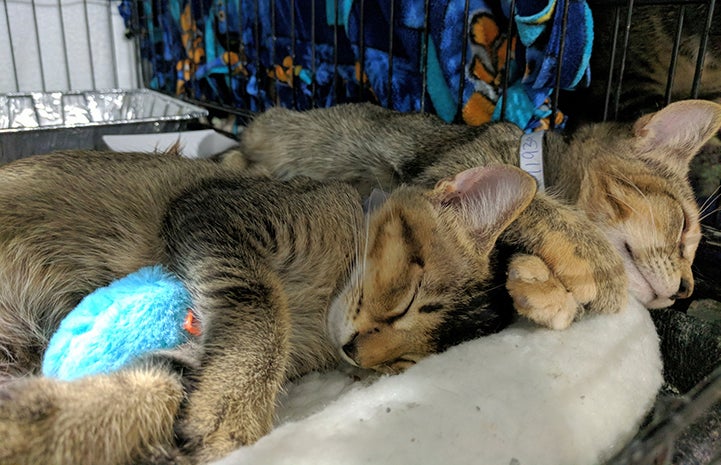 Support helps reunite pets with families
Thank you to all of you who are sending your support to our teams as they work around the clock to bring hope to pets and their families in the wake of this disaster. The animals continue to come in, and some of the work continues to be dangerous and harrowing. Many of the animals will need to be in our care for a while, as we search for their families, or wait for families to be in a position to reclaim them.
If you haven't yet made a gift, remember that every penny you give here will be spent on Hurricane Harvey and the recovery efforts. It will help reunite pets with families, find homes for animals turned in at shelters, and help Houston area rescue groups and shelters rebuild and recover.
Thank you for being a part of this enormous rescue effort. We'll continue to keep you posted as things develop.
We love reunions! Just watch as Precious and her family are reunited