An innovative approach to dog behavior modification
Image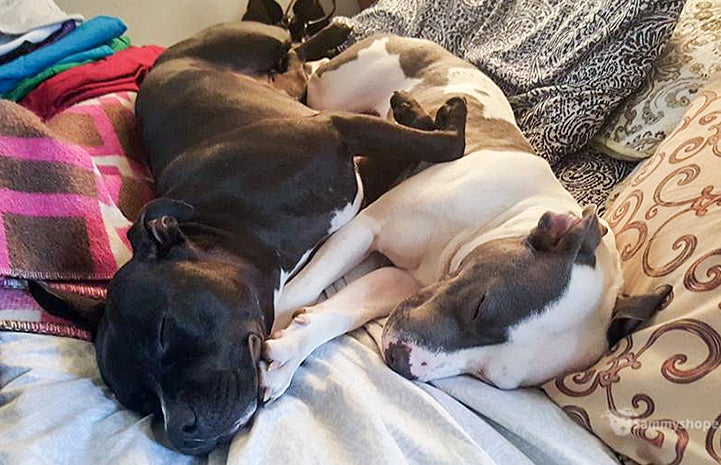 With Best Friends grant funding, Sammy's Hope, a New Jersey animal rescue, implements shelter dog training program to help get dogs ready for adoption.
By Christina Green
Like so many dogs in animal shelters across America — or cats, for that matter — Buttercup wasn't exactly blossoming in her shelter kennel. In fact, shelter staff were worried that the shy, pint-sized pit bull terrier mix was wilting faster than a flower in a drought.
Lucky for her, the shelter had a great relationship with a unique rescue group called Sammy's Hope. This Best Friends No More Homeless Pets Network partner combines the public accessibility of shelters with the homestyle atmosphere of foster homes, plus one more key element — a dedicated army of volunteers to help shelter dogs get comfortable around all kinds of people again. Empowering these volunteers is a cornerstone of the group's success, and Best Friends recently helped fund workshops to further these volunteers' dog handling skills.
The resulting model has previously overlooked dogs blooming all over New Jersey.
A different kind of dog behavior school at Sammy's Hope
Imagine a shelter where all the dogs are either out on walks, out in the yard in a play group, on an excursion with a volunteer or hanging out in a living room or kitchen area. If they're in their kennels, it's because it's nap time.
Potential adopters settle in on the living room couch and talk with someone about what they're looking for in a dog. Rather than walking down rows of dogs barking to get their attention, these potential adopters get to see happy dogs, brought to them in the living room for a meet and greet.
That's pretty much Sammy's Hope.
"We have a smaller capacity of 12 dogs, all pulled from municipal shelters and partner animal welfare organizations," says Darren Young, who co-founded Sammy's Hope with his wife Christine and their close friend Elda Hubbard. "Our average length of stay for dogs is 33 days. Sometimes they stay for as little as a couple of weeks, but the longest stay we've had so far is 11 months."
That's because this isn't any ordinary shelter. This is special place for dogs like Buttercup who seemed traumatized by the shelter experience and need some help getting their mojo back.
Dogs in shelters often not at their best
Some people are afraid of the dentist's office. Some get nervous in crowds. Likewise, some dogs simply get out of sorts in a shelter environment. Likewise, people mistake a scared dog for an unfriendly one. While people may fear that the perfect dog at the shelter could become a troublemaker at home, few people consider that a frightened dog in a shelter might turn into the perfect addition in a home.
Sammy's Hope, however, saw this repeatedly in many years working with different shelters. So the organization decided to focus on dogs without behavior issues, but still needing time and space to decompress so they could make good impressions.
What was everyone's first impression of Buttercup? Well, it looked like she'd be with them for a while. She was jumpy and constantly scurrying around the room, stopping occasionally to look up at them with eyes pleading for a little comfort.
But since she didn't show any signs of aggression with people, food or dogs, they thought she could benefit from the program. Little did they know how quickly she'd flip her happy switch.
Volunteers become dog behavior specialists
No sooner had Buttercup gotten spruced up and experienced a little freedom to sniff and explore her new setting, than she burst out of her shell. She's one of the lucky ones.
Plenty of dogs need even more time and assurances than that. For those dogs, a huge group of dedicated volunteers come into play.
"We have an amazing high retention rate among our volunteers," says Christine. "They typically take a couple of two-hour shifts each week. The dogs get exposed to about 100 different faces every week."
Learning opportunities help strengthen volunteer commitment and loyalty, the Youngs say.
"We used a recent Best Friends grant to bring in a professional dog behavior trainer to lead workshops for our volunteers," says Darren. "We want volunteers to keep growing and adding to what they know so they can be independent. They really don't need a lot of oversight from us."
Becoming a social butterfly
Buttercup was quickly adopted by a family that had previously adopted from Sammy's Hope. She and her canine sister Sophie are the popular kids in their day care, and even share their home with a cat. She's just one example of why every dog deserves the best chance at happiness.
Buttercup went from a sad, cowering mess at the shelter to the belle of the ball in her new home. As dog behavior modification continues to become more progressive, emphasizing respect for each dog as a unique individual, Best Friends hopes to see countless other shelter wallflowers across the country become social butterflies.
How you can help
* Best Friends' No More Homeless Pets Network comprises more than 1,400 animal welfare groups from every single state, all working to save the lives of pets in their own communities. Ranging from animal shelters and rescue groups to spay/neuter and trap-neuter-return (TNR) organizations, they collaborate with Best Friends to save even more lives in every corner of the country. Best Friends provides marketing help, fundraising events, information and webinars, guidance, grants and more, so that, together, we can Save Them All.
Photos courtesy of Sammy's Hope