Innovative prison program gives cats (and inmates) a bright future
Prison program in Idaho at South Boise Women's Correctional Center gives inmates opportunity to help cats and kittens in need.
By Nicole Hamilton
When staff at the South Boise Women's Correctional Center sees Hope Reynoso these days, they often tell her how good it is to see her smile. When she hears them say this, she's reminded of a time not too long ago, when she first arrived at the correctional center and the smiles didn't come easy.
"I was missing my kids and down on myself for making mistakes," recalls Hope, who struggles with bipolar disorder. "I wouldn't let anyone in."
That was before Hope got a few new roommates who had the ability to make her feel safe enough to let her guard down, renew her sense of confidence and restore her hope for the future. These roommates did something others hadn't been able to do — and they just happened to be cats.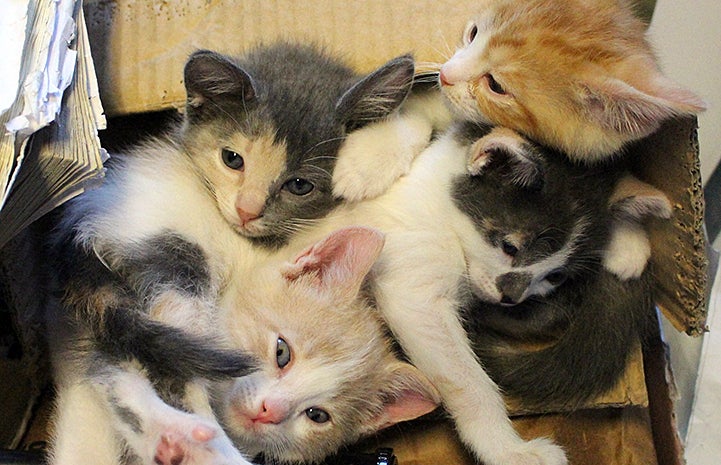 Correctional program makes a difference for cats and people
Hope is one of several inmates at the facility who takes part in the Women Inmate Social Kitty Retreat (WISKR) program, in which inmates become foster mothers to cats and kittens in need from the Idaho Humane Society (IHS).
The program is supported by a grant from Best Friends through the Best Friends No More Homeless Pets (NMHP) Network, which offers help and support to partner shelters so they can save more of the pets entering their doors.
As participants in the WISKR program, inmates care for cats and kittens who need special attention before they can be adopted. This includes cats with upper respiratory infections, those who need to lose or gain weight, senior cats, mother cats and their babies, kittens who need bottle feeding and kittens who are still too little to be spayed or neutered.   
The WISKR program helps IHS, the largest shelter in Idaho, by providing much needed cat fostering services. It also helps rehabilitate and socialize cats and kittens to help them get adopted. And it benefits the inmates quite a bit, too.
"Since the program began, we have seen a significant reduction in visits to the medical unit for anxiety and depression," said Jennifer Ruff, a drug and alcohol rehabilitation specialist who works daily with inmates in the WISKR program. "You have to be doing good to take part in the program, and so it encourages inmates to be their best, and to show us that they take the responsibility very seriously."

Best Friends support takes inmate program from dream to reality
The program began with an idea. Corporal Ami Nunes, who works for the center, wanted for years to offer a program that allowed inmates to foster cats and kittens, but she hadn't been able to secure funding or find a partner shelter. Then, during a visit to a pet supply store, she found herself sharing her idea with a store employee, who encouraged her to approach the Idaho Humane Society.
Allison Maier, communications and outreach manager at IHS immediately saw the project's potential. "We thought it was an amazing partnership and fostering opportunity for both the shelter and the inmates," says Allison. "But we needed to find funding for education for the foster mothers, extra staffing and equipment for the prison, and other items like cat food and medicine."
Because IHS is part of the network, shelter staff at IHS reached out to Best Friends for the funding help they needed.
"The WISKR program is exactly the kind of partner program we love to help," says Melissa Lipani, network specialist. "The Idaho Humane Society came to us with something really unique and outside the box to help save homeless pets."
The program launched in January, after securing a $12,500 grant from Best Friends.
Melissa says, "It's been inspiring to see the dedication of the shelter staff as well as the prison staff and inmates at the correctional facility. They are passionate about making it work."
The WISKR program's goal is to save 250 cats by January 2017 — a goal Melissa believes is well within reach. Since its launch, more than 100 cats have already gone through the program, and many have since been adopted. In addition, the foster moms will be busy as the temperatures heat up during the spring and summer, the shelter's busiest intake seasons for cats and kittens.
Find a Best Friends No More Homeless Pets Network partner near you

Cats help inmates get a second chance
At the correctional facility, hand painted welcome signs hang on the doors where inmate foster mothers live. The cats are all given names, are often wrapped in hand-crocheted blankets, and their time at the correctional facility is documented in scrapbooks created by their foster mothers. The WISKR program reminds the foster moms that even though their lives have taken a difficult turn, they haven't lost their ability to care.  
"It's given me purpose," says inmate Tiffany Sain, who wasn't much of a cat lover before the WISKR program. Now, she can't wait to be greeted by her foster cats when she returns to her room. "Before taking care of the cats, I never knew I could make a difference."
The inmates live four to a room, and Tiffany says that before she took part in the WISKR program she and her roommates didn't talk much. And when they did, there were occasional arguments and sometimes even altercations — but not anymore.
"There's a calmness in the room now," she says. "We're all mothers, and I think caring for the cats helps us miss our kids a little less. And it has helped us learn how to communicate and work with each other."
For example, when a particularly rambunctious kitten with a white mustache named Mustacho kept jumping on the top bunks at all hours of the night, the roommates worked together to get a cage for the room. Then they took turns sleeping next to Mustacho inside his cage so he wouldn't be frightened.
For inmate Tarah Gilliland, the program has given her much needed confidence. She, along with her fellow WISKR foster mothers are constantly learning from the IHS staff about how to care for the cats and kittens and their various health conditions. Her new knowledge has given her so much confidence that she is now considering a career as a vet tech.
"I never would have thought about it before," says Tarah, "because I didn't believe I could do it."
It's not just the inmates fostering cats who benefit from the WISKR program. Ruff, who says its impact can be felt throughout the entire 170-woman unit, has adopted two cats through the program. One of them acts as a service cat for her father, who has Alzheimer's disease.
Building confidence while helping shelters
The WISKR program has already had far reaching effects for both the cats and for the foster mothers. Cpl. Nunes says one very important purpose lies at the core of the program. "It's about helping these women get back to a foundation of believing in themselves. We are helping them become who they want to be when they are released."
Tarah agrees. "I think a lot of people think that inmates are not the very best people. And yes, we have made mistakes, but we are giving back. We are giving these cats a future — and they're giving us a future, too."
Help Save them All. Donate today.
Photos courtesy of the WISKR program