Inspired by the Best Friends lifesaving dashboard, California shelter creates its own
Madera County Animal Services director Cindy Avila takes the shelter's work to the next level with data.
By Michelle Sathe
After 30 years of working at Madera County Animal Services, Cindy Avila was promoted to director in July of 2020. Among her many goals was to make operations more efficient.
She envisioned an online tool for animal control officers that highlighted the areas with the most stray pets being picked up, the most loose dog calls and the most animal complaints. The tool would make it easier for officers to target their outings most effectively; but just how to make that happen wasn't exactly clear.
With the goal of learning as much as possible about progressive animal sheltering, Avila signed up for Best Friends Animal Society's Executive Leadership course, which provides online classes on such critical topics as budgeting, fundraising, lifesaving and data.
Information gets the public involved in helping pets
When Cindy saw Best Friends' online pet lifesaving dashboard, which showcases shelter save rates and lifesaving needs in communities across America, something immediately clicked. She had longed to become more transparent with her own community about some common misperceptions about the shelter. And the Best Friends dashboard was a great example of how to do that.
"We want the community to realize we do care, that we don't kill all the animals that come in through our doors," Cindy says. "Some people are still afraid to bring their pets here and we want to inform them about all the work we do to serve our community's pets, as well as the ways in which we need help."
Showcasing data on a monthly basis, Avila thought, would shine a different light on Madera Animal Services and encourage residents to become a part of its lifesaving solutions.
"Without the public's help, we're not going to get very far," she says. "So I called Juan Witrago, our information technology division manager, and said, 'Can we do this?' He said, 'Sure.' That's how it all got started."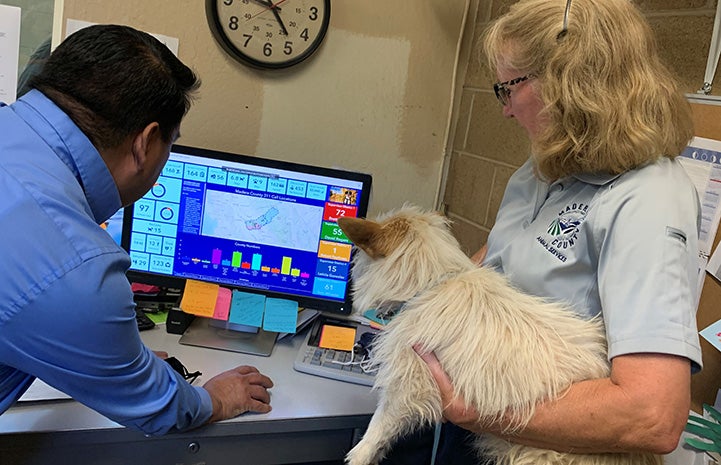 Animal shelter data for all to see
Within a week, Cindy had a draft dashboard with a heatmap of animal control calls and a separate page with stats to review. She and Juan went back and forth until they were satisfied with the result. The dashboard went live the next month, much to Cindy's delight. "It has a lot of valuable information," she says.
The plan is for the dashboard to continue evolving over time and to add even more elements to it, such as a module for lost and found pets.
"I'm very passionate about this shelter, the animals and doing everything right," Cindy says. "That includes technology and transparency. I want people to know we do good things."
Such transparency will hopefully motivate the community to help with the shelter's most pressing needs. Currently, fostering dogs and cats is at the top of the list.
"Fosters help our shelter immensely," says Cindy. "Pets are happier to be in a home (where) they get to sleep and relax. The staff is happier, too, as employees have more time to care for each pet."
You can help pets in your community
Check out the Best Friends pet lifesaving dashboard to see how close your community is to reaching no-kill and what you can do to help.
Check out your local animal shelter's data
Read more
The Florida 500: compassion and teamwork save hundreds of cats
Shelter from the storm: How a community came together to save a dog from a Texas deep freeze
Collaborating for cats in Lowndes County, Georgia
Photos courtesy Madera County Animal Services