The joy of fostering a shy dog during COVID-19
With help from her foster family, a shy dog in Atlanta is learning to let go of fear and shine.
By Nicole Hamilton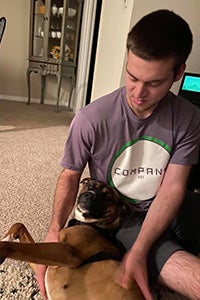 Almond is just the coolest. The young dog loves to cuddle as much as she loves to play. She's a fast learner, a great listener and she doesn't mind helping her foster family with their downward-facing dog yoga poses.
These are awesome traits, for sure ― traits that weren't easy to see when she was at the Best Friends Lifesaving Center in Atlanta. But ever since the Atlanta team moved Almond and hundreds of pets from the center to foster homes due to the coronavirus, they're thriving.
"It's a scary situation for people that's had a silver lining for pets," says Jessica Krueger, manager of lifesaving programs for Best Friends in Atlanta, regarding the community's outpouring of offers to foster pets. One of those offers came from Samantha Plager and her husband, Nick. Neither had fostered a dog before, but it's something they'd been meaning to try. When the news came that Best Friends needed foster volunteers while the center temporarily closed to slow the coronavirus, they knew the time was now.
The perfect time for dog kisses
Almond had come to Best Friends from a large municipal shelter, and the staff was working to help her overcome her shyness and lack of confidence. "When we met her, she came right up and gave us licks on the face," she says.
The more she and Nick learned about Almond, the more they were convinced she'd make the perfect quarantine buddy. And who doesn't need a daily dose of dog kisses right now?
Helping a shy dog shine
Samantha and Nick have been fostering Almond for nearly three weeks and they can't believe she is the same shy dog they met at the center. Her transformation into a fun-loving, laid-back pup began almost as soon as she walked through the front door of their home. And it hasn't stopped.
"I'm amazed at the changes she's made," says Samantha. "She's a little angel."
Since they're both stuck at home now, Samantha and Nick have plenty of extra time to work with Almond on her walking skills. "She has some stranger anxiety and will pull on the leash, especially when she sees other dogs," says Samantha.
With patient guidance, Almond is improving a little each day. At home, she has no trouble summoning up confidence. "She's already learned some tricks," says Samantha. "She's smart, attentive and she wants to please."
One of Samantha and Nick's favorite things to pass the time these days is to sit on either side of the living room and toss a tennis ball back and forth while Almond tries to catch it. And when Nick rolls out his yoga mat, she'll do her best to join in.
How you can help pets and their people during COVID-19 pandemic
'You can't judge a dog by their cover'
Samantha says fostering Almond has taught her some important lessons. "The biggest takeaway has been that you can't judge a dog by their cover," she says. "We knew Almond had some challenges and we could have chosen another dog, but instead we decided to give it a try. We didn't sign up to foster to take it easy."
It's a lesson that's led to some big rewards. "I've been around a lot of dogs and I can honestly say that none have had as sweet a disposition as Almond," says Samantha. She says Almond would be the best dog for someone willing to put in a little effort to help her overcome her anxieties, because at her core is a dog with a heart of gold who has been dealt a difficult hand.
As for fostering a pet in the time of the coronavirus, Samantha says it's been a win-win. "It's been so nice to take a break and spend time with her. It's a great distraction for us, and a great opportunity for Almond."
You can help! Now is the time to foster a pet where you live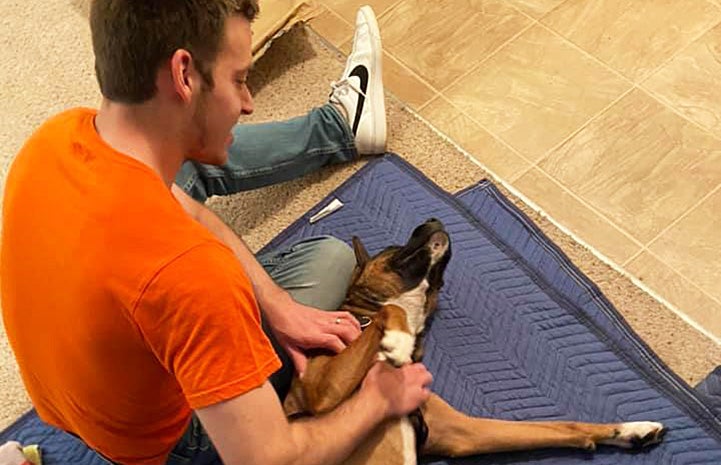 Best Friends in Atlanta works collaboratively with area shelters, animal welfare organizations and individuals to save the lives of pets in shelters in the region. The Best Friends Lifesaving Center is a hub for animals and a base for local programming and coalition-building to help the metro-Atlanta area in its final push to achieve no-kill, while strengthening the movement in the Southeast. Together, we will Save Them All.
Photos by Sam Gimbrone