la super brings it home
By Best Friends Animal Society
Hundreds of pets find homes and everyone smiled

by Francis Battista, Best Friends Animal Society



We've got a winner – LA Super Adoption!

So I'm running around the Best Friends Los Angeles Pet Adoption Festival on Sunday morning with my left arm in a sling due to rotator cuff surgery. Everyone gives me a man-hug greeting cautiously avoiding my slinged arm. Curiously, this was consistently followed by a couple of pat on my painful left arm. Go figure.

Note to self: Don't get old it sucks!



Anyway, I was sufficiently medicated not to mind the slaps on the shoulder but fully enjoy the great turnout of pets for adoption and eager members of the public looking for a new Best Friend.


It was a great day and a lot of fun with celebs turning out to support the effort. Eric Idle, Frances Conroy, Jason Gray-Sanford, Madeleine Stowe and Elaine Hendrix each joined Oprah's personal dog trainer, Tamar Geller on stage to promote LA area shelter dogs for adoption and by all accounts, their efforts paid big dividends for the animals.




In all over 300 animals headed for new homes at the end of the day. Many thanks to all involved, especially our sponsors, Chrissie's Fund, The Petco Foundation and Designing Health. So many great animals...so many great homes.

Re note to self: Sorry, that ship has sailed.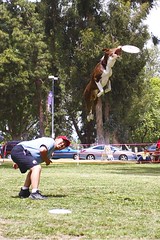 The L.A. Super Adoption has all the right moves!

Check out the slideshow from Clay Myers, click here

images by Clay Myers, Best Friends photographer