Loving a shy dog just the way he is
A once-fearful dog slowly learns to trust, with the help of a very kind and understanding adopter.
By Ashley Maish
When Robin came to Best Friends from Harris County Pets in Houston, Texas, staff members knew this one-year-old, semi-feral dog was a special case. Most likely a stray from birth, Robin did not trust humans and trembled whenever anyone looked at him. They knew they'd have to find just the right person for him — someone who could gain his trust and protect him. They needed to find Robin's Batman.
Upon arrival at Best Friends, Robin headed home with his first foster person, Chris, who has experience taking care of fearful and unsocialized animals. She let Robin stay in her backyard, which became his safe space as he got used to his new home. Eventually, he'd head inside for some couch time and even warmed up to being petted, but progress was going to take time.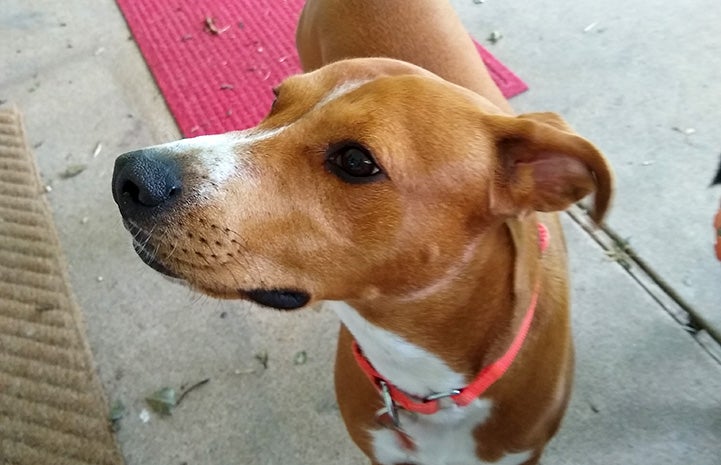 Seeking: An adopter with patience and kindness to give
Rachel had been searching for a new dog and when she contacted Best Friends and expressed interest in Robin, team members hoped they potentially had found a good match for him. Rachel explained that she had experience working with unsocialized animals, including neglected horses (which was promising).
"Rachel said right away that she was OK taking care of a dog she couldn't pet," says Megan Lee from the adoption team. "Even if Robin was going to be that way forever, Rachel knew the importance of giving him a home, where he would be loved just the way he is."
[Loving a shy dog: An adopter's story]
Rachel and Megan met to discuss the shy dog's situation and then headed to Chris' house for a meet-and-greet. Despite being fearful of people, Robin loves other dogs and got along right away with Killian, Rachel's nine-month-old Jack Russell terrier. They sniffed each other, played a little and even lay down next to each other.
What really sealed the deal was when Robin came up behind Rachel to get one of the treats she was holding in her hand. He kept coming back for more and even allowed her to scratch his nose. Ready to give this adoption a shot, she had a two-year plan for getting the dog comfortable with her and her home. She wasn't going to force him to do anything because coming around on his terms was key.
It's not every day that a match like this comes along for a dog like Robin, and the team shed happy tears at Best Friends that day. "Rachel loves Robin for who he is, not who he needs to be," says Megan. "It's so rare to find a match like that. This is truly a dream home for Robin."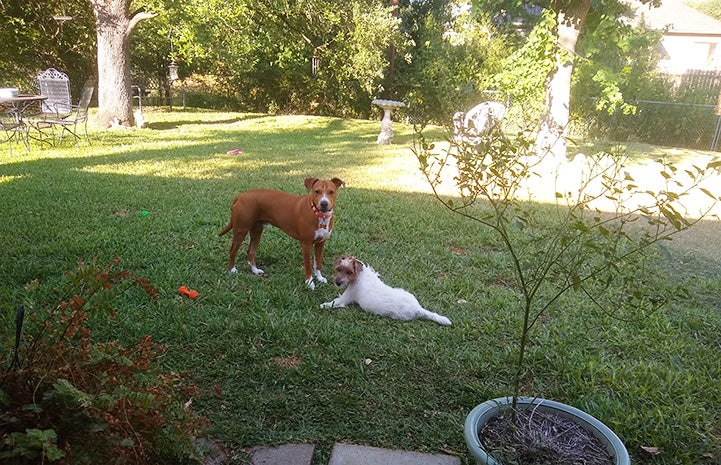 Patience, love and time smooth adjustment to new home
When Robin got to his new home with Rachel, he was introduced to his two other siblings: another Jack Russell terrier and a Labrador retriever — plus Rachel's mom, who lives with her. Though not overly interactive, Robin loves all of them and especially loves playing in the yard with Killian. He also likes to join the others and sit in a circle around Rachel's mom while she eats, just in case any food falls.
Rachel's experience with dogs and concern for their comfort has prompted her to place several dog beds throughout the house, and Robin has decided the dog bed in the middle of the living room is his favorite. Now, it's his safe space. He loves to take his favorite toy of the moment to bed with him at night (rather than let his siblings steal it).
Robin is also starting to show his playful and mischievous side. When Rachel leaves for work, Killian stays in a crate, so Robin enjoys lying nearby and stretching out as far as possible to make sure Killian knows he's free to do whatever he wants. He also loves to steal Rachel's sleep shorts and head outside to jog around with them.
"He takes them out into the yard and trots around with them, but it's like this beautiful prance that he does," says Rachel. "It makes it hard to decide if he should be in trouble for it."
Robin already lets Rachel pet him in certain areas, as long as she takes it slow. First, she sits with him by his dog bed and then gives him plenty of warning that her pets are coming. She's currently working on petting him in more places (like his feet) and also petting him while he walks around the house.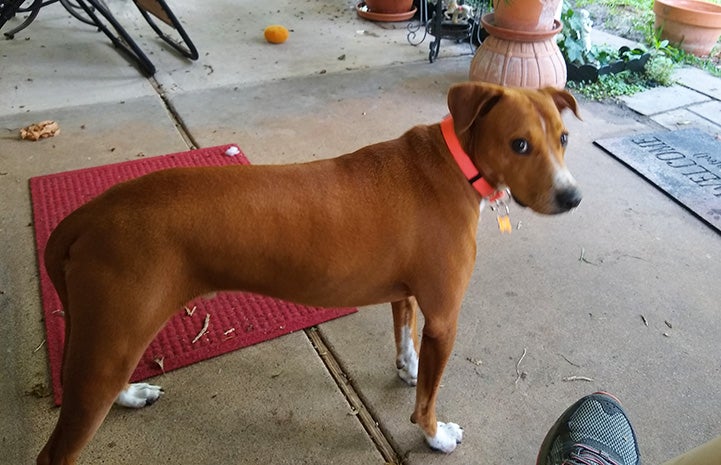 Seeing the potential of who Robin can be
Despite Robin's progress, Rachel knows that they have a long road ahead of them, which is so important for any family taking on a fearful dog. Robin still gets nervous when he feels cornered or if something unexpected happens, and if a situation like that occurs, it might take weeks for him to build trust again.
Robin is fearful while having his leash or collar put on. Luckily, this is where Rachel's experience comes in: She once worked with a horse who was afraid of having a bridle put on.
"My dad and I would try to put the bridle on, but the horse was too afraid," she recalls. "Eventually I figured out that if I took the bridle apart and put it on in pieces, he was OK with it. Sometimes if you just go at something a different way, you can figure out a solution."
[Reactive dog just needed understanding]
So far, Rachel has had some luck getting Robin's collar on, but they do still have work to do. She's optimistic, though, because he is a smart dog. He observes her interactions with the other dogs and watches them get loved on, played with and even put in timeout. She's slowly showing him that no matter what happens, he will be cared for and loved in her home.
"Recently I took the dogs to the backyard and I realized something about Robin," says Rachel. "Seeing his ears go up and his tail wag, watching him chase squirrels and play with the other dogs … When he forgets that people are around, you can see his potential and see the kind of dog that Robin can be."
Ready to foster a pet?
Whether you only have a day or are looking for a long-term houseguest, any time fostering a pet from your local shelter is time well spent.
Read more
A dog's journey from leash reactivity to a lifetime of belly rubs