Man proposes to girlfriend surrounded by hundreds of adoptable pets
Two animal-loving volunteers get engaged at the recent Best Friends Super Adoption in Houston and are now happily planning their wedding.
By Nicole Hamilton
Arianna Tijerina had just finished her volunteer shift at the recent Best Friends Super Adoption in Houston when she noticed her boyfriend, Eddie Macias, who volunteered with her that day, busy writing something on a whiteboard in the break room.
Curious, she asked Eddie what he was doing. He quickly hid what he was writing, telling her that someone had asked him to draw the logos of participating rescue groups on the board. But Arianna knows Eddie well. Something wasn't quite right.
Then Arianna's sister Karla, who had also just finished her volunteer shift, told Arianna she wanted to stay at the adoption event longer to help Spanish speaking adopters. Now Arianna was really confused. Karla knew there was a family birthday party she needed to attend along with Arianna and Eddie. Had she forgotten this?
When Arianna went to find Eddie, so they could leave for the party, she spotted him in a dog kennel in another part of NRG Arena, where the event was held. She began walking over to him, and when she turned around, she saw Karla walking behind her, filming her as she made her way towards him. Something was definitely up.
Then she saw something that brought happy tears to her eyes. In the kennel with Eddie was the whiteboard from the breakroom, and on it, a question from Eddie just for her: "Will you marry me?"
That's when Eddie got down on one knee with a ring, and before he could say the words on the board, he had Arianna's answer. "Of course I will," she said.
More about Best Friends in Houston
Volunteering together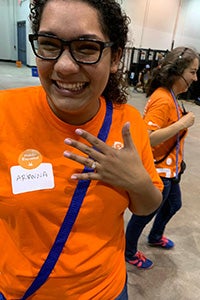 It was a moment Eddie and Arianna will always remember, and one Eddie had been planning for months, ever since she asked him to volunteer with her at the super adoption. He got the idea because they both care deeply about cats and dogs in Houston shelters, and because Best Friends is one of Arianna's favorite organizations.
"I really believe in this cause," says Arianna. "I have a Best Friends calendar at work and every time someone asks about it, I get to tell them about how Best Friends is helping save pets in Houston."
Arianna says people are sometimes surprised to learn how much help is needed at shelters in their community, but after talking to her, they often ask how they can get involved.
Arianna and Eddie have two dogs, and when Arianna learned Best Friends now has staff in Houston helping shelters every day, she decided it was time for both of them to begin volunteering by starting with the super adoption (although it's going to tough for Eddie to top that experience).
An unforgettable day
When Eddie arrived at NRG Arena with Arianna on the big day, he pulled members of the Best Friends team aside to let them know his plan to propose. "Everyone was more than glad to help in the spur of the moment," he says.
As that big moment began to unfold, all eyes were on Arianna and Eddie. By then the entire Best Friends team knew that in addition to lots of dogs and cats who found homes, Arianna and Eddie would also be leaving that day ready to start a new chapter in their lives.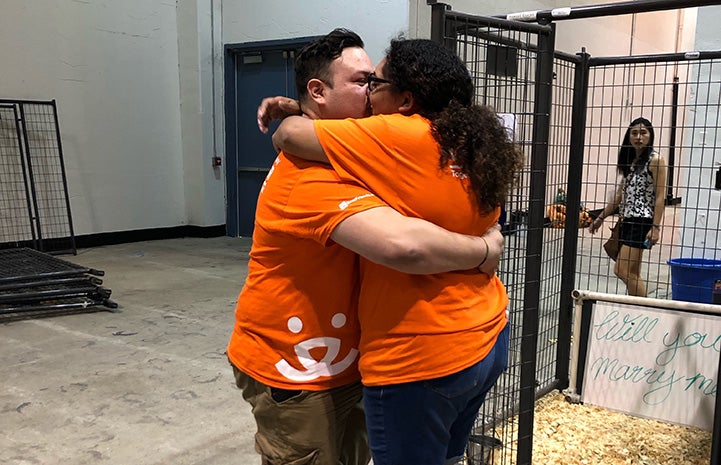 Now the engaged couple are planning their wedding, which will take place on a farm owned by Arianna's mother.
So, was Eddie nervous to propose? Yes and no. "I was more nervous to actually do it than I was for the answer," says Eddie. "I always knew she'd say yes."
Make your love for shelter pets official – volunteer near you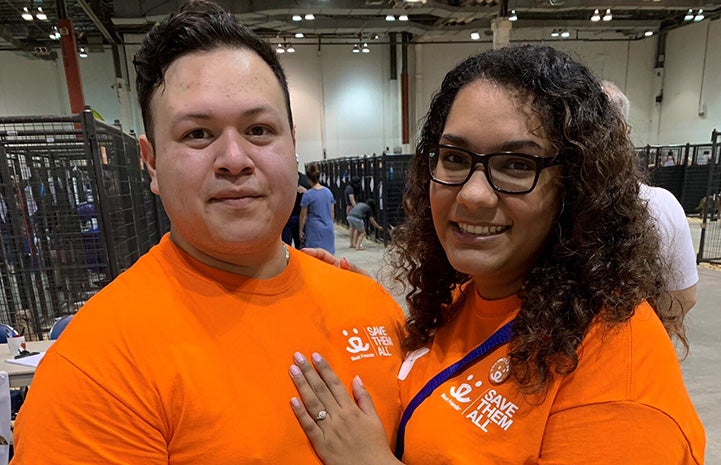 Best Friends in Houston is working collaboratively with city shelters, local animal welfare organizations and passionate individuals to save the lives of pets in shelters in Houston and the surrounding areas. To help Houston become a no-kill city for cats and dogs, Best Friends launched the Coalition to Save Houston's Pets in April of 2018, followed by a community cat program, foster programs for dogs and cats, local adoption programs and an out of state transport program. Best Friends has full-time staff embedded at the Harris County Animal Shelter, one of Houston's largest shelters. Together, we will Save Them All.
Photos courtesy of Ariana Tejerina