Massive donation of pet supplies helps families recover from epic flood in Arkansas
To help dogs and cats affected by the Arkansas flooding, Gleaning for the World, a humanitarian organization, steps up with big pet supplies donation.
By Nicole Hamilton
When torrential rain gave way to flooding throughout Arkansas many residents living in communities near rivers had to evacuate immediately, and that meant their pets had to leave, too. Some families were able to quickly move to dry land with their cats and dogs, while others were in desperate need of help from local animal shelters and rescue groups so their pets could be saved.
Floodwaters rise fast, and time was truly of the essence for these families. But just as swiftly as the waters rose, Best Friends Network partner groups came together with the help of a generous donation from Gleaning for the World (GFTW) to help one another and save the lives of their pets.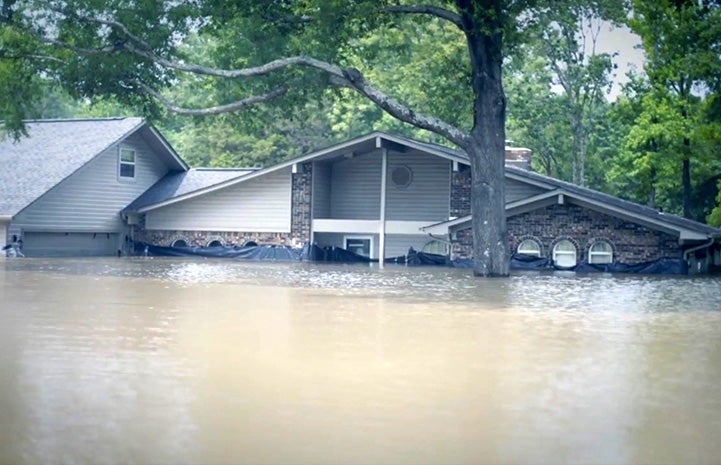 When help is a phone call away
The longer the rain fell across Arkansas during the first week of June, the more Debbie Howell of the Humane Society of Pulaski County (HSPC) in Little Rock worried that many communities were going to flood. Little Rock was probably safe, she figured, but the rural towns along the Arkansas River were likely at risk.
As Debbie kept an eye on the weather, Roy St. John and his team at GFTW, a humanitarian organization that provides relief to communities during natural disasters, were doing the same.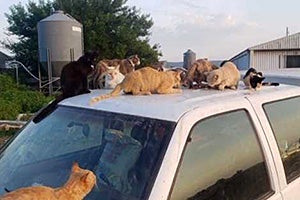 When it was evident that Arkansas would endure what would turn out to be the worst flooding in the state's history, Roy contacted Best Friends and offered a massive shipment of pet supplies that included cat carriers and kennels for Best Friends Network partner rescue groups and shelters in Arkansas.
Sharon Hawa, Best Friends senior manager of emergency response, and her team helped to coordinate and facilitate the shipment of these much needed supplies to Arkansas communities impacted by the flood, while Catherine Eldredge, Best Friends specialist for the South Central region, contacted network partners in the impacted region to assess their needs after the disaster.
When Catherine asked Debbie if HSPC needed any relief help, she learned that the pets at the shelter were all safe, but that HSPC wanted to help the nearby communities where evacuations had just begun.
Catherine told Debbie about the GFTW donation, and Debbie contacted the Desha County Office of Emergency Management, which immediately found space for GFTW's generous gift.
From there, the HSPC could sort and bring back large loads to its shelter for distribution to rescue groups closer to them and throughout Desha County, one of the areas impacted most by the flood.
More about the Best Friends Network
Helping people and pets stay safe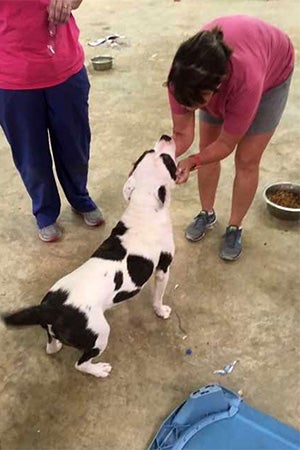 To find out where help was needed the most, Debbie and her team called shelters and rescue groups impacted the most along the Arkansas River. That's how she met Karin French of Paws and Claws Rescue in McGhee County, who had opened a large warehouse space at the local fairgrounds for cats and dogs displaced by the floods.
Some of them, like a dog named Panda, were found trying to stay safe as the waters rose around them after their families had fled. Others were brought to the fairgrounds so Paws and Claws could take care of them until they could be reunited with families.
"We had no idea the flood would be so severe," says Karin. "It's the worst we've ever had to deal with. People were lucky enough to leave with their own clothes, let alone things like water bowls for their dogs, so these donations have been a tremendous help."
In addition to assisting rescue groups, GFTW's donation enabled those groups to directly help residents, including a blind U.S. veteran who needed help trapping and sheltering his cats when his property flooded. With donated traps, cat carriers and treats, volunteers from Paws and Claws — including a volunteer named Shelby, who temporarily housed some of the cats at her home — were able to save the cats' lives.
HSPC was able to help an older gentleman named George, who decided not to leave his property or his cats and other animals during the floods. Instead, he and his cats found shelter in his camper. When George needed supplies, he rowed himself down the street to a store on dry land, and when he was able to drive again he visited HSPC for cat food.
The donation from GFTW also inspired other large organizations and businesses in Arkansas to help pets displaced by the floods. A local pet food company sent 40,000 pounds of cat food that HSPC and the Arkansas Hunger Relief Alliance distributed to other rescue organizations, food banks and homeless providers.
Natural disaster preparedness for families with pets
Finding the silver lining after a tragedy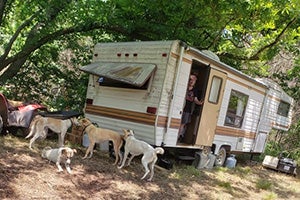 Although the floodwaters have receded, in many ways this is the time when the donations from GFTW help the most. Some residents living in the areas hardest hit by the floods lost everything and must start over. Others, who are returning to flood-damaged homes with their pets, need everything from feeding bowls to bedding to bleach.
Some might say the recent Arkansas floods were a tragedy — and rightfully so. But to Debbie and Karin, the rain clouds also contained a silver lining. "We have made the best of friends," says Karin. "These are bonds that will remain — probably forever."
"I now know people in the rescue community I never otherwise would have met," says Debbie. "It's a blessing that came out of a bad situation. We're going to partner from now on."
Better days are ahead, too, for dogs like Panda. After being rescued by brave volunteers during the flood, the young dog came to the Paws and Claws warehouse hungry and exhausted. After eating, she fell asleep in the air-conditioned space, finally safe and secure.
Today Panda is getting treatment for heartworm, and it appears she has put being left in rising floodwaters behind her. "She is wonderful," says Karin. "She's playful and very social with people. She'll soon be ready for a wonderful home."
Volunteer and help pets near you — rain or shine
Photos courtesy of Humane Society of Pulaski County and Paws and Claws