Meet the caregiver: Ashley McDaniel
Ashley McDaniel's passion for saving lives led her to Best Friends and Cat World.
By Best Friends staff
Where are you from originally?
I am originally from Valparaiso, Indiana. I moved to Kanab and started working for Best Friends in June of 2021 after graduating from Purdue University. I majored in wildlife science and originally pursued that degree because I have always loved animals and felt a desire to protect them. As I got further into my wildlife career, I began to feel like it wasn't the right fit. I'm incredibly grateful for the things I learned, but I wanted to get more hands-on experience with animals and specifically with lifesaving.
What brought you to Best Friends?
When I was finishing up my last semester in college, I started looking for careers that better fit my passion and that's when I applied for a job at Best Friends. I applied for a position at Wild Friends, but I also applied to Cat World as a "backup." Once I came to visit Best Friends to visit, I was at once drawn to Cat World and couldn't imagine myself working in another department. Luckily, I was offered the job at Cat World. Although the career path and the future I envisioned for myself changed completely, I am so happy with my decision to join the Cat World team.
What keeps you busy outside of work?
I'm a huge homebody. I love to spend weekends at home cooking, reading, watching movies and hanging out with my two cats. I also love to get out for the occasional hike and especially love exploring Zion and the North Rim of the Grand Canyon.
What is your favorite thing about your job?
My favorite part is the breadth of knowledge that I have picked up in the short time I've been at Best Friends. I have learned so much about animals and I am constantly looking for new experiences. My favorite demographic to work with at the Sanctuary is the cats with behavior challenges. It has been incredibly rewarding to build relationships with the cats I have worked with closely and to watch them grow and heal.
When you work with cats, each day is different. You never know what shenanigans they will get up to. The great thing about working with animals is that they bring so much life into my work, and each day is so rewarding.
What would you share with someone who hasn't yet visited the Sanctuary?
For someone who hasn't been to the Sanctuary before, I would tell them to be prepared to laugh, cry and to bring an extra carrier!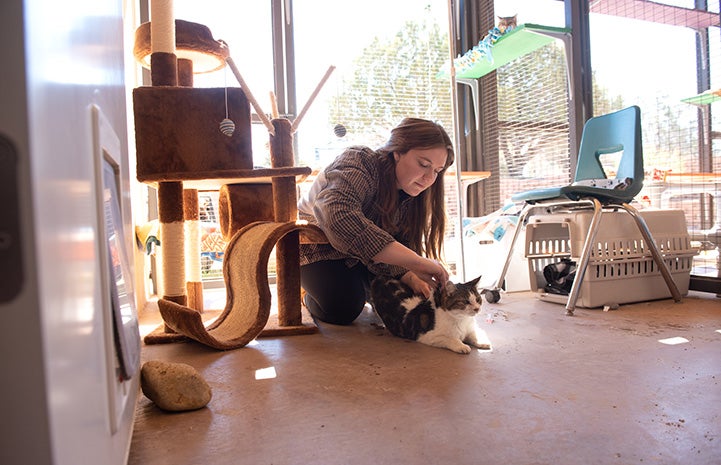 Read more
From television to Dogtown: a caregiver's journey to Best Friends
Every day is a new adventure: caring for the birds at the Parrot Garden
Champion for misunderstood animals turns a passion into a career
Photos by Molly Wald