Meet the caregiver: Elle Greer
Elle Greer's passion for rescue work and parrots brought her to Best Friends. We think she stays for the dance parties. They are a regular part of her job caring for the birds at the Parrot Garden, where every day is a new adventure.
By Best Friends staff
Where are you from originally?
I'm originally from Rochester, Minnesota.
What brought you to Best Friends?
I worked with parrots previously and always had an interest in working in rescue. I've been with Best Friends since 2019. I absolutely love working in rescue and hope to do this for a long, long time!
What is your favorite thing about your job?
I get to have dance parties. For my job. Seriously.
Parrots have the intelligence of a three- to five-year-old human and need a lot of different forms of enrichment to be happy. This includes music and dancing. Parrots have individual preferences to music and how they respond to it. Some enjoy dancing and this is a fantastic way to build relationships with them while also giving both physical and mental enrichment. For me, this means I can boogie all day to '80s pop and sing my heart out. It is a win-win for us both. If you volunteer with us, there is a 90% chance of a dance party happening in your day.
The thing that made me choose parrots is not their ability to dance, mimic or sing. It's because with a human-like lifespan, parrots come to us from all backgrounds. Of course, as with all animals, you must treat them as individuals. But parrots constantly outsmart us, and we must never work or train with one the same way. Every day is met with new challenges and achievements, and this makes my work the most fulfilling thing I could do. Parrots also supply the best comedic relief I have ever seen in an animal, and I spend the entire day laughing.
What would you share with someone who hasn't yet visited the Sanctuary?
Be ready to fall in love because there are so many amazing animals here. Not only do I have a beautiful "office," but the great and kind people I work with make sure everyone has a wonderful time. You will not regret visiting, whether it's for an hour or a full week of volunteering!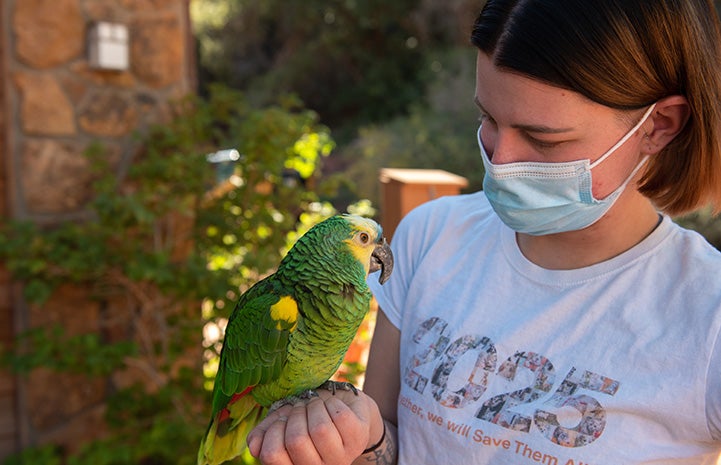 Read more
Passion for saving lives led to Best Friends and Cat World
Caregiver's days are filled with new experiences and discovery — and rabbits
Champion for misunderstood animals turns a passion into a career
Photo by Molly Wald