Meet the caregiver: Sondra Lewis
Sondra Lewis, a lifesaving care specialist at the Bunny House, moved across the country to be a part of the lifesaving work happening at Best Friends. Now every day is filled with new experiences and discovery — and rabbits.
By Best Friends staff
Where are you from?
I was born and raised in New Jersey, but moved here from Cape Cod, Massachusetts.
What brought you to Best Friends?
I started working at Best Friends in 2018 after watching DogTown on Nat Geo and seeing what an amazing place this is.
What do you do with your time outside of work?
I enjoy spending time with my rescued pets:  one dog, three parrots and four rabbits.
What's your favorite part of your job?
My favorite thing about my job is the satisfaction of working with wonderful bunnies, helping to bond them and finding them an adoptive home. I didn't know anything about rabbits when I started, so every day I would learn something new. What I discovered is rabbits are gentle souls with warrior spirits.
Our bunnies come to us as singles, duos, trios. Because rabbits are prey species, studies have shown that a rabbit may live twice as long if bonded with at least one other rabbit.  When we have solo bunnies, we want to find them a friend as soon as possible. Bonding is complicated as there is no one right way to achieve the goal and it depends on the individual rabbits we're working with. A great way to start is to place two singles together in a baby stroller and take them for a ride. It's a small space and they tend to take comfort with each other. We then put them in small area where we can observe and interfere if necessary. (Believe it or not, rabbits will fight to the death and can injure each other quickly.)
As they begin to get comfortable with each other, we begin to enlarge the space.  They aren't left alone overnight until we have seen each rabbit consistently groom each other, share resources (food, hay) and share a hidey box.
A bond has then been made and these bunnies will care for each other both physically and emotionally for the rest of their lives.  To be a part of that is such a privilege and it fills my heart with joy.
What would you share with someone who hasn't yet visited the Sanctuary?
The Sanctuary is bigger and better than you can imagine.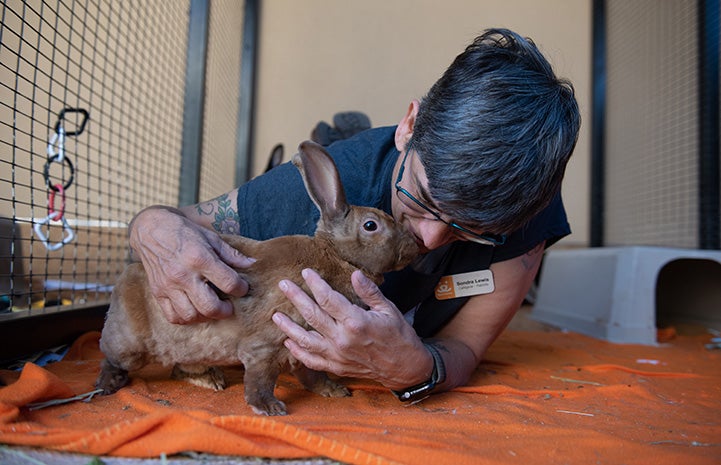 Read more
From television to Dogtown: a caregiver's journey to Best Friends
Every day is a new adventure: caring for the birds at the Parrot Garden
Passion for saving lives led to Best Friends and Cat World
Photos by Molly Wald