Meet four champions for pets in Northwest Arkansas
Volunteers are stepping in countless ways, making it possible for Best Friends in Northwest Arkansas to save more lives.
By Nicole Hamilton
The tiny but mighty team at Best Friends in Northwest Arkansas connects cats and dogs with adopters, places pets in foster homes, coordinates transports, performs trap-neuter-return (TNR) and plans events. And that's just in one day. Whew!
There's no way that the team would be able to accomplish so much and help so many pets on a daily basis without the help of volunteers. "They're absolutely essential," says Kathleen Lehman, coordinator of operations support for Best Friends in Northwest Arkansas. "Especially for our small team, volunteers help us extend our work and our reach to homeless pets in need."
On any given day you can find volunteers at the Best Friends Lifesaving Center in Bentonville giving love to cats as they wait to be adopted. They also help deep clean the center. Volunteers in Bentonville are also known to step up without hesitation to foster pets with critical needs, such as neonatal kittens and puppies with parvovirus.
There's also a great core group of transport volunteers who pick up pets from partner shelters across the region and bring them back to Bentonville for adoption. Volunteers also help out with every aspect of TNR — from trapping cats, to driving them to and from their spay/neuter surgeries, to providing them with a place to stay while they're waiting for or recovering from surgery.
Every Best Friends volunteer is making a huge difference in the lives of animals. Following are four profiles of Best Friends volunteers in Northwest Arkansas who are doing their part to bring the goal of no-kill 2025 well within reach.
Becca Beyer, inspired by the Vicktory dogs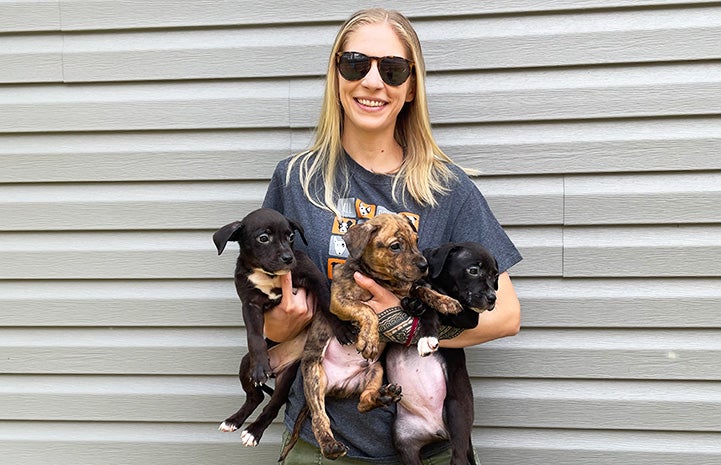 Becca Beyer was in high school when she first learned about Best Friends. She's always loved pit-bull-terrier-like dogs and was particularly inspired by how Best Friends stepped up to rescue and rehabilitate the Vicktory dogs.
At that time, Becca was volunteering at her local shelter, where she would walk dogs and help the team train them at the shelter. Then when she was 20, she finally adopted Radar, a pit bull terrier mix from Best Friends Animal Sanctuary. Today, her biggest personal goal is to advocate for pit-bull-terrier-like dogs, but you can also find her logging the miles for Best Friends in Northwest Arkansas. So far, she's transported pets across the state of Arkansas from Pine Bluff to Bentonville.
She's also fostered two litters of puppies, including a litter of seven with parvovirus. "Thankfully I used to work as a vet tech, because (it turned out that) they needed lots of medication, subcutaneous fluids, feedings and monitoring," says Becca. "Fostering sick puppies has been tiring and stressful, but also incredibly rewarding. Seeing the small puppies be so strong, overcoming the horrible sickness, and become normal and rambunctious was amazing."
Says Kathleen: "Becca is an absolute golden foster. I mean, who doesn't back out of fostering parvo puppies? Becca, that's who."
Roy Horan, a volunteer who will drive anywhere for dogs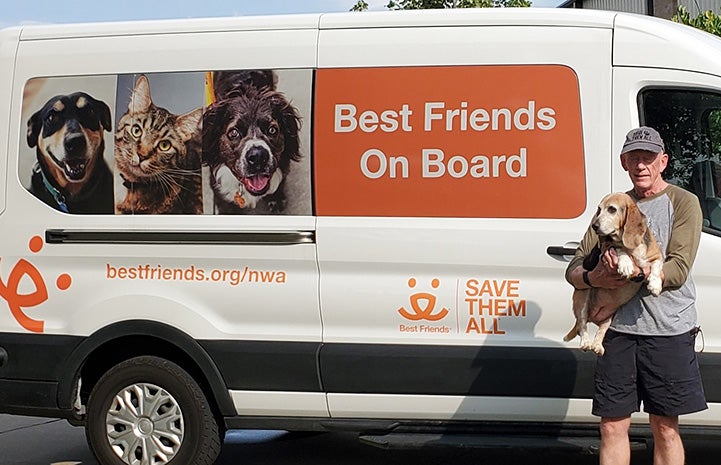 Roy Horan doesn't mind hopping in the van for a good road trip, especially if it's going to help save lives. So far, he's transported dogs from Pine Bluff to Best Friends and has even driven pets to receiving partner shelters in Nashville, Tennessee; Kansas City and Springfield, Missouri; Marion, Illinois; and Eureka Springs, Arkansas.
"Roy is such a rock solid volunteer and a go-to for transport. He makes it easy for us to plan to get at-risk animals to safety," says Kathleen.
Roy's dedication to volunteering boils down to one thing — his love of dogs. And what keeps him volunteering and logging the miles for pups is knowing that he's helping them get to a place where they will be safe.
[Pandemic pets: where are they now?]
Working with Best Friends and shelters that are compassionate and loving of the animals in their care is the icing on the cake, says Roy. "I truly am willing to go anywhere to pick up (or) anywhere to drop off, no matter how far or how long it takes."
Roger Rubien, a dog person who advocates for cats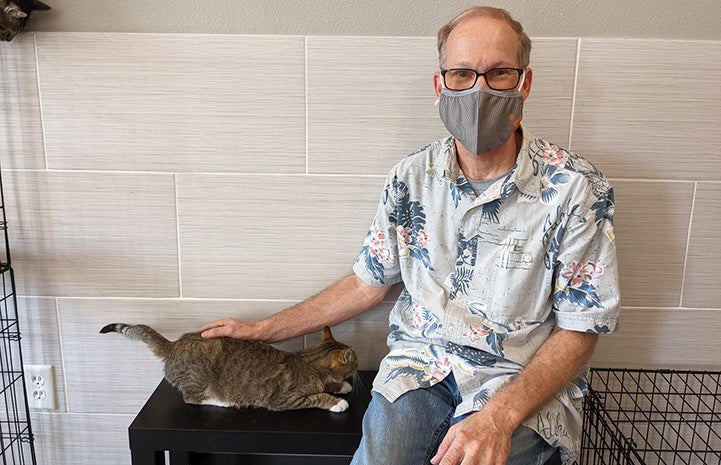 Roger Rubien considers himself a dog person, but that doesn't stop him each week from helping cats at the lifesaving center. "I thoroughly enjoy the time I spend with the cats," says Roger, who is always ready to help deep clean the cat rooms or provide cats with a little TLC. The way he sees it: The more he helps, the more time the team has to devote to saving lives.
Roger has also taken part in several local transports, including many that take cats to their spay/neuter appointments. Recently, he made a two-hour round trip to retrieve 10 traps from a cat caretaker who is getting help from Best Friends to spay or neuter nearly 70 cats in the colony she manages.
"This is a very exciting time for pets and their people in Northwest Arkansas, and I am proud to be a part of it," says Roger. "Achieving no-kill by 2025 is such a noble and ambitious goal. I hope the small part I play in it as a volunteer helps move us just a little closer to achieving it."
Jennifer York, a volunteer ready to do more for pets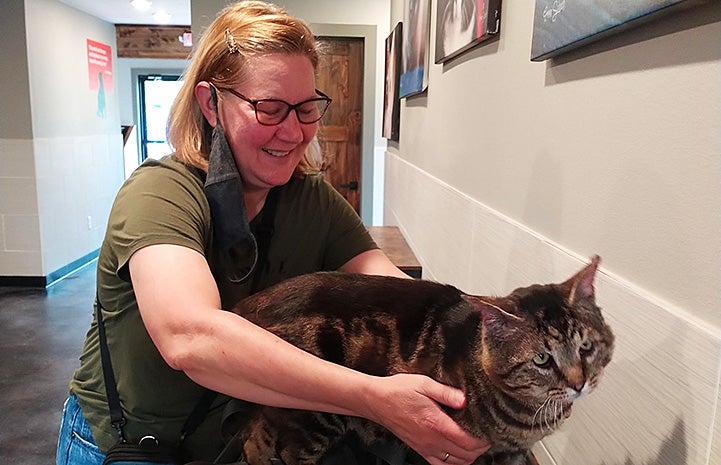 Jannifer York has been volunteering with Best Friends for almost a year. You can usually find her at the lifesaving center interacting with cats and helping their personalities shine so they can feel more comfortable while waiting for adoption.
"Jannifer is so great with the cats," says Kathleen. "She gets to know them as well as the staff and really appreciates them for who they are — giving them lots of love and attention. And she is always wanting to learn more."
Jannifer also occasionally takes part in transports. In fact, that's how she met Samson, a big-cheeked cat who she and her husband transported to dental surgery in Oklahoma. After fostering him for a week, she decided he was already home.
Today, Samson is living his best life and Jannifer is looking forward to more volunteer shifts at the lifesaving center. "Animals need people to be their voices and advocate for them," she says, "and that inspires me to volunteer."
Are you inspired to volunteer, too?
Signing up to volunteer at your local shelter takes a matter of minutes, but the love and care you provide pets will last lifetimes.
Read more
Dog and cat help each other heal after major surgery
Best Friends responds to Hurricane Ida
Dog's soul outshines her physical challenges
Photos courtesy of Becca Beyer, Roy Horan, Roger Rubien and Kathleen Lehman