Meet a videographer who helps pets smile for the camera
Kristin Biggs combines her creative talent with a passion to help homeless pets while volunteering with Best Friends in Los Angeles.
By Nicole Hamilton
When Kristin Biggs visited Best Friends Animal Sanctuary for the first time, she was so moved by the experience that as soon as she got home she decided to start volunteering with Best Friends in Los Angeles.
That was more than five years ago. Today, you're apt to find the videographer and editor at the lifesaving center alongside Best Friends photographer Lori Fusaro. "She's amazing," says Lori, who calls Kristin her right-hand helper.
Every week, Lori takes pet adoption photos and Kristin plays a big role in helping the process run smoothly (not an easy task). "She can wrangle kittens, puppies, big dogs and everything in between. I am so appreciative to have her in my corner," says Lori.
To learn more about Kristin, including how she helped a dog named Flapjack, check out the following interview.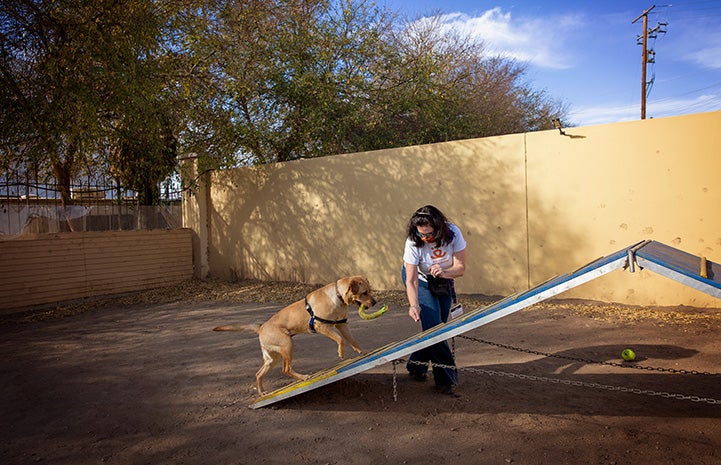 What inspires you most in your volunteer work?
Giving back. Knowing that what you do makes a difference is worth everything to me. If I could afford to do volunteer work full-time, I would do it in a heartbeat.
[Volunteer learns powerful lessons in love from animals]
What would you tell others who are thinking of volunteering at Best Friends?
There are so many different volunteer opportunities available for individuals to get involved. We all bring something different to the table. The experience of volunteering at Best Friends is particularly unique because you can make it your own. They give you the opportunity to cultivate those skills, whatever they are. They consistently welcome your ideas and contributions so that you always feel valued in what you have to offer as a volunteer.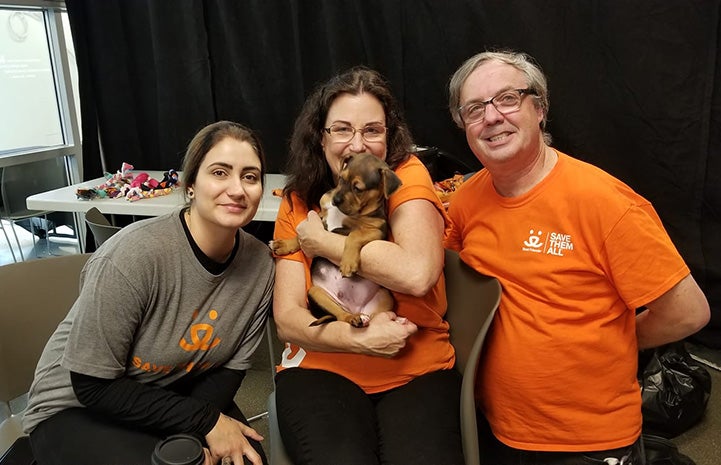 Since becoming a volunteer, what have you learned?
Each and every cat and dog is unique and special. You often don't know the history of a pet that comes to Best Friends, so spending individual time with them gives you insight into their personalities and helps you to better understand how to navigate around them.
I have learned so much about different dog behaviors, which I never knew before. Having the opportunity to work with dogs that are often fearful, confused or shy in a kennel environment has taught me to make different choices on their behalf that, in turn, help set them up for success. I also feel like these experiences have made me a more conscientious dog mom in return.
In terms of your volunteer work, what are you most proud of?
I love the experience of seeing a dog I've worked with be adopted into their forever home. Nothing is more gratifying. I was lucky enough to watch that process unfold personally with a special dog named Flapjack. I first met him when my husband, Chris, found him as a stray hiding underneath our minivan. He was pretty frightened at first, but Chris was able to coax him out with treats and bring him into our front yard. He gave him lots of food and water. He was so hungry and thirsty!
We noticed he had some wounds both old and new, and we sensed that he may have been physically abused. We posted signs around our neighborhood, but there was no response, so we took him to the shelter. Eventually, he came to Best Friends.
Flapjack ended up getting adopted about a week later to a wonderful family with a young boy. I was so thrilled to know that my husband and I had a hand in helping him be placed into a loving home.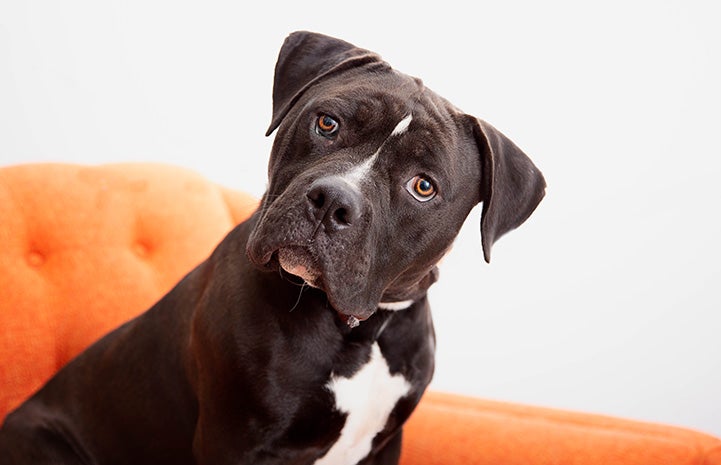 What does volunteering mean to you and why do you do it?
It's very empowering to be part of a purpose that's larger than yourself. To know that your efforts both help to make the lives of shelter animals better and support the Best Friends mission of no-kill by 2025 is extremely gratifying and incredibly close to my heart.
Tell us an interesting fact about you that we might not know.
I'm learning how to play the ukulele.
[Purrspectives from a feline film director]
What are you doing when you're not volunteering with animals?
I am a freelance videographer and editor. I also freelance as a project coordinator for various creative services departments.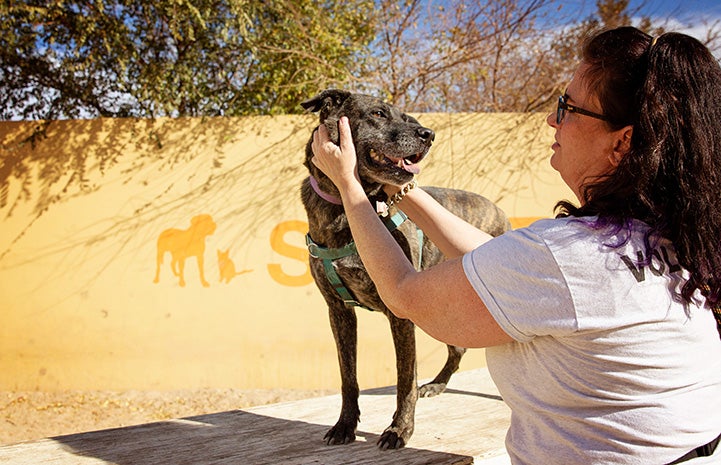 Besides volunteering for Best Friends, how else do "give back" to your community?
My sister, Karlyn, is an emergency room nurse who has exclusively treated COVID-19 patients since the beginning of the pandemic. I'm extremely proud of her and of all first responders for their dedication during this exceptionally difficult time.
I wanted to do my part to help support the healthcare workers in the hospital, so I started sewing masks. She and her co-workers are big soccer fans so, of course, the masks had to be made out of L.A. Galaxy fabric. Go Galaxy!
I have also recently volunteered in the general election as a voter check-in clerk. I learned so much about the election process and plan to volunteer in future elections. Both opportunities were very rewarding for me.
Could you please tell us about any pets you might have?
Yes! Three of our pets came from Best Friends in Los Angeles. We adopted Audrey, our terrier mix, almost seven years ago. Kahuna, our wonderful kitty, came to us just four years ago. And Tye, our cattle dog mix, is seven years old.
Our oldest dog, Crash, is a 13-year-old Labrador retriever who was adopted from a Los Angles city shelter where I used to volunteer. One day many years ago when I was there walking dogs, I met this special boy and I fell head over heels. Lastly, we have our Amazon parrot, Kong, who is a rescue. She is 31 years young. She keeps us constantly entertained with her funny dog barks, crying baby sounds and wacky Nintendo noises.
Do you have a superpower and if so, what is it?
I'm a bit of an instigator. I've been known to encourage people to step out of their comfort zones and try something they've never done before, even if it's just picking up a hula hoop and giving it a whirl.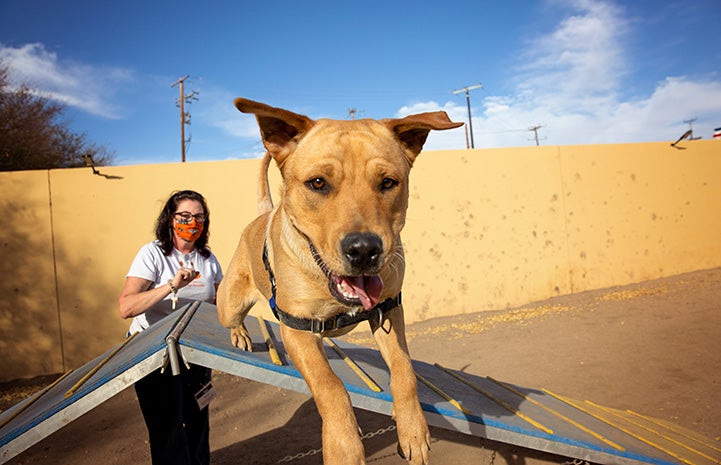 Help make a difference
Don't have a lot of time to help? No problem. Even just a little time volunteering can make a huge impact on the lives of pets at shelters.
Read more
Fostering dogs is a family affair
Sad dog smiles as adventure buddy
Photos by Lori Fusaro and courtesy of Kristin Biggs