Meet a volunteer and pet foster mom who's saving lives in Atlanta
Image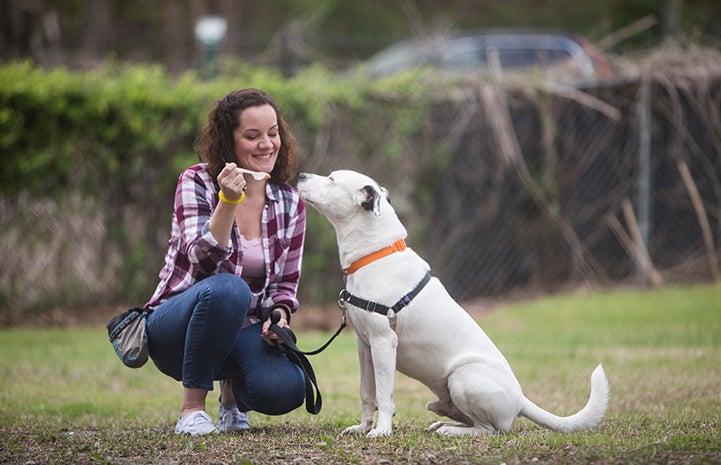 Lisa McManus is a dedicated volunteer and pet foster mom for Best Friends Pet Adoption Center in Atlanta. Read an interview about her volunteering.
By Nicole Hamilton
Best Friends in Atlanta works collaboratively with area shelters, animal welfare organizations and individuals to save the lives of pets in shelters in the region. The Best Friends Pet Adoption Center is a lifesaving hub for animals and a base for local programming and coalition-building to help the metro-Atlanta area in its final push to achieve no-kill, while strengthening the movement in the Southeast. Together, we will Save Them All.
Whenever Lisa McManus has a tough day, all she needs to do to lift her spirits is step through the front doors of the Best Friends Pet Adoption Center in Atlanta. As a volunteer at the center and a dedicated foster mom, Lisa plays a pivotal role in helping to save the lives of Atlanta's homeless pets, and that's something to feel good about.
Lisa has been known to go the distance for animals at the center. In fact, she recently drove cross-country to Best Friends Animal Sanctuary in Kanab, Utah, with Micah, a dog she was fostering from the center. As soon as she learned Micah would be going to the Sanctuary, she loaded up the car. Lisa will do anything to make sure the animals she volunteers with have every chance they need to learn and grow so they can go on to find the loving homes they deserve.
Volunteers like Lisa are an essential part of the effort to make the country no-kill by 2025. Learn more below about what inspires her to log the miles for homeless animals.
Why do you volunteer at the Best Friends Pet Adoption Center in Atlanta? What motivates you to continue to help?
Lisa: I've always loved animals and periodically thought about volunteering at an animal rescue, but my job kept me incredibly busy for many years, so I donated money instead of my time. Eventually, work slowed down a little bit and I said, "I'm doing it." I knew my love of animals would make volunteering at the adoption center enjoyable, but what I did not realize was how helpful it would be with managing stress.
When I'd have a bad day at work, I'd go to the center and I'd immediately feel better. I also felt like my volunteer hours had a direct and positive impact on helping animals find homes, which was incredibly heartwarming and rewarding.
Having that kind of positive energy in my life became a necessity. At this point, after learning more about how animal rescue works and how far we've come but also how far we still have left to go, I'm just that much more motivated to keep doing what I can to help the cause.
What inspires you most in the work you do as a volunteer?
Lisa: I'm inspired by all the good people out there in the world working and volunteering in animal rescue. It can be difficult to stay positive when you hear negative things like how many animals are euthanized each year or some horrible story of abuse in the news. But I just remember all the good people and the lives they've helped to save, and that's fuel to keep going, do more, and save more lives.
What would you tell others who are thinking of volunteering with Best Friends?
Lisa: I would say go for it. A lot of visitors to the center say they'd love to volunteer but it would make them sad if the animals were sad or they say they'd want to take them all home. My response is always that the animals are never sad when they have great volunteers to play with them and love them, so come help out with that. As for wanting to take them all home, well, that is a temptation but most of us rein it in. We only go home with one or two!
Since becoming a Best Friends volunteer, what have you learned? Do you see things differently now? And if so, how?
Lisa: In the beginning, I had certain criteria for what I thought made an acceptable pet parent. Since then, I've learned a lot from our adoptions manager and adoption specialists, from research on the subject, and just my own personal experiences as a volunteer adoptions counselor. I've realized some of those criteria needed to be relaxed a bit. I still have certain standards, but I'm more open-minded about potential adopters now.
In terms of your volunteer work with Best Friends, what are you most proud of? Why?
Lisa: I've had a few adoptions that were extra special to me and made me proud to be in that role. In each case, the dog had some kind of behavioral issue when (he or she) first arrived at the center, from minor shyness to more concerning fear-based reactivity. I actually gravitate more to those types of dogs than the ones who are outgoing and friendly from the start. I spent as much time with them as I could, earned their trust, and worked on their socialization. In each case, that really helped when introducing them to potential adopters. Each of these dogs I'm thinking about ended up with such great people who were a perfect fit for them.
More about Best Friends no-kill initiatives
What does volunteering mean to you? Why do you do it?
Lisa: I always say that volunteering at the center is food for the soul. I love making the animals feel safe and loved. When they look at you with happiness shining in their eyes or they give you a big sloppy kiss, wow, it just doesn't get any better than that!
Tell us something we don't know (about yourself or just an interesting fact).
Lisa: I credit my mom with my love of animals. When I was little, we'd watch nature programs on television together. I loved learning about the different animals and their habitats. I still watch them to this day and recently sent her the Planet Earth series on DVD as a surprise gift.
What are you doing when you're not volunteering with animals?
Lisa: I enjoy hanging out and playing team trivia with the friends I've made at the center. And I'm slowly but surely working through a bucket list of places I want to travel to or things I want to experience.
Do you have pets? Tell us about them!
Lisa: Yes, I have two adorable mutts named Patrick and Lemmy who I adopted from the center. They are both the oddest little mixtures of various breeds, resulting in a rather unique look that often has people asking, "What kind of dog is that?" Patrick is my smart, mischievous devil dog, while Lemmy is my sweet, laid-back angel dog. I love them to bits.
Do you have a super power? If so, what is it?
Lisa: If only! No, I'm just a regular human being. But if I could have a super power, I'd love to be able to communicate with animals. There are times when I'd really like to know what they are thinking.
Be a hero for homeless animals. Volunteer near you.
Photos by Sarah Ause Kichas and courtesy of Lisa McManus