My story: New York volunteer Stephanie Etherton
Stephanie Etherton, a volunteer with Best Friends in New York, helps regularly with the adoptable animals at the PetSmart in Harlem.
By Nicole Hamilton
When Maria Hertneck, a volunteer program specialist for Best Friends in New York, gets feedback from new volunteers about their trainer, Stephanie, they usually tell her how wonderful it was to spend the day with her because she's so kind and supportive. It's feedback that doesn't surprise Maria, who has come to know Stephanie as a volunteer who goes the distance (and subway miles) every weekend to help save lives in the Big Apple.
"Stephanie has done it all as a volunteer and her knowledge, combined with her easygoing personality, makes her a great advocate and trainer for new volunteers," says Maria.
Of course, to understand one of Stephanie's main motivators for volunteering, all you have to do is turn on the news.
"Volunteering helps me remain positive and optimistic in a world where we're all continuously bombarded with depressing news and difficult challenges," says Stephanie. "For me, volunteering is the work I actually love doing. It's incredibly rewarding and fulfilling."
In the following interview, Stephanie tells us about her passion for saving homeless pets in New York City, what inspires her the most as a volunteer, and her special "superpower" that makes her a hit with the dogs.
Why did you decide to volunteer with Best Friends and what motivates you to continue to help?
I have known and admired Best Friends and their mission to Save Them All for a long time. And when I discovered that they had branched out to New York and were looking for volunteers for their kitty care team at the PetSmart in Harlem, I knew that it was the perfect opportunity to start volunteering with them. This first step branched out into volunteering at weekend adoption events, Strut Your Mutt, Best Friends Super Adoption events, and then training to become an adoption counselor.
The Best Friends community is incredibly kind, supportive and positive, which only increases my determination and motivation to help in creating a no-kill nation. And of course, seeing so many newfound furry friends find their new homes is unquestionably the biggest motivation of all.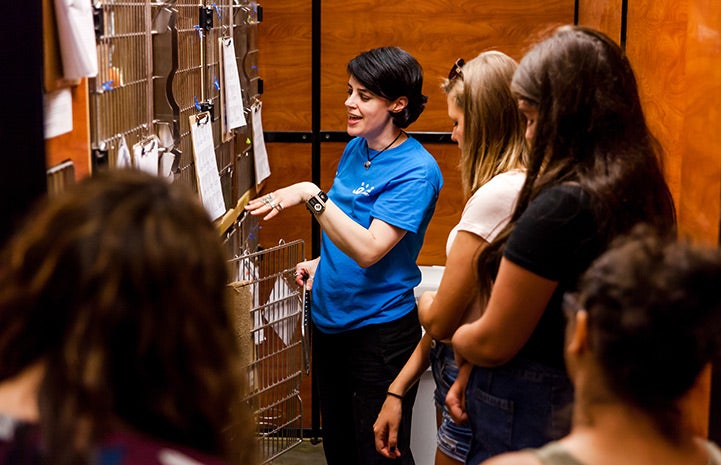 What inspires you most in the work you do as a volunteer?
Seeing an animal's personality blossom as he or she becomes more comfortable and confident around me and other people, and then seeing them head off with their new family to their new home.
Participating in Best Friends adoption events highlights just how much progress is being made in educating people to adopt rescued animals and how to properly care for them. And I'm always heartened when I speak with visitors at events and learn how much they already know about Best Friends' mission.
I also love meeting and getting to know the other volunteers and the Best Friends staff. They're a fantastic and inspirational group of individuals.
What would you tell others who are thinking of volunteering?
Go for it. You won't regret it! Best Friends makes it so easy to sign up, and they have so many different types of volunteer opportunities for every type of personality. You can try out different volunteer roles and uncover which one you are most comfortable with. The staff and other volunteers are all friendly and happy to help. Plus, who doesn't want to spend quality time with animals?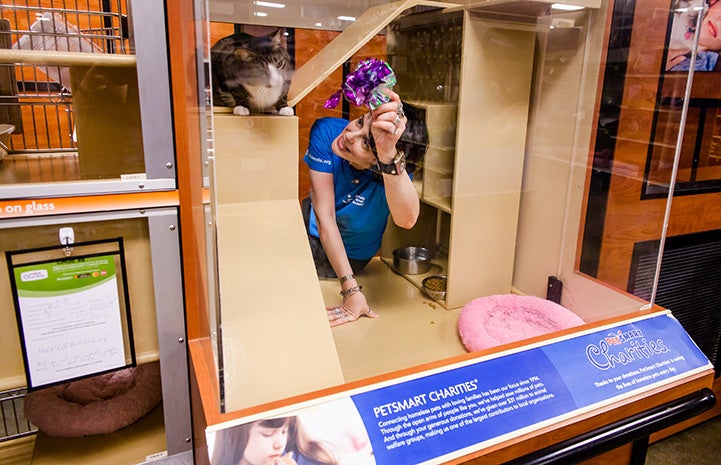 Since becoming a Best Friends volunteer, what have you learned and do you see things differently now?
Since becoming a volunteer, I've learned just how much work and endless dedication goes into finding new homes for animals ― from taking animals into Best Friends' care, ensuring they remain healthy, socializing them, promoting and advocating for them, and organizing events to find the perfect home for each one.
I've also learned that when it comes to helping animals, I have an endless amount of stamina and determination. I'm willing and happy to work around the clock if I can help them in any way. I'm now much more comfortable with helping to educate people about animals and Best Friends' mission to end the unnecessary euthanization of animals in shelters by 2025.
Learn more about Best Friends in New York
What does volunteering mean to you and why do you do it?
Volunteering helps me remain grounded and reminds me that there are so many good people in the world. Being able to help an animal ― whether it be merely giving them some much-needed love and affection or helping them find a new family to love ― is always the primary reason that I volunteer.
What one piece of advice do you have for other volunteers?
Don't be afraid to challenge yourself and step out of your comfort zone by trying different volunteer positions. Often you'll be in for a pleasant surprise. Also, don't be afraid to ask questions and talk to staff and other volunteers. I've learned so much ― not only about cat and dog care or behavior, but also about life in general.
Do you have a superpower?
I'm not sure if it's really a superpower, but dogs seems to think that I give really satisfying tummy rubs. They tend to grab onto my arm or paw if I stop, and if get up and leave them, they will follow me around and roll on their backs as soon as I stop moving. Word seems to have gotten around the dog community, too, because dogs tend to plop down on their backs in front of me wherever I go. I'm also able to have long-drawn-out conversations in "cat" with my cat Angus.
Tell us about your favorite volunteer moment.
One of my favorite volunteer moments was the first time I acted as an adoption counselor on my own. It was at one of the super adoptions, and a woman mentioned that she'd like to meet Pepper, a little black-and-white cat. During all of my previous encounters with Pepper, she was shy and wary of people. And I had been worried about her having trouble finding the right adopter; however, as soon as I put Pepper on the floor of the meet-and-greet area, she immediately walked over to the woman, rubbed against her leg and then jumped into her lap. It was kismet!
Perhaps it's because it was my first adoption, but I found it so fascinating and satisfying to see Pepper's transformation and witness her finding that perfect someone, which reinforced my firm belief that a perfect someone is out there for every homeless animal.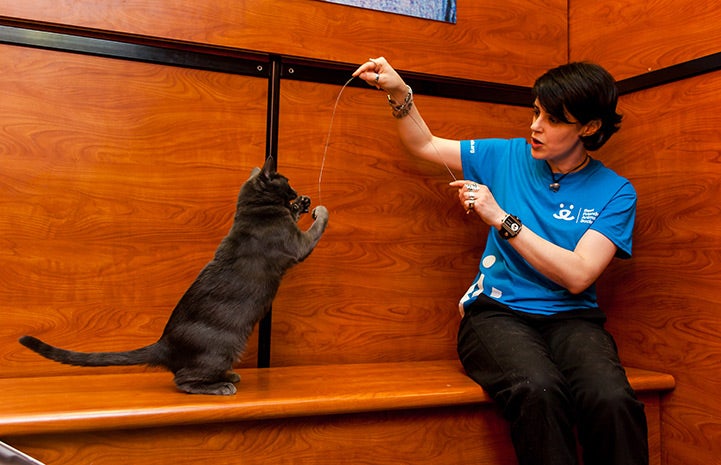 Photos by Stacey Axelrod