Nearly 9,000 pets adopted in 10 days
Image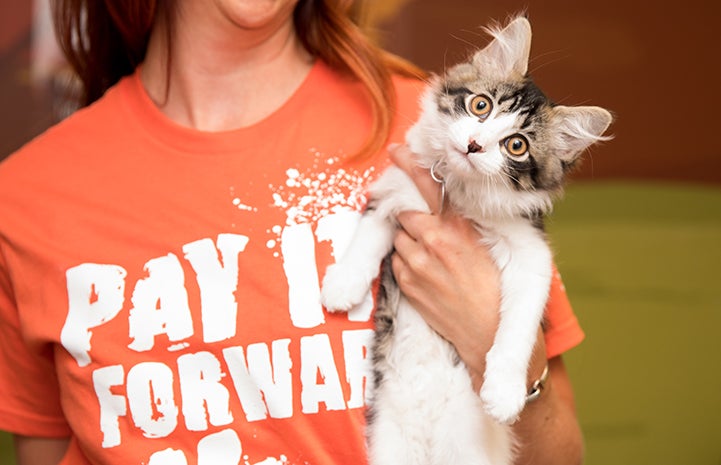 Best Friends Save Them All summer promotion helps send dogs and cats home.
By Best Friends staff
At Best Friends, we're working to Save Them All, and adoptions are a big part of this effort. The need is greatest in the middle of summer when, each July, shelters fill with dogs and cats. Many of those intakes happen around the Fourth of July holiday, when, driven by a fearful reaction to fireworks and other loud sights and sounds, pets flee their homes and end up in municipal animal shelters. That's why this summer, we wanted to help send 10,000 pets home in the 10 days leading up to July Fourth.
The Save Them All summer promotion was just what homeless pets needed. When the promotion wrapped up last week, nearly 9,000 pets from Best Friends and our network partners across the country had been adopted. Right now, they're settling into new, happy homes. What made it all possible? It was not only a whole lot of people coming out to adopt, but many more who helped by covering the cost of an adoption fee.
Free pet adoptions
During the 10-day promotion, it was free to adopt dogs, cats, puppies and kittens from all Best Friends locations, including our Sanctuary in Utah and pet adoption centers in L.A., Salt Lake City, Atlanta and New York. All adoption fees were waived — not only at Best Friends but also at more than 270 participating Best Friends Network partner organizations across the country. Free adoptions were possible because many people who couldn't adopt decided to pay it forward to encourage someone else to do so.
Responding as soon as the promotion began, people chose to pay it forward by donating adoption fees to honor their own much-loved pets.
When Laurel (Carlsbad, California) donated, she was thinking of her cat who had recently been diagnosed with cancer. "Your request to pay it forward arrived just as our beloved Calypso was telling us it was time," she says. "My heart is breaking but it helps knowing that now someone will be able to rescue a cat in Calypso's name. Thank you for giving us that opportunity."
Sergio (Forest Hills, New York) donated so another pet can be as lucky as his own two dogs. "I had a chance to show Yeyush and Renzo the real meaning of love," he says. "By participating in Paying it Forward, I know that at least one pet will get adopted and feel that love."

Yeyush and Renzo, courtesy yeyush_the_chihuahua
Around the country, people took up the call to Save Them All by heading to their local shelters to adopt. Happy stories poured in from the first day to the very end of the promotion. Everyone adopting, sponsoring an adoption fee or simply spreading the word helped save a life.
Empty kennels at animal shelters — what a beautiful sight
Once word spread that pet adoption fees would be covered, the public responded in a big way. In fact, the parking lot was full at Hillsborough County Pet Resource Center in Tampa, Florida, before the shelter's doors even opened. David Morton, managing director of shelter operations, estimated that around 70 cars were parked outside the shelter, which was filled with people eager to meet adoptable pets. By the last day of the 10-day promotion, the Hillsborough County Pet Resource Center had found new homes for a total of 518 pets.
It wasn't long before shelters began seeing something they'd never seen before — rooms full of empty kennels because all animals had been adopted. Michele Whaley, director of Pitt County Animal Shelter (Greenville, North Carolina) said: "We are so excited. As of this moment, we only have four dogs on our adoption floor! This has never happened in the 16 years I have been here."

Photo courtesy of Pitt County Animal Shelter
The adoption of a special pet
The promotion was especially helpful in encouraging people to think about taking home not just one new pet, but two. Kim Adams from Boone Area Humane Society in Iowa says: "We had two pairs of bonded adult cats and a pair of kittens get adopted together. Logan and Titan came from a hoarding situation and have been with us over a month. Just look how happy Logan is with his new mom! Thank you Best Friends for helping to make moments like this happen."

Logan and Titan get adopted together. Photo courtesy of Boone Area Humane Society
After losing his home Ranger landed at the Williamson County Regional Shelter in Austin, Texas, and then found his forever family during the promotion. He made himself at home right away and spent hours lounging by the pool. Comments from his new family include the following: "He was adopted and returned twice, and now has his real forever home. Third time's a charm." And Misty Valenta of the Williamson County Regional Shelter says: "It is truly not the adoption fee that makes a good home. It is the heart of the family coming to rescue."

Ranger makes himself at home by his new family's pool. Photo courtesy of Williamson County Regional Shelter
Pet adoption goals
While our network partners were busy adopting out pets to new homes, staff and volunteers at Best Friends were just as busy. In the end, all Best Friends regional centers exceeded adoption goals.
Every pet adopted was cause for celebration, but one from Best Friends in Los Angeles stands out. Dodger, a sweet gray-and white pit bull terrier mix had been at the Best Friends Pet Adoption and Spay/Neuter Center for some time. So, when a local news station came by to film some pets to help spread the word about the fee-waived adoption promotion, a volunteer brought out Dodger to show off for the camera. That's when his original owner, who'd lost him when he escaped from her yard, saw him on TV.
Dodger's family had looked for him for months, putting up signs and doing everything they could think of to find him, but to no avail. Little did they know that he was safe at Best Friends. After seeing him on TV, the family went to the center to get him and were thrilled to have him back after missing him for so long.

The whirlwind 10-day promotion kept everyone on their toes handling the influx of adopters. What a great problem to have — because every adoption not only saved that pet's life, it made room for another pet in need. That's nearly 9,000 dogs and cats going from homeless to home, thanks to an outpouring of support. Together we really can Save Them All.
Special thanks to our corporate sponsors
Bear Bottom Candles
BOBS from Skechers
ColourPop Cosmetics
Cuteness
Hallmark
Nature's Variety
Overstock.com
Petplan Pet Insurance
sWheat Scoop
Too Faced
Waze
The Weather Channel
Main photo by Sarah Ause Kichas