Once overlooked and out of time, senior pit bull terrier is now happy at home
Rocco's days were numbered until Outta the Cage stepped in and gave him all the time in the world to get adopted
By Jill Dyché
Editor's note: Jill Dyche is the founder of Outta the Cage, an NKLA Coalition partner that helps at-risk dogs in Los Angeles area shelters find homes.
The first thing you often notice when you enter an animal shelter is the sound of dogs barking. And on that warm day in August of 2019 when I visited an L.A. County shelter it was as loud as ever amid the facility's ever-evolving collection of dogs. But that's the way it goes at shelters. Some dogs get adopted, others receive help from organizations like Outta the Cage and Best Friends, while others are relocated to other shelters.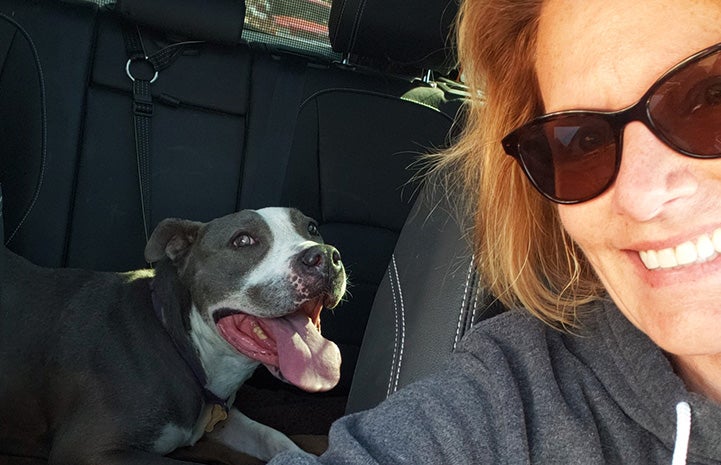 Pit bull terrier is friendly, loving and overlooked
I didn't recognize any of the dogs that day ― except for Rocco, a nine-year-old pit bull terrier with an ear-to-ear smile who was surrendered to the shelter by his family. Since Outta the Cage, an NKLA Coalition partner, visits this shelter frequently, I had previously noticed him, barking plaintively as if saying, "Pick me! Pick me!"
I got Rocco out into the play yard, where he happily sniffed around, allowed some brief head scratches, peed while he could and then sat down in front of me for treats. He accepted the small liver snacks gently with his front teeth, relishing the camaraderie. I figured people would appreciate his kind demeanor and his wide smile. "What a cute senior," I thought. "I don't have to worry about this one."
The next month, Rocco was still at the shelter. And he was there in October, too. He began doing a little tap dance every time he saw me, thinking he was a shoo-in for another trip to the play yard, but there were other dogs to help.
While I thought Rocco was adoptable, visitors at the shelter tended to see that he was an over-eager, barking pit bull terrier ― the kind of dog often routinely passed over at shelters.
When I received an email in November from the shelter informing me of Rocco's 72-hour notice, I rushed over to bring him to Outta the Cage. There he was, smiling and tap dancing like a kid in a talent show.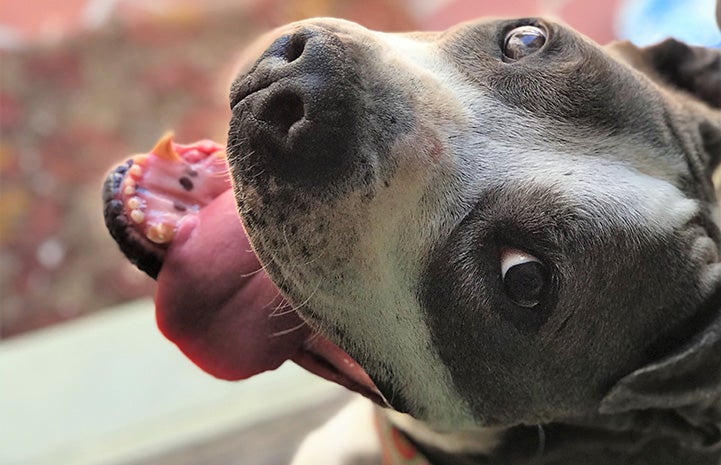 Born to run: A senior dog channeling Springsteen
Rocco then went on the NKLA Pet Adoption Center website, which features dogs from coalition partners, including Outta the Cage.
"I remember taking Rocco on an afternoon walk one random day, and something about how happy he was to be outside really gut-punched me," says Kit Pleasant, a caregiver at the center. "It was such a little thing to be happy about. That's when I became a Rocco fan."
Kit also appreciated Rocco's can-do spirit. "I like that Rocco still acts like a rude puppy," she says. "He's a big ol' senior and he's had almost 10 years to calm down, but he's chosen not to — just like Springsteen!"
 
Rocco lived with the same family for his entire nine years and it was clear that he was unaccustomed to kennel life. When he recognized me, Kit or one of his other favorite volunteers, he barked and jumped on his kennel door. His tap dancing had turned into leaps and spins. It was as if the kennel couldn't contain his enthusiasm.
One day, I arrived at NKLA to see Kit returning from a walk with Rocco. He'd been more energetic than usual and was reluctant to return to his kennel. Figuring a change of scenery would be good for him, the team at NKLA decided to move him to the Best Friends Lifesaving Center in Mission Hills.
I wasn't worried, figuring that Rocco was so bouncy and full of life that he'd probably do fine. He'd love the car ride across town to Mission Hills, and he'd gain some new fans. But a few weeks later, Rocco began spinning in his kennel. When I visited him, there was no tap dancing. He recognized me, lifted his head and then put it back down, as if he'd given up.
Best Friends agreed that kennel life was taking its toll. So, I brought Rocco to a boarding facility where he would have a covered enclosure and a small yard with room to move, and where he would get plenty of walks. But the respite was short-lived. When I visited, Rocco slammed his body against the chain-link gate, trying to get to me faster. When I leashed him up for our hike, he hurled himself out of the kennel, as if he wanted to whisk me away with him. Twice, he recognized my car and attempted to jump on it, scratching the paint.
At this point, I was at a crossroads. I started to wonder if I was really cut out for rescue. What was I doing wrong? We successfully placed other seniors. Was I misrepresenting Rocco? Was I omitting some descriptive detail that would help potential adopters see him differently, or were people simply tired of my incessant social media posts and email pleas?
I convinced veterinarians and small businesses to let me post Rocco's flyer. I pitched him to strangers in line for coffee. Sometimes when I talked to people about Rocco, I start to cry.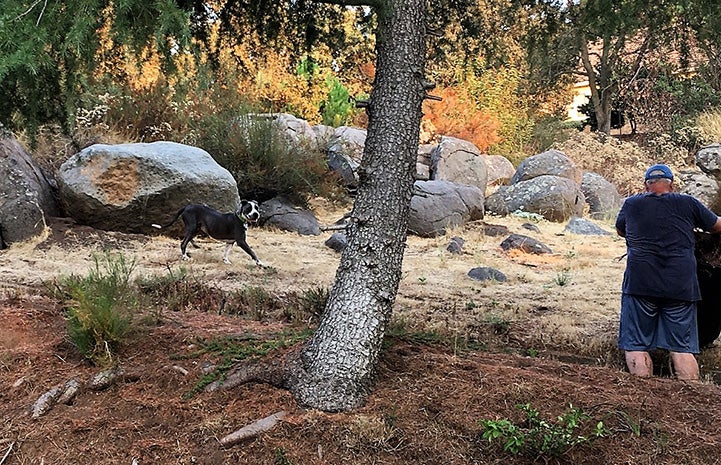 When home life makes a huge difference
In my heart, I knew Rocco would calm down if we could get him out of a kennel and into a home. He just needed a chance to decompress, to roll around on the grass and lie in the sun away from the noise and stress of kennel life. And that's when it hit me: I should take Rocco home.
He'd been at our place a few times for a quick neighborhood walk or bath. But my partner agreed that we could give him a short staycation to assess his house manners and offer him some roaming-around time.
On Friday morning, we prepped the house for Rocco, essentially dividing the house into two sections to separate Rocco from our crusty dog, Pinky. Pinky would have to exit out the front door and Rocco out the back. We brought dog bowls and a dog bed into the master bedroom and shut it off from the rest of the house. Rocco and Pinky would never have to meet.
As soon as Rocco and I pulled into the driveway, he perked up. I led him around to the backyard, where he pretty much did everything a dog does. He peed. He waded into the pool up to his knees, then out again. He got the zoomies and sprinted around the garden. And, just as predicted, he rolled around in the grass. Then we relaxed in the afternoon sun.
That evening, I put a night light on Rocco's collar and leashed him up. Navigating the neighborhood in the dimming light, we walked side by side with Rocco on a loose leash for the first time. He was impeccable on leash, almost like a different dog. I whipped out my phone to take a short video. In between sniffing the tires of parked cars and marking the jacaranda trees, Rocco checked in with me, made eye contact and seemed to say: "See, Jill? I'm a good boy!"
We got home and I led Rocco around the back into the master bedroom. I fed him dinner and when he finished, he walked to his bed and fell asleep. Soon, he started snoring. I looked at him, picked up my phone and emailed Elaine and Eric Bierman, who  previously had fostered for Outta the Cage. My email read: "I have a dog for you. Rocco's an active boy, but I think you'd like him." I attached the video of our evening walk that showed Rocco strolling along and stopping to sniff a SUV.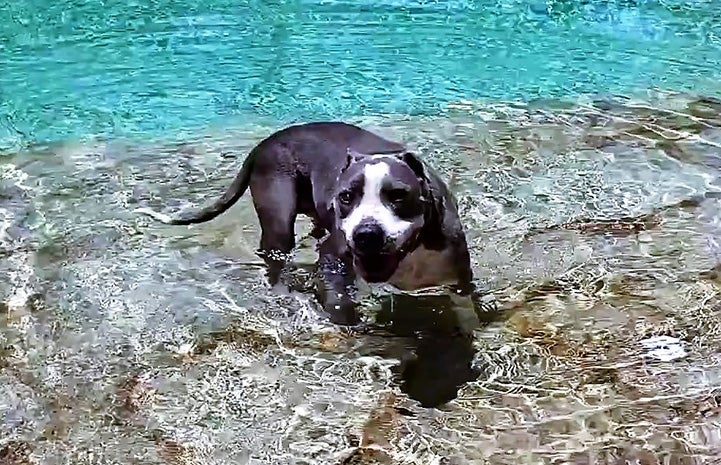 Dog fosters bridge the gap
Elaine replied almost immediately. "He looks like a sweetie," she said. "When can you bring him over?" I dropped Rocco off that weekend.
Elaine walked Rocco twice a day. She taught him to calm down on a leash and not to fence-fight with the neighbor's Chihuahua. Robbie, a neighbor, came over to play with Rocco. Every time I saw Elaine's number pop up on my phone, I figured she was calling with bad news. Instead, the reports were glowing. "He's a really nice dog," she would say simply, as if everyone already knew that.
Experienced foster that she is, Elaine sent pictures which I would, in turn, post on social media. One day, we received an adoption inquiry.
Sandi Gascon and her husband, Steve Sacco, live in a lovely, two-story, Mediterranean-style home on three acres in the hills of east San Diego County. I called them and, with them both on speaker, I described Rocco as honestly as I could: his likes, dislikes, bad habits and endearing quirks. "He's still working on his leash manners," I said, "and he likes to lick your face — a lot."
I found that their reasonable questions, Sandi's calm voice and their willingness to take a senior dog to be reassuring. But at this point in Rocco's journey, I was done getting my hopes up.
That very same day, Sandi and Steve visited Rocco. As Elaine filled them in on their daily routine, Rocco did his part by greeting them eagerly, trying to jump in their laps and stationing himself atop the backyard fire pit for maximum access to kisses and chin scratches. He was his enthusiastic bubbly self ― lively, but correctable.
After Sandi and Steve returned home, Sandi called me and reported that Rocco was too much dog for them. I was, of course, crestfallen but not surprised. But when I called Elaine with the news, she had other ideas. She texted Sandi, making the case that Rocco is highly trainable, he hadn't yet gotten his second walk and he's a couch potato most of the time.
[Great Dane can finally stretch his long, long legs]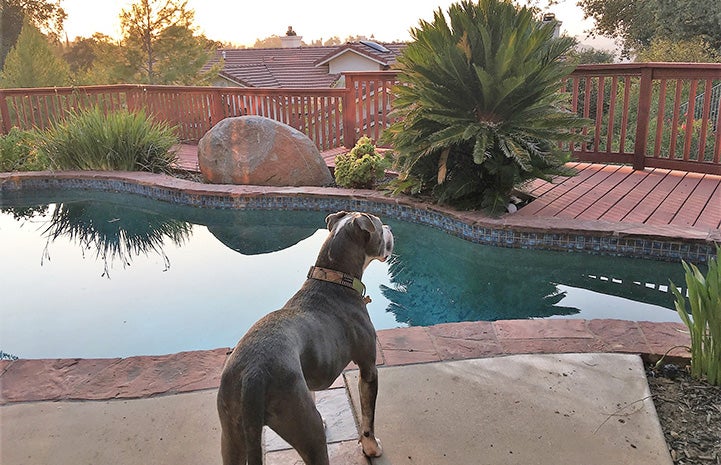 Grateful to give a dog a home
Sandi and Steve agreed to give Rocco a trial week. The following Saturday, I drove to Elaine's, loaded Rocco into my car, gave him a pep talk through the rearview mirror and dropped him off at Sandi and Steve's. On Wednesday, I got a text from Sandi and the heading showed just the first three words: "We have some…"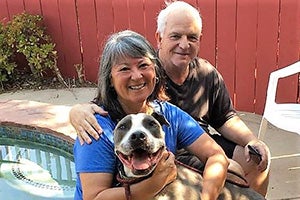 I mentally filled in the rest, preparing myself for another disappointment and shifting into practical mode to figure out when I could pick Rocco up and return him. But when I opened the text, it read: "We have some exciting news: We have decided to adopt Rocco!"
These days, Rocco gets long walks in the hilly neighborhood near his new home. He and Steve enjoy playtime on the floor, with Rocco getting plenty of belly rubs. Rocco has dug himself a small "dirt nest" in the garden next to the pool, where he enjoys sleeping after breakfast. Sandi and Steve have introduced Rocco to new friends and paid a visit to a farm, where Rocco was elated to see the ducks and goats.
"We are grateful for that trial week," Sandi says. "Being here with us, he calmed down, relaxed, went for walks and napped. We felt we were finally seeing the real Rocco! We knew after the first couple of days (that) we wanted to adopt this gentle boy."
In fact, Rocco proved to be not only a fun-loving companion, but a skilled protector. "We were surprised by his desire to be near us," Sandi says. "If he's not close by, then he's checking in regularly."
She says Rocco even loved his first vet visit (and of course, everyone there loved him). "Whatever the reason his first family had for surrendering Rocco, we're forever grateful that we got to be his forever home."
[17 rescued poodles get a fresh start in life]
Rocco was right
Every one of the dogs we rescue has a small piece of my heart. But Rocco has a pretty big slice. He was with us for longer than most, so we've had our share of adventures and I cherish those memories. But my favorite memory might be that evening walk, with Rocco walking right by my side, checking in. "See, Jill? I'm a good boy!"
You always have been, Rocco.
Read more
Cat and dog BFFs adopted together
Frankie the dog is deaf, blind and bursting with love
Photos courtesy of Jill Dyche and Sandi Gascon