A priceless cat and kitten adoption promotion
Image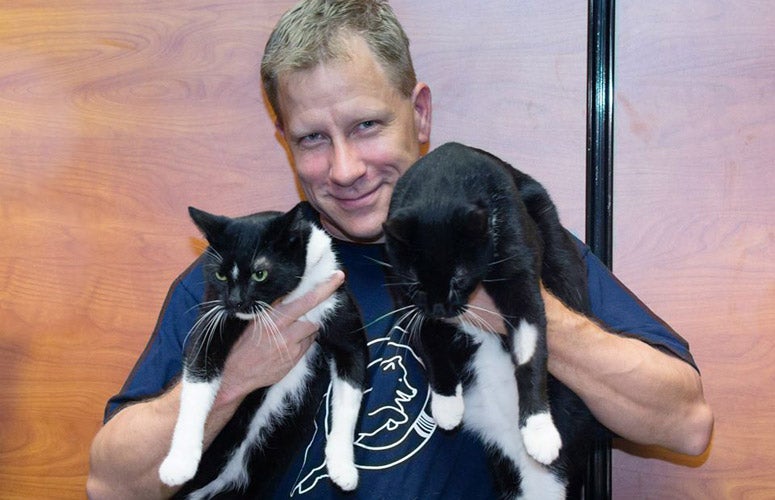 Cats and kittens are adopted from various shelters and animal rescues during the 9 Lives for $9 feline adoption promo from Best Friends.
By Denise LeBeau
With so many of our No More Homeless Pets Network partners bursting at the seams with incoming felines during the summer, the 9 Lives for $9 cat adoption promotion, sponsored by PetSmart Charities®, was truly a lifesaver. It ran during the height of kitten season, June 21 - 30, and offered a reduced adoption fee of $9 for cats. It was up to our partners' discretion whether they wanted to include kittens.
The event attracted over 120 participating partners, and a whopping 2,000-plus cats and kittens found homes during, or right after, the event. The Sanctuary cats were also featured, and 24 cats and kittens from Best Friends found their new homes because of it.
See upcoming pet adoption events around the country
Tenth Life cat adoption story
Jem and Dill don't know how lucky they are. They entered Tenth Life cat rescue in June of 2010 with their littermates. All were found in a rural barn and were borderline feral at the time. Dedicated volunteers worked intensely with the abandoned kittens to socialize them. Jem and Dill's siblings were adopted almost as soon as they were spayed or neutered. But Jem and Dill waited.
They finally got their big break and moved from "foster" to "forever" home when a gentleman fell in love with them last January. Sadly, this was not to be their happily-ever-after. Their adoptive savior passed away in a tragic automobile accident. A tearful friend made a call to Tenth Life explaining that the cats were once again homeless.
Back in foster care with Tenth Life, they again waited. With only a few days left of the 9 Lives for $9 promotion, they got a message on Facebook that a woman who had recently lost her 19-year-old cat was interested in adopting a bonded pair. Their new adopter not only took the brothers home, but made an additional donation to the group in their name. "We are thrilled that they found their forever home together," shares Elizabeth Frick, founder and executive director of Tenth Life.
"I saw them exactly a week after I lost my Vixen, and it was love at first sight," says Janet, their new mom. "Every day we see them getting more affectionate. We are very happy to have adopted them. I'm a teacher and a grandmother, and I need to be needed. Adopting these cats is very gratifying. They have done nothing wrong (to be homeless), and it's up to us humans who created the problem to fix it."
Two cat adoption from Monmouth County SPCA
Mickey and Delilah of Monmouth County SPCA (MCSPCA) also found their new wonderful forever home during the promotion. "The 9 Lives for $9 promotion helped to place several more difficult-to-adopt cats," says Nina Lucow of MCSPCA. "Mickey and Delilah had to be adopted together and are both seniors. Delilah is blind in one eye, and Mickey is FIV-positive. Even though they are amazing cats, these factors made them a difficult adoption."
The MCSPCA is an open-admissions shelter, and due to stepping up to help with several hoarding and cruelty cases, they are over capacity. The promotion not only got two cats adopted, but MCSPCA also won $500 when they submitted their post-event survey and won a random drawing.
"Aside from attracting potential adopters, especially those willing to adopt a special-needs cat, the $500 prize couldn't have come at a better time," says Nina. "We are at the height of kitten season and are overcrowded. Thanks to Best Friends, we have been able to place cats in homes, as well as having extra money to provide the resources we need during this demanding time."
Diane, their new mom shares, "These cats are such a pleasure! We're so happy together, but I am the big winner - lucky times two."
Become a No More Homeless Pets Network partner
Photos courtesy of No More Homeless Pets Network partners