Puppy beats distemper with the help of two determined foster moms
Felix had a ticket to ride from Houston to Ruff Start Rescue in Minnesota, but when distemper postponed his plans, a team came together to help him get healthy again.
By Nicole Hamilton and Brent Honcharenko
Life was just starting to get good for young Felix. After being rescued off the streets as a tiny puppy, he was brought to BARC Animal Shelter and Adoptions in Houston and eventually transferred to Best Friends in Houston. More specifically, he landed in a foster home with Lindsey Maresh, where he could stay until he was ready to meet an adopter who was eagerly awaiting his arrival in Minnesota.
The plan was for Lindsey to foster Felix for about two weeks until he could join a group of other dogs on a transport to Ruff Start Rescue, a Princeton, Minnesota, Best Friends Network partner organization that each month takes in dogs from Texas.
"We work with seven different receiving partners in the Minnesota area and Ruff Start was one of the first groups we started working with on a regular basis," says Whitney Bliton, operations manager for Best Friends in Houston. "They have taken hundreds, if not thousands of dogs from Houston over the course of three years since we've been working with them."
Many dogs from Best Friends in Houston already have homes lined up before they head north to Minnesota, and it was adopter Malorie Paplow who was eagerly awaiting Felix's arrival.
You know what they say, though: "Life is what happens when you're busy making plans." For young Felix, life took a rocky turn when he came down with a cough, received medication and less than a week later landed at the emergency veterinary clinic after suffering from labored breathing. The diagnosis this time wasn't good. Felix had distemper, a highly contagious viral disease that affects the respiratory, gastrointestinal and central nervous systems.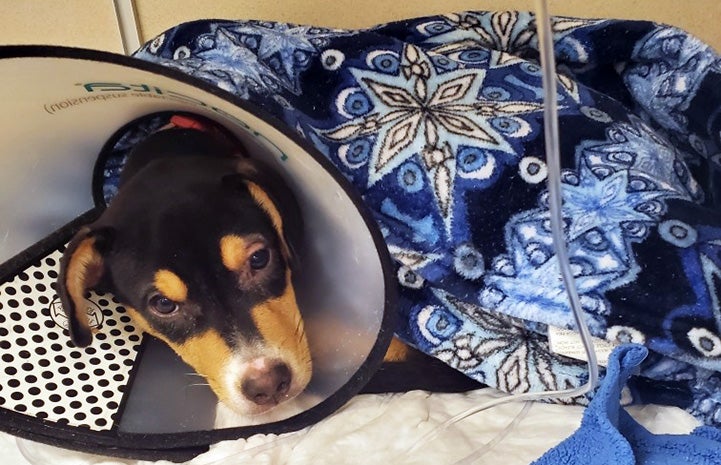 Rooting for a puppy from Texas to Minnesota
For two weeks, he was hospitalized. There's no miracle cure for distemper. Veterinarians can only offer supportive care and hope that the dog's immune system can beat it.
Felix had a group of people pulling for him: the people at Best Friends in Houston, Ruff Start in Minnesota, his foster mom Lindsey and soon-to-be adopter, Malorie. Luckily the sweet puppy overcame the worst of the virus and perked up enough that he was ready to go back to his foster home with Lindsey. Finally, Felix was ready to get back to the business of being a puppy, but he couldn't be cleared to travel until he tested negative for distemper.
In the meantime, Lindsey (who had been home more than usual due to COVID-19) was gearing up to travel for work again. So, Felix went to a new foster home, this time with Grace Taupo. It took about two months for him to test negative for distemper, and during that time Grace helped him hone his leash skills and came to know him as a very smart puppy who's eager to learn. He got along great with her dog and he loved meeting new people.
[Shelter dog transports to Minnesota]
When it was time to drop him off on the day of his transport, Grace did something she had never done with a foster pet: She got little teary-eyed. "I didn't think I'd get emotional," she says. "He is such a smart puppy and he never showed fear, but I could tell when I dropped him off that he was a little scared."
She says it helped that she'd kept in contact with Malorie. Knowing that Felix was about to meet an adopter who had been waiting patiently for him for months made her feel better.
[Overnight shelters for pet transports]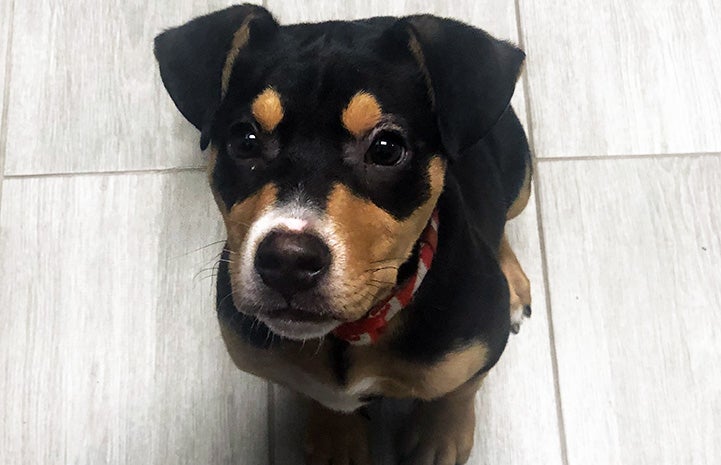 Puppy thrives after distemper
When the transport van arrived in Minnesota, Malorie was there to meet Felix in person for the first time. The sweet pup was worth the wait.
Today, he's happy and healthy, and Malorie reports that he's a rambunctious, active pup who's adjusted quickly to life in Minnesota. "We've taken him paddle boarding and rollerblading," she says. "He likes to go on walks, runs and hiking with us. He also has a little kitty brother who he loves very much."
As for the wait, Malorie says that it really didn't seem that long because she kept in touch every step of the way with Best Friends in Houston, Lindsey and Grace. "They kept me updated … and I am so thankful for that," she says.
When Whitney looks back at all the help Felix received from both Lindsey and Grace, she's reminded of how critical foster volunteers are for pets in need. "We have so many amazing fosters that have supported the transport program and who foster one animal after another. As soon as (one of their animals) leaves on a transport, they go to the shelter and pick up another," she says. "Without them, we would never be able to save so many pets in need in Houston."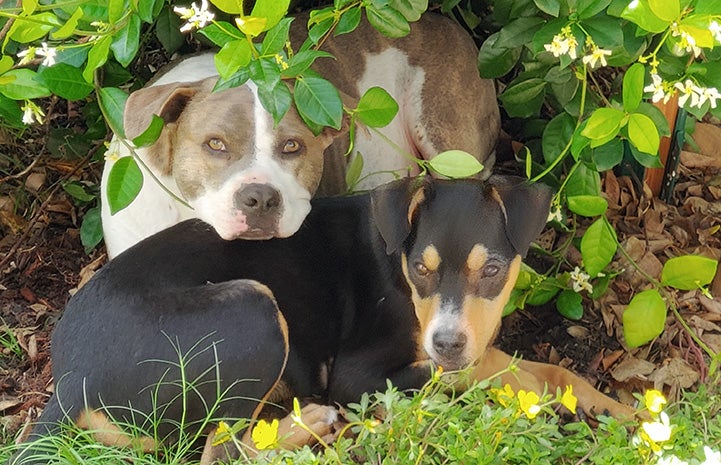 Be a hero, foster a pet
Fostering saved Felix and made it possible for him to go from homeless to home, and it can do the same for countless pets in need. Plus, foster families get to fall in love over and over with adorable pets. What's not to love?
Read more
[Shy dog no longer lets fear get in the way of happiness.]
[Once overlooked and out of time, senior pit bull terrier is now happy at home.]
[Despite his special needs, this kitten was born to be happy.]
Photos courtesy of Grace Taupo and Lindsey Maresh