Quick action saved hundreds of dogs and cats in Hurricane Dorian's path
Best Friends Animal Society and other shelters and rescues work together to help at-risk pets in the path of Hurricane Dorian evacuate.
By Best Friends staff
Hurricane Dorian has finally moved on, leaving miles of destruction behind. In the days before the storm hit, Best Friends Animal Society worked day and night to evacuate pets from locations along the storm's predicted path that were at high risk of flooding.
Each rescued pet has a name and a story, and now that they've dodged the hurricane, hundreds of them are settling into new cities, far away from danger. As people from Florida and all up the East Coast prepared or evacuated, the Best Friends emergency response team was busy assisting shelters in evacuating their animals.
So far, more than 500 animals from 11 groups in affected areas have been chauffeured to new locations. Of course, our work isn't done yet. As the storm clouds roll out, we will continue offering assistance to our lifesaving animal welfare partners along the coast, as they assess damage and identify additional needs for animals in their communities.
Here are just a few highlights from the days leading up to Dorian's landfall in the United States.
Lynchburg Humane Society steps up to help
August 31 – Pets being evacuated all needed a place to go — immediately. Lynchburg Humane Society in Virginia answered so many calls for help and not only took in evacuated pets, but also operated as a hub for other shelters willing to take in pets.
Pets evacuated out of Charleston
September 1 – It was still too early to say where Hurricane Dorian would make landfall, but one thing was certain: When it comes to the lives of homeless pets, no one takes any chances.
Thanks to shelters and volunteers working together all across the East Coast, hundreds of animals were transported out of harm's way — just like these animals leaving Charleston Animal Society to rescue groups further north or inland.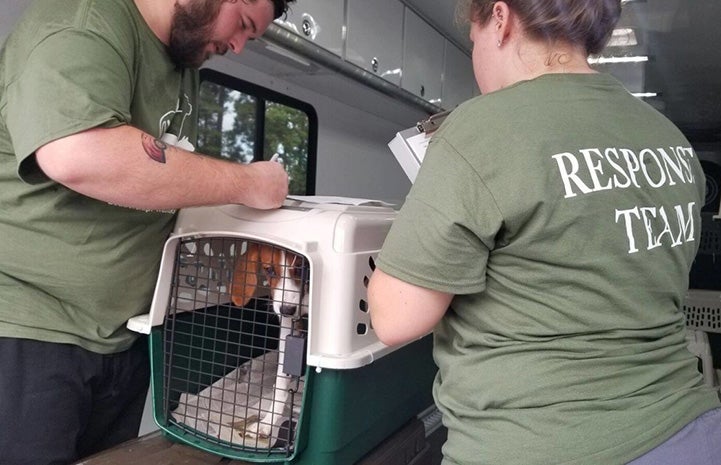 Second chance for cats turned away from hurricane shelter
September 4 – When pet evacuation orders were issued in Glynn County, most animals were moved to a temporary Georgia Department of Agriculture shelter. But upon learning that 50 of the cats had been exposed to ringworm, the GDA recommended euthanasia. But Best Friends and Good Mews Animal Foundation said no way. A handful of volunteers drove their personal SUVs, picked them all up and brought them to safety at Good Mews and Barrow County Animal Control. Now, these felines will have a second (or is it third) chance at a happy life.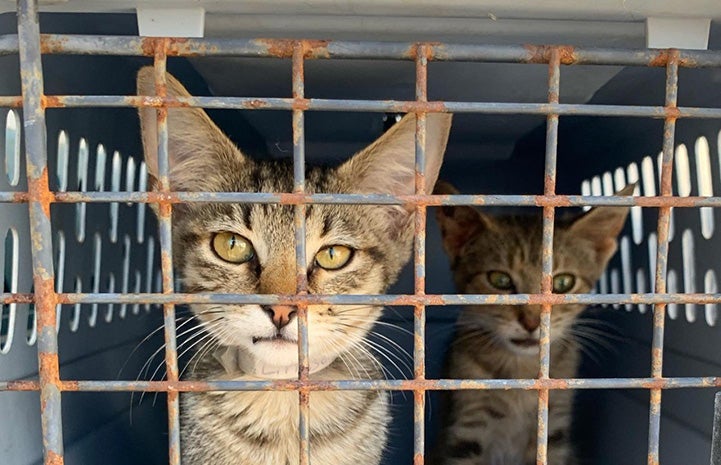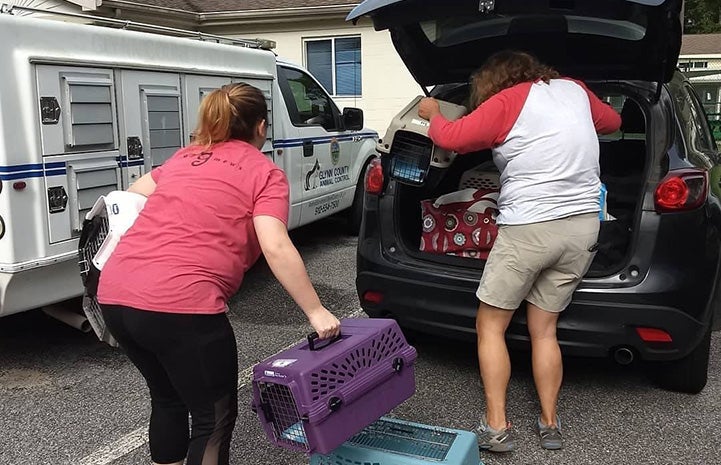 Pets take a last-minute trip from North Carolina to Atlanta
September 5 – The previous day, Best Friends received word that animals at a shelter right off the coast of North Carolina were in dire need. They were stuck at a shelter that was predicted to be under water after Hurricane Dorian hit. Knowing that they had no time to lose, two Best Friends staffers in Atlanta immediately jumped in a van and drove all night to save the lives of these 40 animals — just in time. Thanks to Erin and Brittany's heroic efforts, these sweet souls will soon find forever love in Atlanta.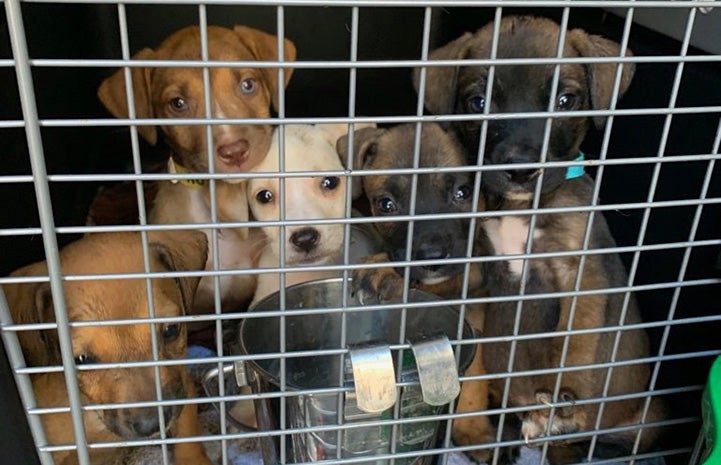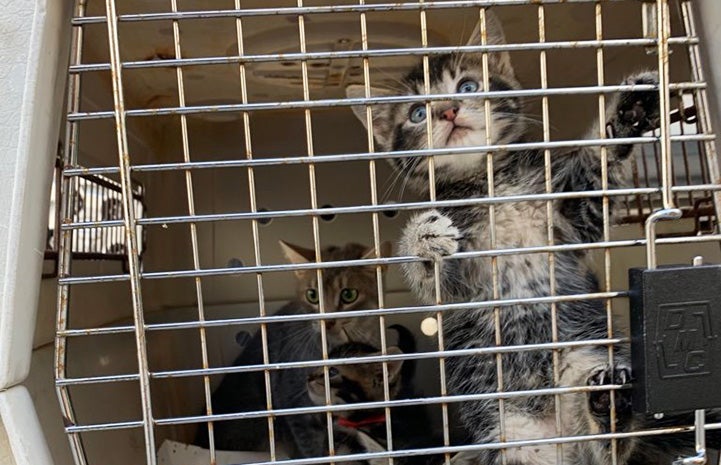 Big help for pets ahead of a big storm
September 6 – When Brandywine Valley SPCA heard that pets along the coast were in immediate danger, they opened their arms to take them in (and opened them wide). Brandywine served as a hub and took in a staggering 358 animals. Many of them are being transported to partner shelters and rescue groups across the Northeast, and many others are still at the shelter looking for fosters or adopters to take them home.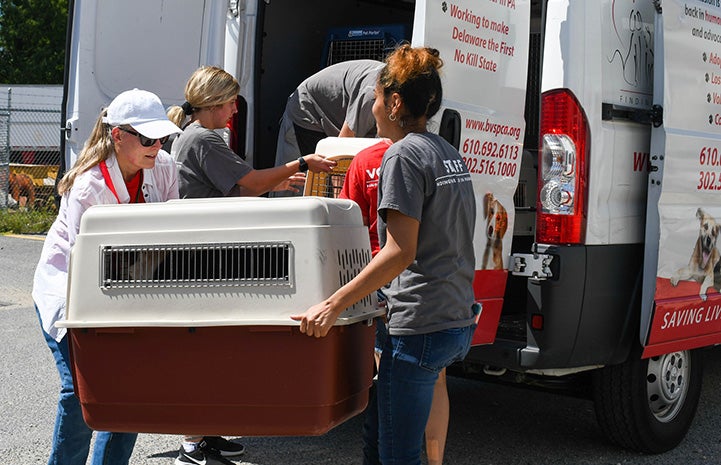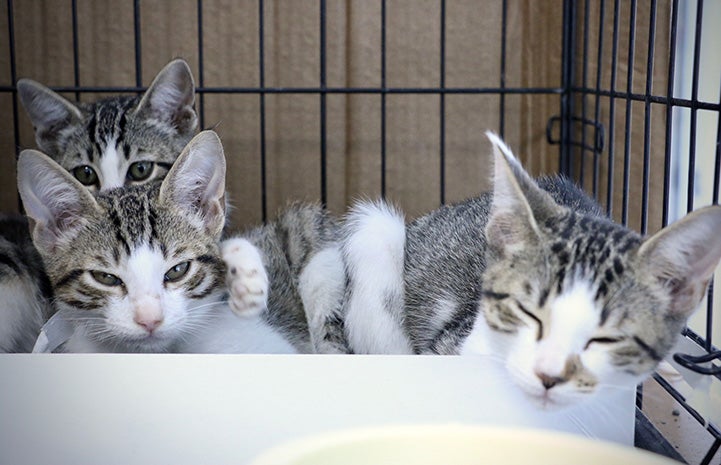 Pets evacuated from Hurricane Dorian arrive in New York
September 16 – Just one day earlier, 37 cats and kittens made their way up north to escape possible flooding in North Carolina from Hurricane Dorian. After a quick stop in New Jersey at People For Animals, a Best Friends partner organization, they arrived in style at our lifesaving center and soon will be available for adoption.
Thanks to all the organizations who answered Best Friends' requests for help as Hurricane Dorian made its way to the coast. This is what we mean when we say: "Together, we can Save Them All."
Angels of Assisi, Roanoke, VA 
Animal Lighthouse Rescue, New York, NY 
Animal Rescue League of Berks County, Birdsboro, PA 
Barrow County Animal Control, Winder, GA 
Bideawee, Westhampton, NY 
Brandywine Valley SPCA, New Castle, DE 
Delaware Humane Association, Wilmington, DE 
Delaware SPCA, Newark, DE 
Faithful Friends Animal Society, Wilmington, DE 
Good Mews Animal Foundation, Marietta, GA 
Guilford County Animal Shelter, Greensboro, NC  
Humane Pennsylvania, Reading, PA 
Lake Norman Humane, Mooresville, NC 
Liberty Humane Society, Jersey City, NJ 
Lynchburg Humane Society, Lynchburg, VA 
National Spay Alliance Foundation, Dalton, GA 
People for Animals, Hillside, NJ 
Pets Alive, Middletown, NY 
Providence Animal Center, Media, PA 
Roanoke Valley SPCA, Roanoke, VA 
Society for the Improvement of Conditions for Stray Animals (SICSA), Dayton, OH 
More about Best Friends' response to Hurricane Dorian
Photos courtesy of Brandywine Valley SPCA, Charleston Animal Society, Good Mews Animal-Foundation and Best Friends staff