Rambunctious pup lands her dream home in NYC
Matthew and Ry decided to stop postponing joy and adopt the dog they'd been dreaming of since the day they met her.
By Drew Schott
It was supposed to be a simple stroll through SoHo, but when Matthew Palmer decided to stop at Best Friends Lifesaving Center in New York City, it became anything but routine. Within minutes of walking through the front doors, Matthew fell in love.
The dog who captured his attention was none other than a one-year-old pit bull terrier mix named Tiggs, who started to wag her tail as soon as she saw Matthew. Just as he noticed how cute she was, the happy dog grabbed a toy, ran across the room and pressed it into the glass to try and play. "In that moment, she just stole my heart," says Matthew.
Later that week, Matthew returned with his partner, Ry Pilchman, who watched Tiggs pick up a doorstop and parade around the waiting room with it in her mouth. Ry felt the same way as Matthew about Tiggs — smitten. But the timing wasn't quite right as Matthew would be having surgery soon and Ry was commuting one hour each way for work. So, they decided the right thing to do ― for everyone including Tiggs ― was to wait. Hopefully, when they were ready to adopt a dog, it could be Tiggs. Three months later, their wish came true.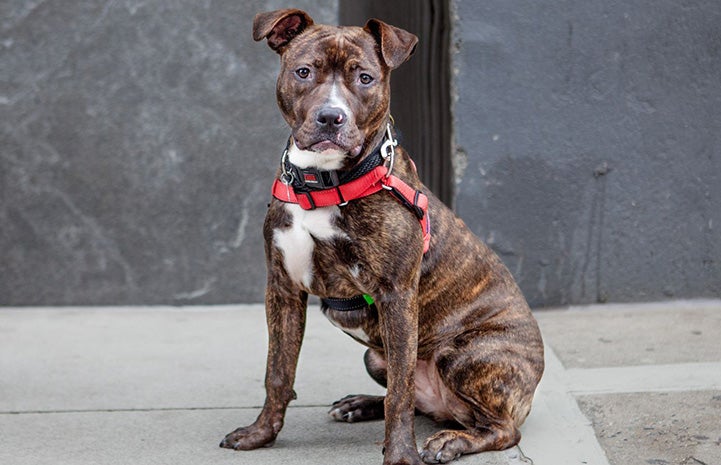 Helping a puppy learn new skills, one hot dog at a time
Tiggs had come to New York from Best Friends in Atlanta . When she arrived in the Big Apple, caregiver Cody Bailey was there to greet her. He immediately recognized her never-ending energy and love for play. It turned out to be the beginning of a beautiful friendship. Cody spent a lot of time with Tiggs and especially enjoyed playing catch with her; however, his favorite part was when the running and throwing were done. "When she would get tired, she would come lie on my lap," Cody says. "She was … really sweet and wanted your love."
Tiggs also learned to remain calm so someone could put on her harness. This had been a struggle until Cody tried something different: hot dogs. In exchange for a piece of a hot dog, Tiggs would sit still and allow her harness to be put on. This tactic worked so well that Tiggs began to sit whenever she saw someone walking toward her with a harness.
Caregiver Alveen Dabandan also enjoyed spending time with Tiggs. "When I first met Tiggs, I saw a confident dog," says Alveen. "She definitely is motivated to play." Alveen says Tiggs was overjoyed to peruse the streets of New York City. On walks, she received lots of affection and treats as reinforcements for her good behavior.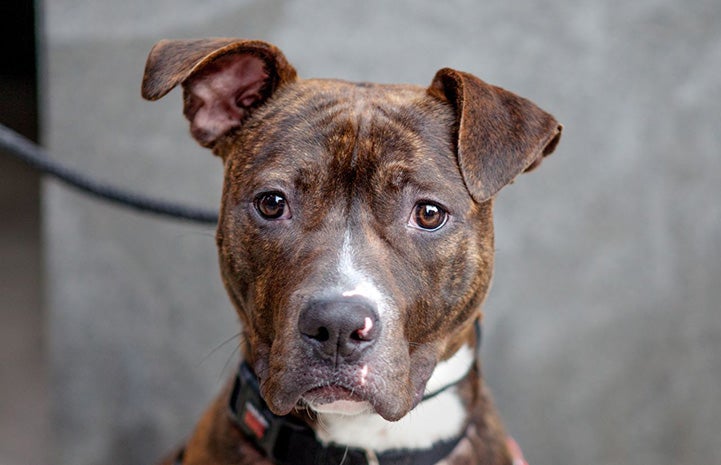 From foster home to permanent home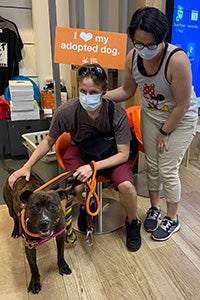 When the center closed temporarily during COVID-19, longtime Best Friends volunteer Peter Vega offered to foster Tiggs. The chance to spend some time at Peter's home was a great opportunity for the puppy. Since Peter has helped many dogs learn new skills and get adopted, he most certainly could help young Tiggs, too.
While Tiggs was getting love, attention and all sorts of training to channel some of her puppy enthusiasm, Matthew and Ry were regularly scanning the Best Friends website to check if Tiggs was still available for adoption. When Best Friends called to let them know that Tiggs was still available and that the Find Love Online adoption event would be happening soon, Ry says, "I felt the world and the universe were trying to say 'this dog is yours."
Matthew and Ry scheduled a virtual meet-and-greet, which was followed by a second in-person meeting. In that second meeting, Matthew and Ry realized how much they missed Tiggs after not seeing her for more than three months. That day, they resolved to stop waiting. They adopted her.
A new life for a dog whose life has only just begun
Tiggs' excitement for her new home started as soon as she got in the car with Matthew and Ry. Panting with excitement and playing with a toy hippo, she made sure the car ride to her new home was, in fact, a joy ride; however, at home not everything went according to plan. She cried the first few times Matthew and Ry led her into her crate, which was a brand new experience for her. She got used to the crate after a week, but not before Matthew let her sleep on the bed.
Tiggs has been home for nearly two months now and she's well into the groove of her daily routine. Every morning, she goes to the dog park and plays with fellow canine friends. "She's so gentle," says Ry. "She's just now starting to learn when other dogs don't want her nearby. She just wants to be everybody's friend and sniff everyone and walk with them."
Tiggs is also learning new cues. Ry and Matthew have taught her how to shake hands and spin around in a circle, as well as how to sit down and fetch. And of course, she loves playing games. Her favorites are tug-of-war and kibble in a bottle. In the second game, a bottle is attached with food to a string. Tiggs' job is to find a way to get the bottle onto the ground and open it to eat her well-deserved reward. And as a treat before bed, Tiggs often gets a bit of hot dog, just for being such a good dog.
[Dog named Bear is just right for his new home]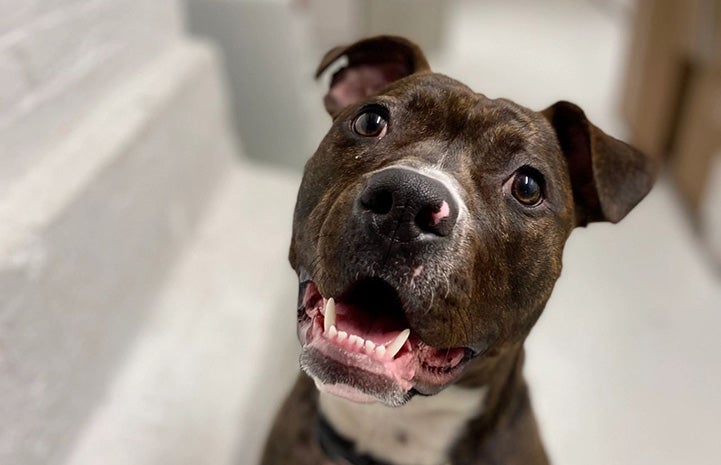 Two Instagrams, one important message about pit-bull-terrier-like dogs
As a fun rivalry, Ry and Matthew created two Instagram accounts for Tigg: tiggystardust__ (Ry's account) and tiggy_stardust__ (Matthew's account). Both pages show precious moments, such as Tiggs playing the bottle game and sticking her head into water spraying from a fire hydrant.
Ry says the accounts are a great way of sharing the story of their young dog, but even more important is that they disprove the stigma of pit bull terriers being mean and scary dogs. "Matt and I both want to show that pit bulls are really friendly and loveable animals. They're not the bullies that people make them out to be."
[First a dog found confidence, then she found a home]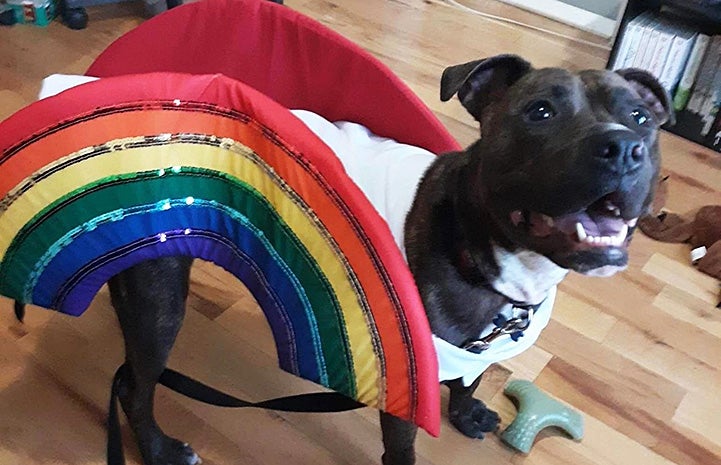 Happy puppy, happy adopters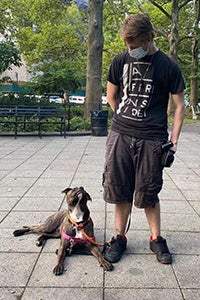 Best Friends set up two free training sessions for Tiggs to keep everything headed in the right direction, and when Cody checked in with Matthew and Ry he loved hearing how much she's flourished since the training.
Today, Tiggs has made Matthew and Ry's dream of having a dog a reality. And Tiggs has made their life richer, too (although they may be down a few hot dogs).
"She is such a social creature," says Ry. "It's making us talk to people around our neighborhood and make friends with people who also have dogs so Tiggs can have play dates. She's taking us out of our own comfort zones, in a good way. Tiggs brings so much happiness to us both."
Why postpone joy?
Adopting, fostering or volunteering for pets at your local shelter won't just fill you with joy, it will help save lives.
Read more
5 dogs who changed their adopters lives
Tale of a cat princess and the power of fostering
Frankie the dog is deaf, blind and bursting with love
Photos by Robert Stoetzel and courtesy of Cody Bailey, Ry Pilchman and Best Friends staff