Rescued cat comforts adopter during his panic attacks
A cat once in need of comfort himself now comforts his adopter during panic attacks.
By Nicole Hamilton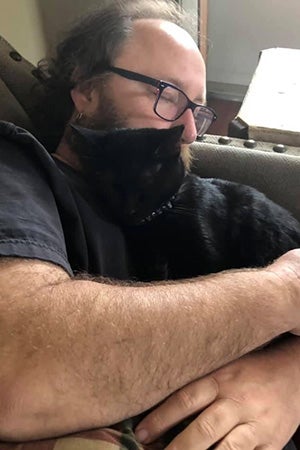 Whenever Daniel Miller feels a panic attack coming on, he knows that his new cat, Jordan, will soon be by his side. Without any special training, the black cat sits on his adopter's chest and kneads his beard with his paws during these episodes and, so far, Jordan has a 100% success rate soothing Daniel's anxiety. That's pretty remarkable, because not too long ago Jordan was in need of comfort, too.
That was back in March, when cat brothers Jordan and Felix were at a shelter in an area of Alabama hit hard by tornados. Shelters were in critical need of help, and without it, Jordan, Felix and many other cats might have lost their lives.
[Florida sheriff steps up as professional cat wrangler]
Best Friends responded to the shelter's call for help and arranged a transport for 17 cats, including Felix and Jordan, to go to Best Friends in Northwest Arkansas. That's where Kimberly and Daniel, who had come in looking for a cat to adopt, first met the brothers. They hadn't planned on adopting a pair, but as soon as they saw the two black cats, they took it as a very good sign.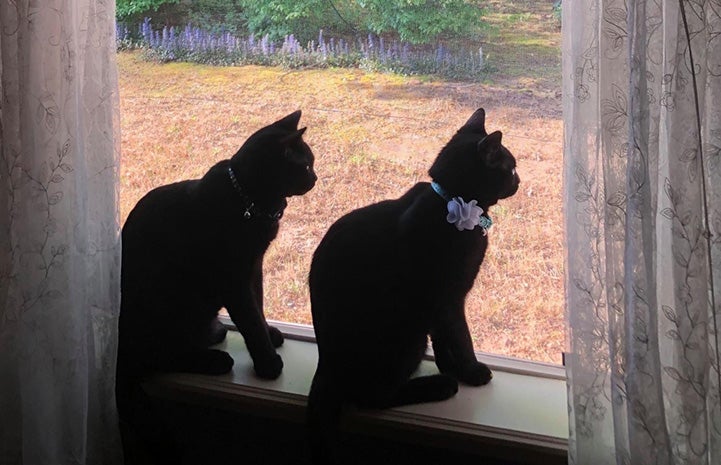 Cats help heal a heart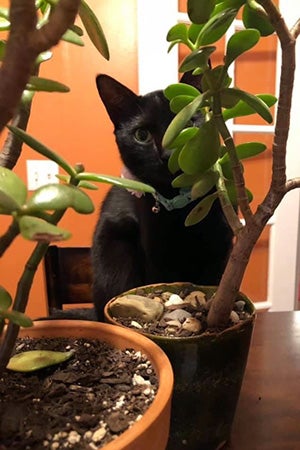 You see, about a year ago Daniel had a massive heart attack. As he recovered at home, he made friends with two black cats who would come into the yard while he was getting a little fresh air. He started to look forward to spending time with the cats, who helped him relax while he healed. Then Kimberly and Daniel moved to another location so they could be closer to Daniel's doctors, and they decided that once they settled into their new home, they'd adopt a cat.
[The cat who changed her mind]
When they saw Felix and Jordan, they decided to foster them with the hope of adopting them if they settled in well. It didn't take long to decide. "They made themselves right at home," says Kimberly. "We bought them toys, but they rejected those for an empty cardboard box that they love to play in."
Not too long after they made it official and adopted the brothers, Daniel had a panic attack and Jordan quickly came to his side. As soon as he sensed Daniel was in distress, he lay down on his chest, began purring and pawed Daniel's beard until the feelings subsided. Jordan has been helping him ever since.
"Jordan has a very calming effect," says Kimberly. "Felix, on the other hand, is always ready to play. He plays fetch for hours, and I had no idea that was a thing with cats. They are both very affectionate and sweet."
Recently, the team at Best Friends got an update about Felix and Jordan and were over the moon to learn just how strongly the cats have impacted their adopters' lives — especially Daniel's. Courtney Perrin, the Best Friends lifesaving and care specialist who worked closely with Kimberly and Daniel during the adoption process, was particularly moved.
"It was such a great feeling knowing that not only were we able to help Alabama shelters and cats after the devastating tornados, but that Felix and Jordan were adopted together," says Courtney. "The fact that Jordan is now helping his adopter makes it all even more special."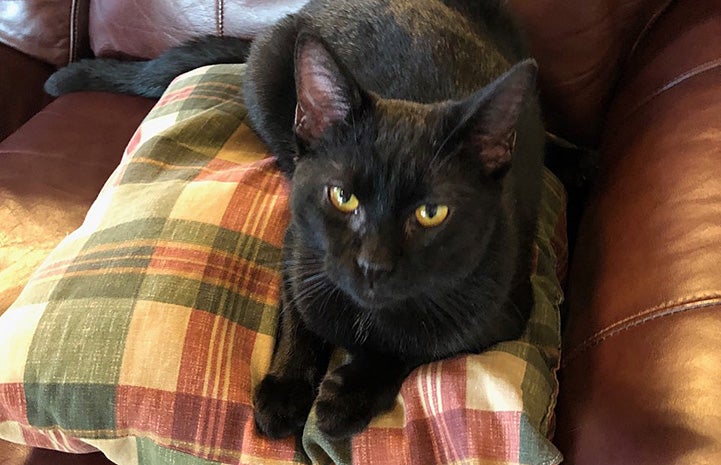 Make a difference for pets
Fostering, adopting and volunteering does a world of good for pets and a world of good for you, too.
Read more
New digs, new diet help a senior cat manage chronic belly troubles
Once paralyzed puppy ditches his wheels
Photos courtesy of Kimberly Miller