Retired microbiologist volunteers full time with dogs
When Fred Rainey retired in 2016, he couldn't have imagined spending all his time volunteering with homeless dogs, but sometimes life surprises us.
By Jess Cieplinski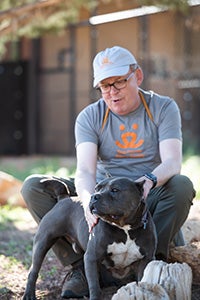 If you listen closely to conversations on the two-way radios worn by all Dogtown caregivers at Best Friends Animal Sanctuary, there's a good chance you'll hear Fred Rainey's melodic Irish brogue. And even though he ended up there quite by accident, the man behind the voice has become a local volunteer and hero for many dogs and people at Dogtown,
Originally from Belfast, Northern Ireland, Fred came to the United States in 1996 to take a position as a microbiologist at Louisiana State University. He invested much of his life at LSU and later in Alaska at the University of Anchorage. He made groundbreaking scientific discoveries, taught microbiology and led his department. When he retired in 2016, he took a chance on a town in southern Utah and settled in St. George with his adorable rescued tripod pup, Byron.
When Fred saw a Facebook post advertising Best Friends' annual Strut Your Mutt event in Kanab, Utah, he decided to take a drive with Byron to explore the Sanctuary. There he met Terry Wyhoski, a volunteer coordinator who told him about volunteer opportunities in Dogtown. So, in 2018 Fred started volunteering once every other week.
[Strut Your Mutt helped shelters and rescue groups across the country raise a whopping $2.3 million in 2019.]
Volunteer helps his first shy dog
From puppies to full-grown dogs, Fred started helping all kinds of dogs at the Sanctuary, eventually meeting an extremely shy one named Tiana. Fred says his friendship with Tiana progressed slowly. First, he walked along with her and her caregiver and eventually was able to walk Tiana on his own.
In the beginning Tiana stayed behind Fred, but the more she got to know him the more comfortable she became. Soon she was walking beside him and finally, she even had the courage to venture out in front of him — tremendous progress for such a shy dog.
The true beauty of their relationship showed when a potential adopter came to meet Tiana. After all their time together, she trusted Fred to introduce her to the new stranger. Fred helped Tiana's adopter to both understand her shy personality and build their bond. Fred says, "The day Tiana went home after being at the Sanctuary for five years, I realized that all those walks and gradually getting her to feel safe around people had paid off …"
[It's not always people who help shy dogs the most. Sometimes it's other dogs.]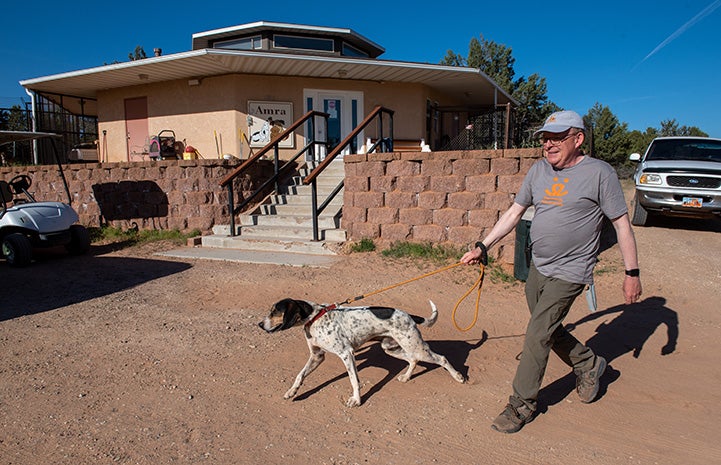 Becoming a full-time volunteer with dogs
As time went on, Fred volunteered more and more in Dogtown. And in the summer of 2019, after learning that volunteers were needed with newly arrived dogs from large transports, he decided to move to Kanab.
It didn't take long before Fred was able to work without any help from staff. He knew the routine, understood how to welcome and get to know new dogs, and knew how to observe medical needs and dog behavior. He not only kept everything running smoothly (in the area he eventually would manage), but he also was happy to show the ropes to visiting volunteers.
The staff grew to depend on Fred, who five days a week was spending most of his day with new arrivals. When he finished that work, he'd head down the road and help other caregivers. Fred was tireless in his pursuit of excellence, and for all of his hard work volunteering with homeless dogs, he was honored by Points of Light, the world's largest organization dedicated to volunteer service.
With the outbreak of COVID-19, the number of new dogs arriving to the Sanctuary slowed down. But instead of backing away from Dogtown and the uncertainty brought by the pandemic, Fred stepped up. He began training so he could help cover other shifts affected by the pandemic. He put in many hours and lots of effort to befriend new dogs and build relationships with them.
Fred's new canine friends included a hound with neurological issues named Whistler, who historically struggled with men; a barrier-reactive and people-selective Chihuahua mix named Caliente, who likes sitting in Fred's lap at the dog park; and a part feral heeler named Skelly, who can still be hesitant about trusting humans. Fred has built beautiful, trusting relationships (and then some) with each of these dogs, but it's his friendship with a little dog named Nicholas that stands out the most.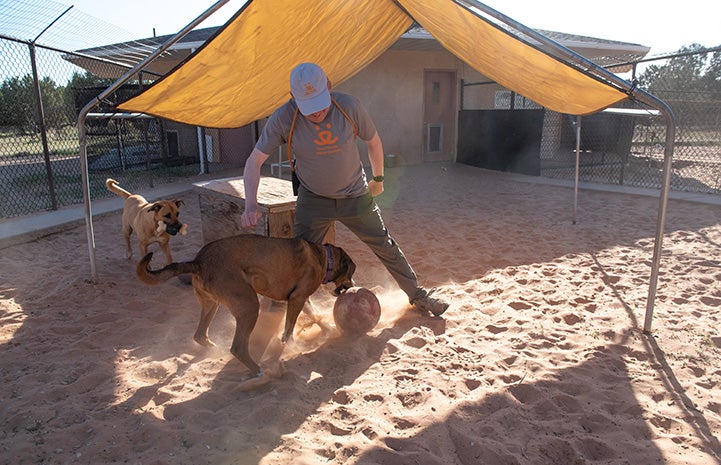 Building a friendship with Nicholas
When Fred first met Nicholas (who he eventually called Nicky), he saw a little tormented soul who needed a friend. Befriending Nicky became a pet project and soon Fred began giving Nicky yummy treats through his gate to calm him down. As Nicky became accustomed to seeing Fred each day, he began to look forward to their interactions instead of the usual barking, snarling and lunging.
Fred began taking Nicky out for rides in his stroller. Since Nicky is not used to walking on leash and didn't welcome handling, stroller rides were perfect for him to see the sights and sniff the smells of Dogtown without getting upset. This progressed to Fred entering Nicholas' living space and getting him set up in his stroller without any caregiver assistance. Soon the two buddies were doing everything together: running through the agility course, going on golf cart and car rides, and making dog park visits with some of Nicky's dog pals. Fred even arranged for his own dog, Byron, to spend the night at a friend's home so he could take Nicky for a sleepover to see how he did a home environment. That weekend, Nicky thrived in the quieter setting with less stimuli and more routine.
[You read that right. Sleepovers with pets from Best Friends Animal Sanctuary are a thing.]
The friendship that developed between Fred and his feisty friend, as well as Nicky's relationship with his canine companion Byron, was truly a surprise silver lining of COVID-19. Since Fred was volunteering four days a week at Dogtown and all his travel plans for the foreseeable future were cancelled, he decided to not only focus his energy on the residents of one area of Dogtown, but to also provide a real life-changing opportunity for Nicky.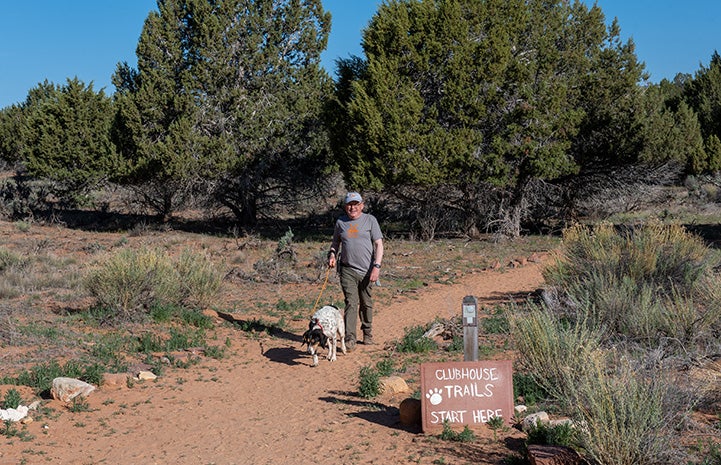 Nicholas moves in for a long sleepover
One day in March, a caregiver packed Nicky's bags and took him to Fred's home so he could meet Byron for the first time. The two hit it off easily, and Byron started educating Nicky on the routine of the house and where to find the best sniffing spots. Nicky has adjusted well. He enjoys the quiet nature of the home, as well as the routine and structure created by Fred. And he never says no to a tasty snack of string cheese.
Nicky has experienced camping and hiking adventures in the solace of the Coral Pink Sand Dunes. He also likes curling up at the foot of the bed to snooze the night away, exploring the backyard with Byron, and finding a great spot on the couch to cheer on Fred's favorite soccer and rugby teams.
Nicky sometimes falls back into his old ways of hiding under the sofa or protesting with a snarl when he's unsure about something. But overall, he's received some true gifts — the gifts of patience, safety and love from a loyal friend named Fred.
Be like Fred
You, too, can change the lives of homeless pets by volunteering with a shelter or rescue group near you.
Read more:
Take a virtual reality tour of Best Friends Animal Sanctuary
Big love for Texas pets during COVID-19 outbreak
Summer recipes with Rescue Dog wine pairings
Photos by Molly Wald