Reuniting lost pets with their families
Home Sweet Home contest recognizes five No More Homeless Pets Network partner rescue organizations that reunited lost pets with their families.
By Denise LeBeau
The Home Sweet Home contest awarded grants to five amazing No More Homeless Pets Network partners that help keep animals out of the shelter system by reuniting them with their families. The online challenge, sponsored by Lost Pet USA, not only helped garner support for the organizations, it also helped educate the public about the importance of beloved pets having proper identification and microchips. The competition was a Facebook voting campaign between July 10 and 24, 2012.
The participating organizations included Livingston County Humane Society, Lost Dogs Illinois, Missing Pet Partnership, No Stray Left Behind, and Windham County Humane Society. The organization with the most votes won $5,000, the second place winner received $2,000, and the other three organizations received $1,000 each.
"Losing a pet can be one of the scariest situations you experience as a pet parent. That's one of the reasons why we started LostPetUSA.net," says Cathy Bissell, co-founder of Lost Pet USA®, an online and mobile service that features a national database of lost and found pets. "We are honored to partner with Best Friends to support animal welfare organizations who are working to help reunite lost pets with their families."
Home Sweet Home contest winner
The winner with the most votes was No Stray Left Behind out of Ontario, California. A No More Homeless Pets Network partner and part of the NKLA Coalition, this organization is a serious part of the solution to stopping stray or unwanted dogs from entering the shelter system, and helping them get out if they do. Being relatively new to the nonprofit animal welfare world (they received their 501(c)(3) status in 2010), they were shocked that they won.
"This is the largest grant we've ever received," shares Carrie Erskine, founder of No Stray Left Behind. "Becoming a member of the coalition has opened up so many doors for us — it gives our organization more validity (to have the Best Friends name behind it), it makes us eligible for grants, and it enables us to be able to pull animals out of Los Angeles. The support has enabled us to do more lifesaving work."
Formed out of necessity when Carrie moved to a more rural area of California, and for the first time in her life saw dozens of stray dogs wandering around her town, her organization is dedicated to ending pet over-abundance and the killing of adoptable dogs.
The grant will allow Carrie to provide an additional service, spaying and neutering the found dogs before they are reunited with their families, which fits perfectly within their mission.
"Statistically, unaltered animals are more likely to roam," says Carrie. "Our Home Sweet Home grant is going to help us not only address the pet population problem, but will also, in the long run, reduce the likelihood that the dog will be lost again."
Other animal rescue organizations that won
All of the animal organizations in this promotion are winners.
The second place grant of $2,000 was awarded to Lost Dogs of Illinois. With their mission of educating and empowering owners with resources and tools to assist them in locating their lost dogs and reuniting found dogs with their owners, this grant will go a long way.
The rest of the organizations are also planning to put their 1,000 winnings to good use to benefit the animals.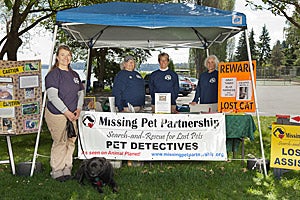 Missing Pet Partnership
Kat Albrecht, founder of Missing Pet Partnership (MPP), is especially excited: "Missing Pet Partnership was honored to have been selected for the Home Sweet Home challenge! We will use the funding from this effort to help us launch our upcoming 'Community Missing Animal Response' webinars designed to train animal rescuers and shelter workers how to offer hands-on lost-pet recovery assistance in their community. A big thank-you to all who voted and to Best Friends and LostPetUSA!"
Karen Gregory, co-founder of Livingston County Humane Society, enthuses: "Home Sweet Home gave the opportunity for people who are not able to come to the shelter to be a part of us and vote each day. We will now have funding we can use to help transport, search, and network with people who have lost animals. Watching everyone pull together for us was a great experience — especially the ones who find it so hard to come to the shelter because they want to take all the animals home."
How you can help
Support the organizations that help reunite pets with their families:
If you've found or lost a pet, check out Lost Pet USA.
About Lost Pet USA®
Lost Pet USA (LostPetUSA.net) is a free online and mobile service that offers the essential tools to help reunite lost and found pets with their families. The searchable, nationwide database connects both lost pet owners and finders with recently reported lost & found pets, along with an extensive listing of local shelters, vets, police and other local support systems that can be easily and quickly located on an interactive map when entering the city and state or zip code of the area searching. The trusted registry also features tips, poster templates and many other resources and tools for pet parents to use if their beloved pet ever becomes astray.
Photos courtesy of Lost Pet USA and Missing Pet Partnership