Russian blue cat is Hurricane Katrina survivor
Image
A Russian Blue cat is a Hurricane Katrina survivor who has had a difficult history, but he is now enjoying life and loving people at the Sanctuary.
By Christelle L. Del Prete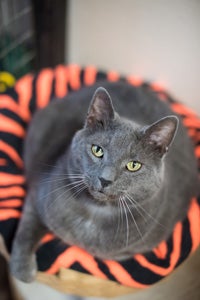 Ten years have passed since Hurricane Katrina devastated New Orleans and the surrounding areas, displacing hundreds of thousands of people and leaving thousands of pets stranded and fighting for their lives in the disaster area.
In addition to Best Friends' efforts on the ground in New Orleans and in the rescue camp in Tylertown, Mississippi, Best Friends Animal Sanctuary took in about 150 animals in the days, months and years following the unprecedented disaster. Many of those pets have since been adopted, but we're still caring today for some of the animals who survived the storm. One of them is a cat named Wrinkles.
Feline Hurricane Katrina survivor
Wrinkles took a roundabout route to the Sanctuary in the years following Hurricane Katrina. After the storm, he found refuge with a rescue organization in Minnesota. He even spent some time in a loving adoptive home. Sadly, Wrinkles lost that home through no fault of his own. The poor cat developed painful ulcers in his mouth, and his person couldn't afford the medicine he needed to ease his pain.
So Wrinkles came to the Sanctuary, where caregivers and the Best Friends veterinary staff have plenty of experience treating Katrina survivors in need of extra medical support. Not long after his arrival, Wrinkles had a major dental surgery that would leave him toothless, but he was finally free from pain.
Russian blue who loves people
Wrinkles is enjoying life a lot more these days. He feels quite at home in Cat World, where he plays host to people taking tours of the Sanctuary. Since Wrinkles loves people, he particularly loves tour time.
Each day, he wears his winning smile and a bowtie while greeting visitors. It seems that no one can resist the handsome Russian blue cat with the red bowtie looped smartly around his neck. Often, he'll lounge on his Kuranda bed and beg treats and pets from everyone who stops by.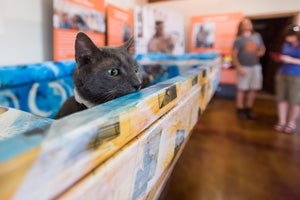 Recently, Wrinkles took his one-cat greeting committee to the new Best Friends Visitor Center for a day. After climbing out of his carrier, he trotted around the center and acknowledged several guests before leaping up into the ARK, a piece of artwork by Best Friends co-founder and artist Cyrus Mejia. The ARK commemorates the efforts of Best Friends and all the volunteers who helped rescue animals in the aftermath of Hurricane Katrina. After posing for several pictures in the ARK, Wrinkles climbed down and continued working the crowd.
Enjoying life to the fullest
Only five months old when Hurricane Katrina hit, Wrinkles was lucky to survive the tragic storm that nearly ended the lives of countless people and pets. Though he's still waiting for his forever home, he's happy to call the Sanctuary home until that day comes. But no one can ever forget where he came from, and how lucky he is to have survived.
Bring hope and healing to more animals like Wrinkles.
Learn more about the cats at Best Friends.
Photos by Kurt Budde