Senior Hurricane Katrina survivor cat goes home
Fifteen years after Hurricane Katrina, one of the last surviving cats at the Sanctuary has just been adopted.
By Sarah Thornton
Saturday, August 29 marks 15 years since Hurricane Katrina made landfall in Louisiana. At that time, Wrinkles was a five-month old kitten. The storm and its aftermath made his life just one of the hundreds of thousands uprooted in the wake of the storm. Best Friends was the first animal organization on the ground to pull pets from the floodwaters, and it was the last animal organization to leave. We reunited pets with their people and gave shelter to those who had been strays or whose people couldn't be found. Wrinkles, a Russian blue, was one of a great number of pets aided by Best Friends following the storm, although it was some time later that he finally landed at the Sanctuary.
A week ago, just short of the storm's 15-year anniversary, Wrinkles, one of the last Katrina survivors living at the Sanctuary, has cause to celebrate. He went home.
[Remembering Hurricane Katrina: Julie Castle's blog]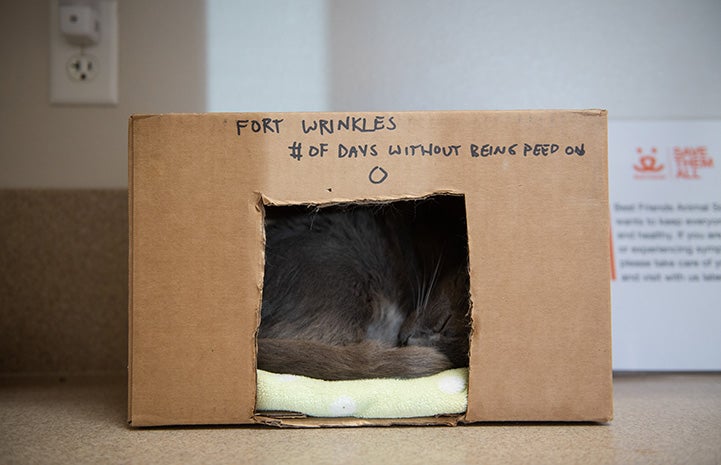 A friendly presence at the Sanctuary
Shortly after his rescue in Louisiana, Wrinkles was taken in by a rescue group in Minnesota and then was adopted. He spent many years with a family, but then lost his home. He had also developed a painful dental condition and needed to have all his teeth removed. Wrinkles then came to the Sanctuary for the dental surgery, which finally relieved him from pain.
While at the Sanctuary, Wrinkles made quite the name for himself. Friendly and easygoing, he got along with the other cats and enjoyed spending quiet moments with his human friends and visitors. He went on countless harness walks and stroller rides, took in the sights and smells around Cat World, rolled in the sand and kept a close eye on all the lizards. He greeted tours and supervised volunteers and, sometimes, even sported a dapper bow tie to compliment his already stunning good looks.
When Wrinkles was featured on the Best Friends Instagram page and people were able to see his sweet personality and love for attention, the comments started rolling in. One person who took notice sent his picture to a friend, saying, "Somebody needs to get this cat and I think it needs to be you."
"He just looked so cute, and I read about him and I thought about him," says Jenny Faber. Soon after seeing the photo, she called the Sanctuary, set up an online meet-and-greet and, eventually, adopted her new family member.
[Virtual pet meet-and-greets open doors to new families]
Senior hurricane survivor home at last
"In a normal world, I travel a lot for my job," says Jenny. "And I have a little cat that I adopted about two years ago and I've been feeling like she needs a pal." But with so much traveling, the timing was never right to introduce a new cat into the house; however, when COVID-19 took travel out of the equation, Jenny saw the opportunity.
She considered fostering and thought about adopting. Then, she saw Wrinkles. It struck her how much he looked like her other cat, Bunny. "They look like they could be a real brother and sister," she says. He was perfect for her little family.
During the meet-and-greet, Jenny talked with Allison Topham, one of Wrinkles' caregivers, who explained his daily care and medications, which included a twice-weekly injection to keep mouth pain and inflammation at bay. Jenny was quite nervous about having to give an injection, but Allison offered to deliver Wrinkles to her home in Salt Lake City and show her how to give the shot. "I was really freaked out about the shots, but it's not bad at all," says Jenny.
[Two kittens plus three boys equal a house full of love]
Wrinkles took no time at all making himself at home, and Jenny says they're all settling into a groove. He's loving life, following Jenny around the house, stretching out on the floor in the sun and jumping up on the counters to prove that he's still just as spry as a younger cat.
Jenny has switched him to an all-wet-food diet because of his missing teeth and Wrinkles is taking full advantage of it. "He loves to eat," Jenny says with a laugh. "He's not a guy who wants to miss a meal at all.
"He's pretty funny. He really loves to follow me around, looks at me, opens his mouth and tries to meow — and nothing really comes out. It's really cute."
Wrinkles has fully settled into his new life. He's a happy, relaxed older cat who's finally getting to enjoy a home again. He might have a little way to go to win over his new sister, but there's no rush. Wrinkles is content just to finish up a tasty meal and curl up in the sun for a bath — safe, sound and very, very loved.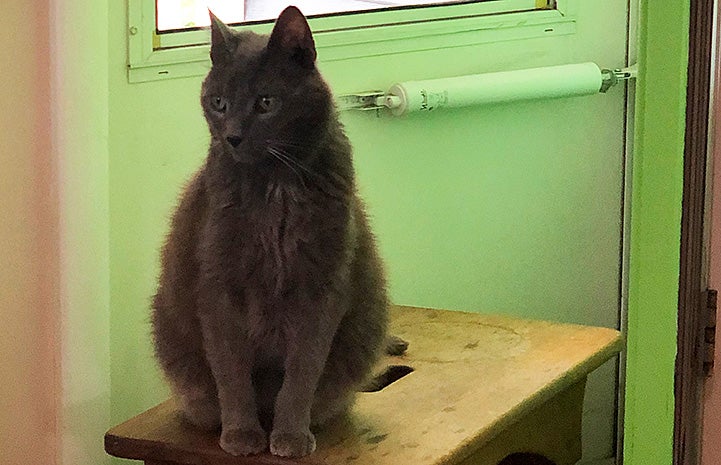 Change a pet's life
You can change an animal's life (and your own) by adopting a homeless pet.
Read more:
How a sweet senior cat found his way to treats, sunshine and a new home
This incredible survivor cat overcame impossible odds to believe one crazy thing: That he's actually a dog
Spunky kitten with cleft palate beats the odds
Photos by Jenny Faber and Molly Wald