Shelter dogs for vets event
Pets for Vets adoption event waived adoption fees for veterans, active military, reservists and their families.
By Nicole Hamilton
When U.S. Army veteran Gavin Gloyne and his wife Kristina met Waylon at the Best Friends Pet Adoption Center in Salt Lake City, they felt an instant connection to the terrier mix with an adorable underbite. And the feeling must have been mutual, because Waylon wasted no time crawling up onto Kristina's lap.
"Here was this little dog who we knew had had some struggles. And still, he was so sweet, so we decided to adopt him," says Kristina. "It was one of the best decisions we've ever made."
Life wasn't always easy for Waylon, who lost his home and ended up at Salt Lake County Animal Services. But the little terrier got a second chance when he was brought to the Best Friends Pet Adoption Center, along with other adoptable dogs to take part in Pets for Vets, a week-long adoption event held at the center that waived adoption fees for veterans, active military, reservists and their families, thanks to a generous donor. That was how the little gray dog went from homeless to home with a couple who understood his struggles in a unique way.
Become a member of Best Friends today
As it turned out, Kristina and Gavin knew a thing or two about struggles themselves. After breaking both of his feet jumping multiple times out of Humvees during a tour of Iraq, Gavin was honorably discharged in 2005 and moved back home to Las Vegas, where he met and eventually married Kristina.  
But then the couple fell on hard times and wound up in Salt Lake City without a place to live or jobs. But despite the setbacks, they didn't give up. Eventually they found work and an apartment, which made them feel stable again for the first time in a while. Once they overcame their challenges, there was only one more important thing they really wanted to do: adopt a dog.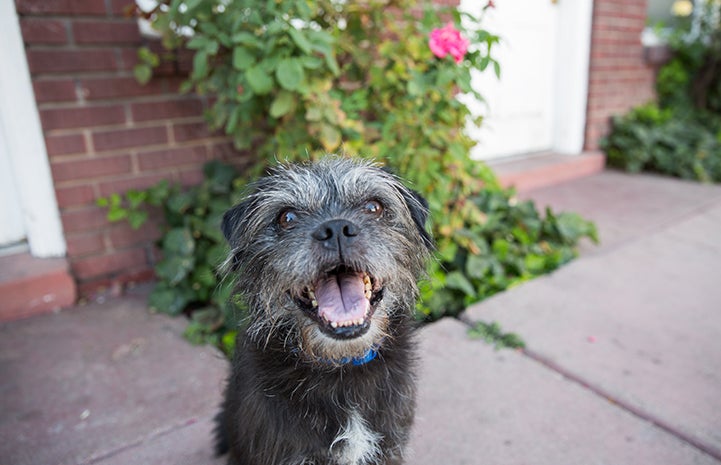 Being in the right place at the right time leads to a dog adoption
Soon after moving into their new apartment, they decided to spend a day off exploring. That's how they happened upon the Best Friends Pet Adoption Center in Salt Lake City's Sugarhouse neighborhood. And when Gavin made a beeline for it after seeing the Pet for Vets promotion sign, Kristina's heart skipped a beat. "We had talked about getting a dog, but I couldn't believe it was really going to happen," she says.
Waylon clearly felt the same way. After positioning himself squarely on Kristina's lap as soon as they met, he cuddled close to her throughout the adoption process.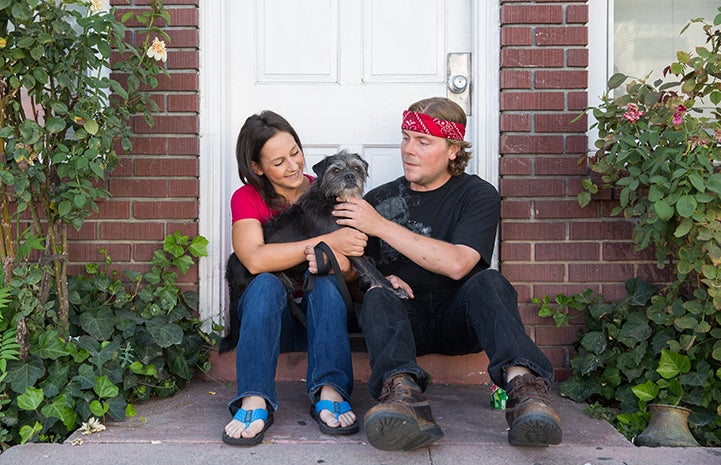 Unconditional love bonds pets and vets
Today, Waylon is a happy, relaxed dog who loves his new home. Kristina says that when she and Gavin look at Waylon, they can't help but to be reminded of how life can change for the better. "When you're a veteran, you can get lonely at night, and Waylon helps with that," says Kristina, who is learning what dogs do best: give unconditional love.
"With Waylon, the more love we give, the more he gives back," she says. "Adopting him was one of the best things that has ever happened to us. If we hadn't adopted him that day, I know we would have regretted it."
Help more dogs like Waylon. Donate today.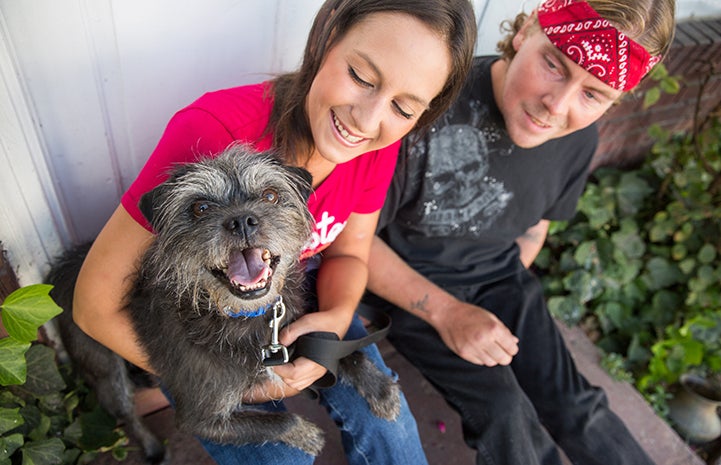 Photos by Sarah Ause-Kichas