Shelter transformation inspired by one incredible dog
Image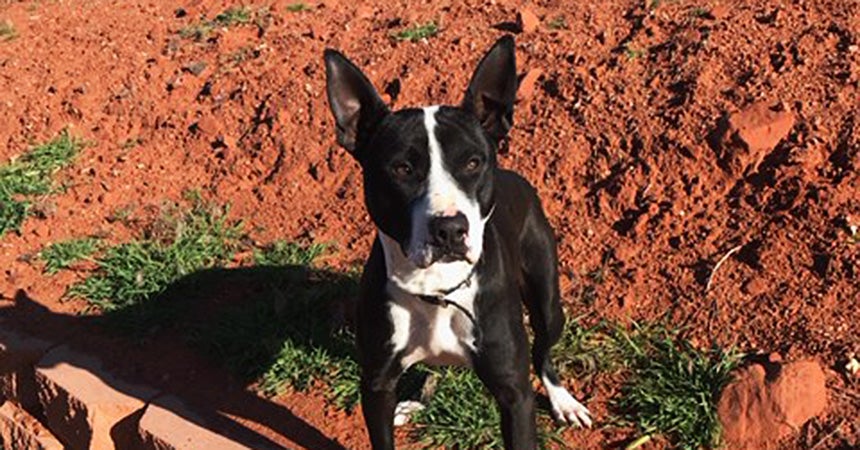 Best Friends dog training workshop helps Ivins Animal Shelter Adoption Center and Santa Clara-Ivins Animal Control in Utah with difficult dogs.
By Christelle L. Del Prete
It all started with a dog named Bruce. When the staff at Ivins Animal Shelter and Adoptions Center, a Best Friends Network partner organization in Ivins, Utah, needed help with Bruce, they contacted Best Friends Animal Society for help. Though he'd never broken skin, Bruce had bitten several people. And even though the Ivins shelter has been no-kill for years, the staff needed to know: Could they work with this dog and adopt him out safely to the public? And if not, were there any other options?
Assessing a challenging dog
Sherry Woodard, animal behavior consultant for Best Friends, went to the shelter to meet Bruce after taking the call. During her evaluation, Sherry saw that he had potential and that with the right guidance he could move forward. He left the shelter, went to another rescue organization and soon found a home.
While visiting the shelter, Sherry spoke with police chief Robert L. Flowers and told him about Best Friends' dog handling workshops. That conversation inspired Robert to send Bailee Mabe, supervisor for Santa Clara-Ivins Animal Control, to a workshop. Bailee was excited about the opportunity to learn new techniques that would improve life for dogs like Bruce and all the other animals in her care.
Workshops at Best Friends Animal Sanctuary
"Every day, Bailee commuted from Ivins to the Sanctuary in Kanab, Utah, (over an hour and a half away) for the workshop," says Megan Claflin, education events specialist for Best Friends. "Each night, she went back to the shelter and made changes to create a more stress-free setting for the dogs. She noticed immediate results. She is now a huge ambassador of the program."
Teaching a jumpy, mouthy dog to keep his feet on the floor
Bailee helped one particular dog who had been in the shelter since the previous October. Oscar, a young dog with adorable bat-like ears, was a total sweetheart. But he was also super jumpy and mouthy.
"His problem was that he was a big puppy with no manners," Bailee says. "As soon as you opened his kennel gate, he would become overly excited and begin mouthing and jumping on you." That behavior was understandably turning potential adopters away. So, Bailee began using tips learned in the dog handling workshop to teach Oscar not to jump on people. One of the hottest tips? Peanut butter.
Bailee and the other officers began by smearing a bit of peanut butter on the wall of Oscar's kennel and on Kong toys placed on the floor. Instead of jumping up on people, he was busy licking up the peanut butter. Once Oscar was good at doing that, they would open his kennel and put a bit of peanut butter on the wall directly outside his kennel — and then a bit more a little further along until Oscar followed the peanut butter trail all the way from his kennel to the outside door.
That's where they taught him to sit at the door and wait. By rewarding Oscar for good behavior and never giving him the opportunity to jump (which would reinforce that undesirable behavior), he learned that keeping his feet on the floor would bring good things. Because Oscar is smart and loves snacks, it wasn't long before they could open his kennel gate and he would run past them (without jumping) to the door. Even though he was excited, he no longer jumped or became mouthy. Instead, he waited to be let outside or harnessed for a walk.
All the hard work paid off. Because not long after he learned his new skills, Oscar was adopted.
Helping a traumatized dog
Over the course of the two workshops, Bailee also made huge progress with a severely traumatized dog named Timmy. When she began started the first workshop, Bailee says Timmy had had zero interaction with staff. "We'd had him for two months, and no matter how hard we tried he would never take food from our hands, eat while we were present, lift his head from the floor or make direct eye contact."
After learning about dog body language and how environment affects them, Bailee had an idea. While at the workshop, she called shelter officers and had them clear out an outside kennel that was away from foot traffic and (most of) the noise from the other dogs. It also had windows that would let Timmy see inside the building, where he could stay nice and cool on warm days, but warm and comfortable on cool nights.
Each night after the workshop, Bailee went to Timmy, armed with string cheese to watch his body language and try out what she had learned that day. "By the last day of the workshop and last night of driving to the shelter, I filmed Timmy and sent the video to the workshop leaders to show them that he picked his head up off the floor and was taking food from my hand for the first time."
Bailee knew that Timmy still had a long road ahead, but she continued working with him at his pace. "After the second workshop, I learned how dogs can help other dogs. So, we started doing his sessions with other dogs, which resulted in him standing and walking closer to people and giving small tail wags. Eventually we were able to take a dog who would not move from the floor of his kennel, to walking willingly with an officer through the shelter and going out to the dog run to play.
"He'll also come to the kennel gate for us to feed him. I'm happy to say Timmy was adopted into an amazing family in mid-June. They have a background in helping troubled dogs. They came to the shelter a few times to see him and learn our process, and they will continue helping him be the best dog he can be."
Practical dog-handling skills and more connections, too
Since Bailee took what she learned in the workshops and shared it with her fellow officers, everyone who works hands-on with the animals at her shelter is better able to help dogs like Bruce, Oscar and Timmy. One of the shelter's regular volunteers also attended the workshop so she can teach other volunteers how to work with dogs.
Taking shelters to no-kill by 2025 is made possible by shelter directors and animal control officers like Bailee, who are willing to learn, practice and share new skills. When animals are less stressed in a shelter setting and receive help and training, they find homes.
"I go to help local shelters often, and I love when the staff want to learn and teach more," says Sherry. "Bailee is an example of how we can work at the shelters and share hands-on ideas as well as teach with our workshops. I will continue to offer my hands and ideas at the shelter, and now it will be fun to teach others with Bailee — growing new staff and volunteers and establishing more connections to rescue groups and homes."
How you can help reach no-kill by 2025
Photos courtesy of Bailee Mabe