Small dog, big spirit
Molly Brown came to Best Friends with injuries that needed urgent care, but nothing could keep this little dog down.
By Sarah Thornton
Molly Brown was a small dog in big trouble when she was brought into a rescue group as a stray. In addition to being born with a short front leg, she had several broken ribs, puncture wounds in her side and fluid in her lungs. Because of her injuries, Molly Brown was brought to Best Friends Animal Sanctuary so she could get urgent treatment at the clinic. For all she'd been through, this little dog's larger-than-life personality never faltered, even while she was being treated. All she could see around her were a bunch of potential new friends.
She was given pain medicine and antibiotics to help keep her comfortable while her lungs were treated. She stayed in a special oxygen kennel to help her breathing. And whenever someone checked in on her, her ears perked up and her little tail wagged. She was always ready to greet them as excitedly as she could.
When she was well enough to leave the clinic, she spent some time in a foster home full of other animals just waiting to be made into new friends. She charmed the cats and the other small dog, delighting in her same-size housemates. Being able to get out, stretch her legs and play again was just what the doctor ordered (literally). Molly Brown was in high spirits, and things would just keep getting better from there.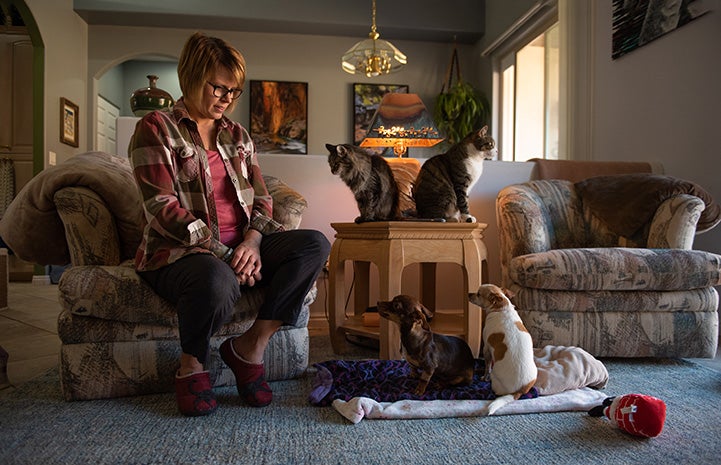 A new friend turned family
At Molly Brown's next foster home with Best Friends veterinarian Colleen Guilfoyle, she made even more friends. She was particularly fond of Colleen's cat, James, who had also spent time at Best Friends after being rescued from a wildfire. "They wrestled, chased, groomed each other and slept together," Colleen says. "It was so cute." The little dog also played with Colleen's much larger dog, but James was clearly her favorite ― that is until one of Colleen's friends paid a visit.
[Three tough tabbies survive a wildfire]
Cat Wilson and her dog, Maya, were on a cross-country road trip in honor of her mother, who had passed away the year before. "I thought that a road trip would be a good way to honor my mom's one-year anniversary," she says. "And it would also give me time to deal with it on my own in new places."
From her home in Key West, Florida, she headed toward Colorado, but a snowstorm pushed her on to Utah and a fateful meeting with a little dog at her friend's house.
As soon as Cat and Maya arrived at Colleen's home, Molly Brown was excited to see new faces. "Maya instantly fell in love with her," Cat recalls, "just like I did. Full of spunk and a big personality after such a rough start." She watched as Molly Brown kept up with the bigger dogs despite her size and her one short front leg, and she made her decision: "I'm gonna make her a Key West beach dog."
While Cat was staying with Colleen, Molly Brown was finally well enough to get spayed, and Cat adopted her, officially. Then it was onward to adventure with her new family.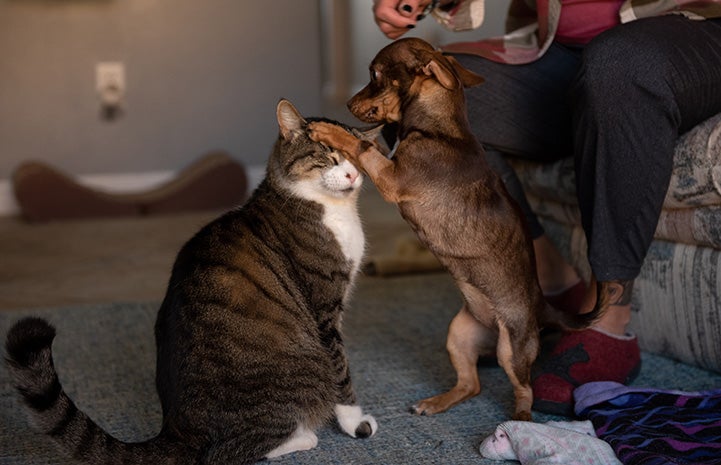 Taking the long way home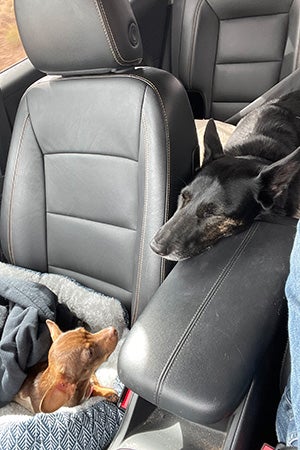 "Maya was grateful she had another dog to keep her company on the rest of our road trip," Cat says. And Molly Brown, a lover of car rides as well as friends, was in paradise. She had a soft bed to relax in and watch the world go by outside the window, Cat's jacket to snuggle up under, and two brand new family members with whom she could enjoy it all.
From Arizona to New Mexico, Texas, Louisiana, Mississippi, Alabama and back to Florida, the three finished up their long road trip and went home to a new chapter in their lives.
[Helping a dog with three legs find her footing]
"Life is great," Cat says. "Molly got introduced to the rest of my pack: Callie, Chloe and Rigby. She had no problems fitting right in." At first Callie (who had belonged to Cat's mom) wasn't so sure about the newcomer, but before long she was following Molly around everywhere.
Molly Brown's social circle keeps getting bigger, too. She gets to meet and make friends with many of the animals who regularly have Cat as their pet sitter. She never gets tired of new faces. And apparently, she has also decided that she is the protector of all of her new family and friends.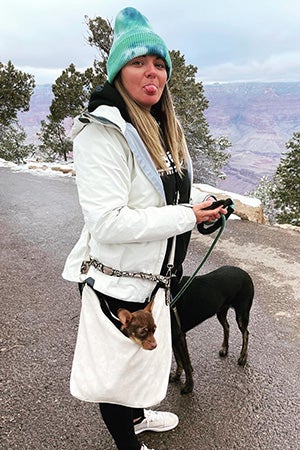 "When someone walks in the door, none of the other dogs will bark but Molly, thinking she's protecting the dogs, me and the house," says Cat with a laugh.
The decision to make Molly Brown a beach dog has gone just as planned. "She is officially a ball-obsessed beach pupper," confirms Cat. "She actually loves swimming and running on the beach with her ball. It's the cutest thing you ever did see."
For a small dog who went through such big trouble in the beginning, Molly Brown's life has turned around to even bigger and better things: a big group of friends, a big adventure, a big family and a big, wide-open horizon out across the water that she enjoys so much. It's all almost as big as her own larger-than-life spirit.
Find a pet with a big personality
No matter their size, it's easy to fall in love with a homeless pet's heart.
Read more:
Dog becomes a foster win in the sweetest way
5 dogs who changed their adopters' lives
Catching up with the poster dog of No-Kill Los Angeles
Photos by Molly Wald and courtesy of Catherine Wilson