Summer pet adoption events
More than 700 pets were adopted at Best Friends animal adoption events in New York and Utah. Additional pet adoptions are coming up this summer!
By Best Friends staff
Best Friends this year will host six super adoption events presented by BOBS from Skechers, and if the first two that took place the second weekend in May are any indication, then this is going to be a very good year for homeless shelter pets.  That's because more than 700 shelter and rescue group animals found their forever homes during the spring's Best Friends Super Adoption events held on the very same weekend in Salt Lake City and New York City, with Los Angeles coming up June 4-5.
The success of the first two events, organized and hosted by Best Friends, shows the impact we can have on the lives of homeless shelter pets when everyone comes together with a common goal. Dozens of our local shelter and rescue partners joined us to help find homes for their pets as well.
In both cities, the spring super adoptions were the most successful ever in attendance or the total number of pets adopted — so we, along with hundreds of pets and their new families, are celebrating from coast to coast.

BOBS from Skechers celebrates pets going to forever homes
The story of every homeless pet who finds a home at a Best Friends Super Adoption is special, but some adoptions just seem to have a way of causing a round of cheers (and sometimes happy tears).
In New York, Minnie a big-grin bulldog and a longtime resident of Best Friends–New York, went home with a couple who were instantly over-the-moon for her. Her foster-to-adopt home was a long time coming, and Minnie had been waiting quite some time for the right family to come along.
Both she and her new family got some extra perks to help them start their new lives together. Though Minnie was already one of the most watched pets at the event (because she'd been waiting for a home the longest), her adoption caused an extra round of cheering, because she was one of two New York pets chosen to receive a giant celebration package from presenting sponsor BOBS from Skechers.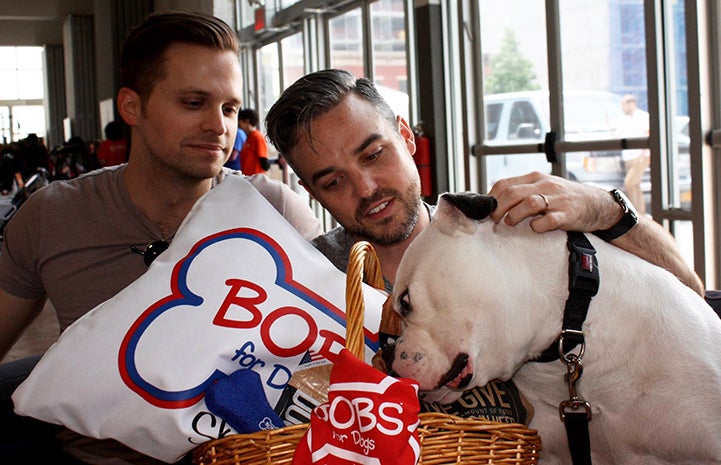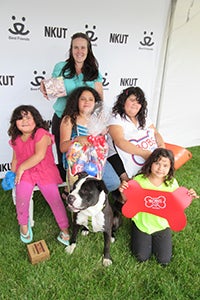 In Utah, Aries, a black-and-white dog from a No-Kill Utah (NKUT) Coalition partner, was one of the lucky pets to be sponsored, and he went home to an adoring family who spent hours with him. They wanted to be sure he really was just the one for them — four girls and their mom. As they finalized the adoption and Aries' new mom was presented with the giant basket of gifts, courtesy of BOBS from Skechers, she couldn't help but begin to cry. She said she already felt like she'd won when she and her girls found Aries.
Additionally, each dog and cat who went home got a "welcome to the family kit" from Petco Foundation to help them settle into their new homes.
Cats rule the weekend in Utah
While Aries and many other dogs got a whole lot of love at the NKUT Super Adoption, older cats got the benefit of the spotlight in an extra special way this spring. The event was a great opportunity to help some deserving adult cats, who are often overlooked in shelters in favor of teeny adorable kittens, find their forever homes. And so network partners, including the Humane Society of Northern Utah (HSNU), brought only adult cats to the event with the goal of finding them homes and creating more space in shelters for homeless cats.
Four senior cats from HSNU were adopted during the weekend, including Lalo, a 15-year-old cat who had been living in various shelters for the past eight years, and his buddy, 12-year-old Mini Me, who had been a shelter cat for the past five years. A total of 16 cats from HSNU found homes at the event, and it was considered a great success. "Even if only one of our cats got adopted, it would have been worth it to take part in the super adoption," said Ashley Schmittling, HSNU director of adoptions, rescue and foster coordination.
Learn more about Best Friends events around the country

Pet adoption events get boost from social media
For both of the recent super adoption weekends, the teams in Utah and in New York used social media to help promote the events, as well as the many pets in all shapes and sizes looking for homes. Both locations featured live video feeds on Facebook — to increase attendance and so people who couldn't be at the events to still experience it in real time. That's important, because people who arrive "just to look" at a pet adoption event, end up going home with a new companion to love.
On Sunday, the New York event got an extra boost when actor Adam Goldberg co-hosted the event and his appearance was broadcast live. Click here to watch it . And, you can see a recap of the NKUT Super Adoption here.
Both events were a success on all fronts, resulting in hundreds of pets both from Best Friends and our partners going to their new homes. Arlyn Bradshaw, executive director of
Best Friends–Utah, speaks to the success of both events. "I'm continually amazed at how much excitement surrounds each super adoption. The energy and hope that our partner rescue groups and shelters bring is truly special. Each animal that comes to the event brings a story and lots of love to share."
Stay tuned for news from the spring NKLA Super Adoption, scheduled for June 4-5 in Los Angeles.
Special thanks to our presenting sponsor, BOBS from Skechers, our national sponsor Petco Foundation, and to every single volunteer and network partner who came together to help hundreds of pets go home.
Join Best Friends to support more lifesaving events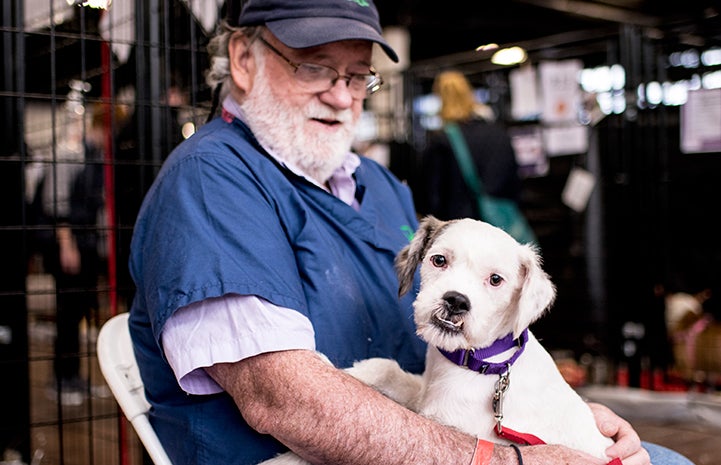 Photos by Sarah Ause-Kichas, Jovan Sharpe, and Best Friends staff