Three-legged dog teaches young boy that what makes us different also makes us special
Mother adopts a dog with three legs to teach her son a life lesson: that we all have special needs and that our differences are what make us special.
By Nicole Hamilton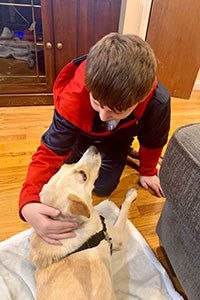 Helping her young students learn that what makes us different also makes us special is one of the things Jennifer Nelson loves most about being a teacher. "Whether it's a person or a pet, everyone is different," she says. "Everyone has a special need."
It's an important lesson Jennifer has also been teaching her son, JP, who for the longest time had been asking if they could adopt a dog. So, when Jennifer learned that Kash, a dog who lives life on three legs was looking for a home, she knew this was a chance to make her son's dream come true, while also teaching him about accepting everyone — whether they have two legs, four legs or three.
Pets and people are more than their special needs
After Jennifer put the word out that she was looking for a dog to adopt, her friend, Rachel, connected her with a family that had been fostering Kash after she arrived at the Best Friends Lifesaving Center in New York City from Best Friends in Atlanta. The foster family shared photos of Kash, gave her a glowing recommendation and let Jennifer know that the dog was great with their children.
At first, Jennifer was drawn to Kash's huge smile and how the dog looked so happy and relaxed in all her photos and videos. The fact that she has three legs didn't concern Jennifer one bit and it clearly didn't concern Kash, either, as evidenced by a video of her zipping down a trail, running faster than the camera could catch her.
In fact, it was Kash's uniqueness that made Jennifer want to give her a home even more. Because if JP could experience life through Kash's eyes, he'd see that there's a lot more to her than having three legs.
How Best Friends is helping save lives across the U.S.
From Atlanta to the Big Apple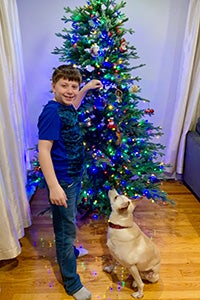 Jennifer and JP were excited when they got the news that Kash had returned to the lifesaving center from her foster home, where she was able to relax and get used to life in a new town after quite a journey.
In Atlanta, Kash had been brought to a large municipal shelter with a severely injured leg after being hit by a car. In fact, her leg was so badly injured that it required amputation. After her surgery and a little time to rest, Kash was brought to the Atlanta center where she continued to heal. In no time, she was as good as new and ready to get back to the business of being a fun-loving young pup.
Then the opportunity came for Kash to join other Atlanta pets on a transport to Best Friends in New York City, and she was off to a big new adventure.
Homeless dog finds a big backyard, big love
Kash made friends fast in New York City. "She was an absolute dream," says Brittany Wood, a center adoption specialist. "She was playful and very affectionate, and always seemed really happy and totally unfazed at being in a new place."
Brittany, who became one of Kash's biggest fans and staunchest advocates, was at the center the day Jennifer came in. When she learned that Jennifer wanted a dog with special needs to show her son that differences are what make people and dogs special, Brittany had a good feeling that Kash had found an amazing home. And when she also learned that Jennifer has a big backyard and lives next door to her mother (so Kash would always have someone around to keep her company), she knew this was the perfect family for Kash.
A young dog becomes both teacher and friend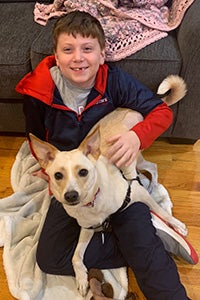 Today, JP and Kash are best buds who do everything together — well, almost everything. JP really wants Kash to sleep with him, but that hasn't happened yet. In the meantime, JP is learning a lot about patience.
As for getting around on three legs, Jennifer says Kash (who now goes by Monkey) manages just fine. "She does everything any other dog would do. We barely notice it anymore."
Recently, Jennifer was reading a book about a pet with special needs to her class, and she decided that she'd bring Kash to school with her one day. That way, her students could learn what Kash has begun to teach her son: that there's something wonderfully unique and special about all of us.
Best Friends in New York works collaboratively with city shelters, local animal welfare organizations and individuals to save the lives of pets in shelters in New York City and the surrounding tri-state area. As part of this work, Best Friends has a national lifesaving concept space and pet adoption center in SoHo, hosts adoption and fundraising events, and runs a foster program in partnership with Animal Care Centers of New York City. Together, we will Save Them All.
Photos courtesy of Jennifer Nelson