Treat your dog to a 'barkuterie board' this holiday season
The holidays mean good food for you and your pets, so here's how to make a special treat for your favorite dog.
By Best Friends staff
Include your dog in the festivities this holiday season with a spin on the ever-popular charcuterie board. We made them for some of the dogs at Best Friends in Los Angeles to get the recipe just right, and let's just say they were a big hit.
Here's how to make your dogs a pet-friendly "barkcuterie board" they will love.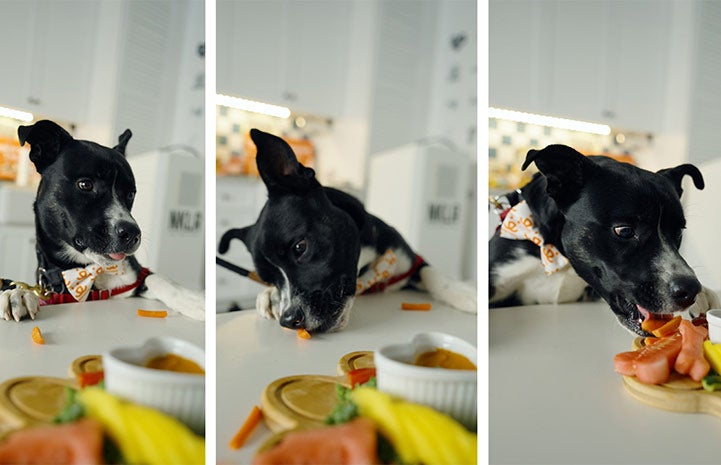 What you will need
Your furry best friend (and No. 1 taste tester)
Serving or cutting board
Small bowl or ramekin
Cookie cutters in a variety of shapes and sizes: We love paws, bones, hearts and stars
Cutting board, knife and spoon for food prep
½ cup ACANA Premium Chunks (If your pet doesn't eat wet food, double the amount of dry)
¼ cup ACANA Rescue Care for Adopted Dogs poultry sensitive digestion dry dog food
Hearty handful of ACANA High-Protein Biscuits (grain-free treats)
1 cup of your pet's favorite chopped or sliced sliced dog-friendly fruits and vegetables. Pick a variety of colors and what's seasonal. The options are endless!
Optional additions
Kale or spinach for garnish (and nibbling)
Coconut whipped cream (An occasional treat: Coconut milk does have some benefits for a dog's fur and coat, but is rich in fat and triglycerides.)
Peanut butter (Make sure you choose xylitol-free.)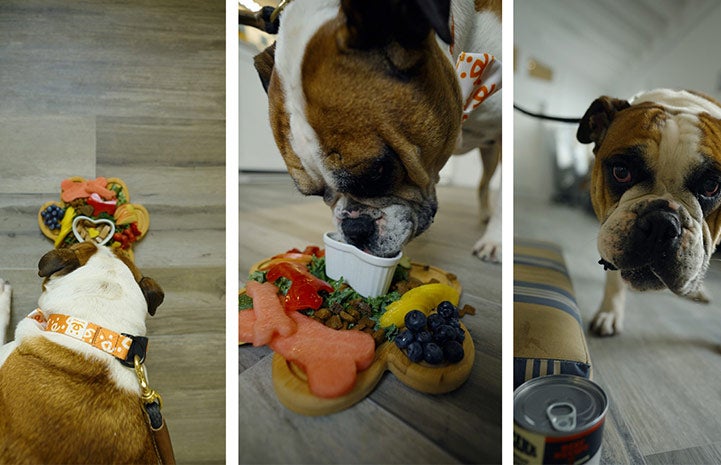 Directions
Place the small serving bowl in the center of your cutting board. If you're using kale or spinach, place it under and surrounding the small bowl. Fill the small bowl with the ACANA Premium Chunks. Place the cut fruits and veggies around the bowl. Separate different colors so each item stands out. Fill in multiple areas with the ACANA Rescue Care for Adopted Dogs poultry sensitive digestion dry dog food. Place ACANA High-Protein Biscuits around the board and in between the fruits and veggies.
Tips
Keep it simple. Design your barkcuterie board with your dogs in mind and choose the foods they will enjoy. Your best friend may have fun sniffing these irresistible treats out if you place them under the kale, too. Now, let them dig in!
Let us know if you make your best friend a barkcuterie board by sharing on social media with #BFbarkcuterie and tag us.
Special thanks to ACANA, official pet food sponsor of Best Friends. ACANA not only provided yummy ingredients for our barkuterie board, but ACANA also supplies food for all the dogs and cats at Best Friends Animal Sanctuary and our lifesaving centers.
Read more
8 reasons to adopt a senior pet
Old Dog is a Master at Learning New Tricks