Vicktory dog Ray gets adopted
One of the dogs rescued from Michael Vick fighting ring, Ray the Vicktory dog gets adopted. Read about his journey and his new happy life.
By  Christelle L. Del Prete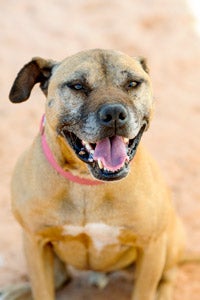 What would you sacrifice for true love? What big changes would you be willing to make in your life? Jacque and Kevin Johnson faced these questions six months ago when they fell for Ray, one of the Vicktory dogs (the dogs rescued from NFL player Michael Vick's dogfighting ring). The couple, who both worked in Parrot Garden at the Sanctuary, has helped to socialize and train several of the Vicktory dogs, helping them pass their Canine Good Citizen (CGC) test so they could be adopted. But there was something extra special about Ray.
Extraordinary Ray the Vicktory dog
Kevin and Jacque worked with Ray to get him ready to take the test so he could find a forever home too, but by test time he'd already won their hearts. It happened on the day Jacque came into her office and found him standing on her desk. She coaxed him down, but he jumped right back up, his feet never touching the surface. "I've never seen anything like it – he was like a mountain goat," Jacque says. "I thought 'this dog is something special.' Ray's a bit more challenging (than some of the other Vicktory dogs)," Jacque says affectionately. "He's got a mischievous glint in his eye. I've always been drawn to dogs (like) that. He's got spunk, and I really enjoy that."
A dramatic change for a former fighting dog
Ray passed his Canine Good Citizen (CGC) test in August, and the Johnsons knew they wanted to bring him home, foster him for six months (as required by the court), and then adopt him. But there was one problem. Ray wasn't allowed where they lived. But they didn't let that stop them; instead, they went on the hunt for a house where they could have him, and moved themselves, their six birds, two other dogs, and one cat to their new place, where Ray was welcome. Adoption manager Kristi Littrell says, "The fact that they totally changed their living situation to adopt him was very admirable – it showed … their dedication to him."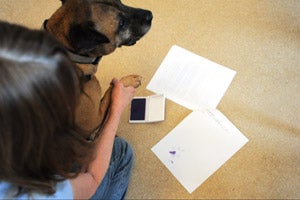 Ray may have completely changed the Johnsons' lives, but they've also changed his, for the better in both cases. Ray's biggest challenge was always overexcitement, but he's far calmer now. Rather than getting all amped up and bouncing around, he's decided he'd rather lounge in an overstuffed chair. "He's getting older … if he's comfortable enough to sleep his days away, that's fine with me," Jacque says. "It's like he's settled in and is comfortable in his own skin for the first time." These days he spends his time enjoying walks and car rides, shredding stuffed toys, and chewing marrow bones.
Ray's official adoption date was Valentine's Day. He and the Johnsons went up to Dogtown Headquarters to celebrate and make their partnership official. Using an inkpad, Ray even put his official seal of approval – his "pawtograph" – on the papers.
Meet all the adoptable animals at Best Friends.
Photos by Molly Wald