Visiting pooches a big hit at Navy base
Navy sailors get a break during COVID lockdown when dogs pay a visit.
By Liz Finch
If there is one thing that helped many of us keep our sanity during the pandemic, it was having our beloved pets at home with us. In fact, many people brought home new pets within the last year because they finally had the time to devote to making a cat, dog or rabbit a part of their family. But for some, COVID effectively eliminated the opportunity to interact with furry friends.
That was the case for the sailors at Naval Station Great Lakes in northern Illinois, the Navy's largest training installation and the home of its only boot camp.
"I was visiting my son at Great Lakes with another veteran who brought his dogs on base," says Stephanie Kifowit, a Marine Corps veteran and Illinois state representative for District 84. "As I waited for my son to come from the barracks, my friend let his dogs out of the car and the sailors just flocked to them with enthusiasm and instant happiness. Just seeing those dogs brought so many smiles."
Animal organizations step up for naval station
Since they couldn't go home to visit their own family pets, the experience spurred Rep. Kifowit to figure out a way to bring pets to them. She approached Master Chief Petty Officer Jason Anderson, who oversees N1 Personnel Management at the base, about working with a local agency to bring in some dogs to visit with the sailors. He agreed it was a great idea and gave her the green light.
The first organization contacted by Rep. Kifowit was Best Friends Animal Society because she had for years worked on various pieces of legislation with Ledy Vankavage, Best Friends senior legislative attorney. Ledy knew just the person to help the legislator: Cynthia Bathurst, PhD, CEO and co-founder of Safe Humane Chicago.
"I thought it was a fabulous idea," says Cynthia, whose organization regularly brings together abused or neglected shelter dogs with youth and adults whose lives have been touched by violence, poverty or extreme trauma. "Interacting with dogs has such a positive impact on people because they give unconditional love, and I knew that would be wonderfully uplifting for these young people."
[Five acts of kindness for pets]
Cynthia also recruited Canine Therapy Corps, a Chicago-based organization with 50 volunteer teams that travel with dogs throughout the metro area. The teams provide therapy to people with autism, mental health issues or chemical dependency, as well as those recovering from physical trauma.
"Things had been slow for us due to COVID, too, and we wanted to get our dogs back out in the community," says Ann Davidson, operations manager for Canine Therapy Corps. "This was a great opportunity for us as well."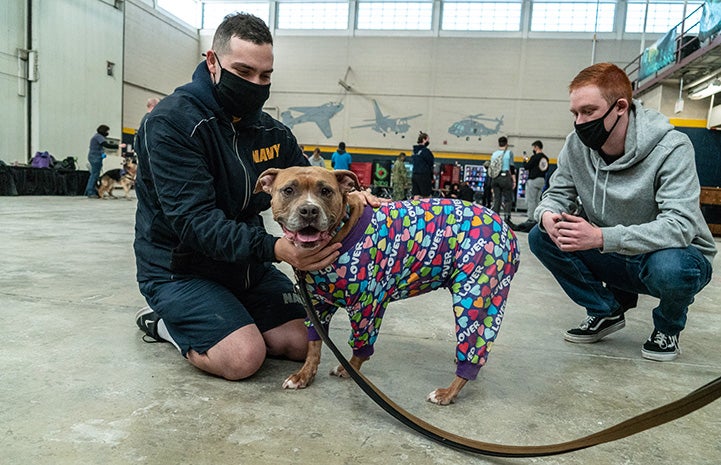 Dogs at naval base
After the required background checks were completed, volunteers from both groups headed to the base in December with a whole bunch of dogs ready to just hang out with the sailors. "We showed up with everything from itty-bitty Chihuahuas to a 140-pound pit-bull-terrier-like dog," Cynthia says.
Ever-organized, Cynthia had already set some basic ground rules to keep the event running smoothly: no more than 15 minutes and two trainee sailors per dog But the ground rules went by the wayside quick, she says.
"People were lined up outside when we got there, and we ended up seeing 300 sailors over a four-hour period. We even had to turn people away."
It turned out that Cynthia didn't have to worry about creating group rules. Despite how excited the hundreds of sailors were to interact with the dogs, the scene was far from a madhouse.
[Dog's journey from leash reactivity]
"Everyone was just incredibly nice and orderly and the event went off without a hitch," she says. "The sailors were just smiling all the time and the dogs were, too, because they hadn't been around groups of people for so long."
In addition to just having some time to sit with the dogs and pet them, many sailors wanted to know more about how to use relationship-based training and socialization to work with dogs, while a few of the canine visitors demonstrated their agility and nose work search skills.
"So many of these kids had been away from family for a long time, and they were missing their own pets," says Ann. "This provided a long-lost sense of normalcy for them and for us, too. It felt like we were back to doing something of a normal outreach event that was healthy and safe for our volunteers as well."
MCPO Anderson was thrilled with the way the event turned out and gave his approval for future visits from the groups.
"There wasn't a face in the crowd that wasn't smiling," he says. "Every sailor I interacted with told me about how the dogs reminded them of the pet they had at home or made them nostalgic about their grandparents' dog. They were absolutely beaming with enjoyment."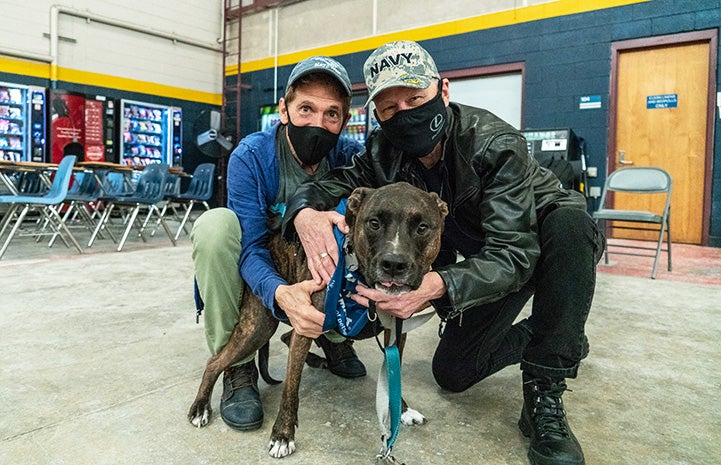 Winter visit inspires more trips to base
Since the December visit, the canines and their handlers have made the trip to the base three other times and plans are in the works to create more opportunities for the sailors to spend time with the dogs. Now that the lockdown is a thing of the past, the sailors may even be able to travel to the Chicago, home of both groups, to interact with the dogs.
No matter how the plans work out, Rep. Kifowit knows this was a chance to bring some joy to the sailors at Great Lakes.
"Safe Humane Chicago and Canine Therapy Corps put together a great program that was a win for the sailors and the dogs," she says. "Every little thing we can do to support troop morale and bring a little bit of home to the men and women at Great Lakes is worth doing. Giving them some time with those dogs showed just how much their service means to our country."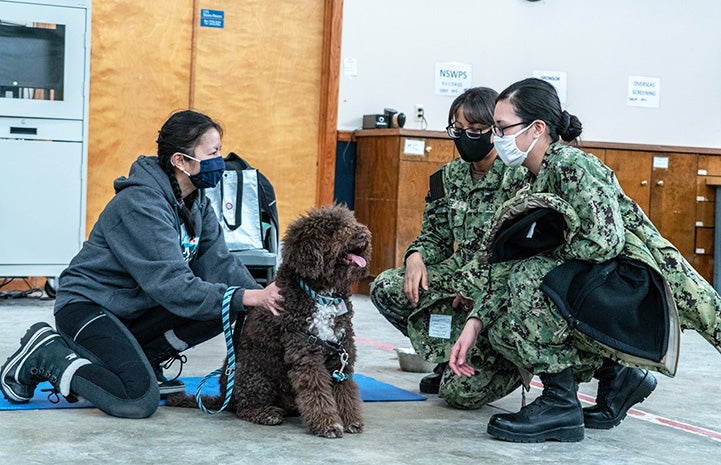 Find a Fido to foster
Canines everywhere need you. Connect with your local shelter to see how you can help by fostering one of many dogs waiting to find a loving new home.
Read more
400 and counting: Gaining a foothold with humane pet sales legislation
Photos by Brendan McLaughlin