Volunteering helps teen's confidence bloom
Image
Kimberly Lawson her daughter, Julia, a teen with autism, have logged more than 275 hours of volunteer time at Best Friends.
By Nicole Hamilton
The only thing Kimberly Lawson loves more than volunteering with her daughter, Julia, at the Best Friends Lifesaving Center in Atlanta, is watching Julia's affinity for helping dogs unfold. "The more we volunteered, the more at ease she became," says Kimberly. "Now, everyone can see her natural ability to love dogs where they're at and encourage them to be more."
The mother-daughter duo started helping at the center after Kimberly reached out to see if there were any volunteer opportunities for Julia, an animal-loving teen who is both autistic, though highly-functioning, and dyslexic, with a processing delay. When the answer from the staff was a resounding and enthusiastic "yes," they signed up for the next volunteer orientation.
Kimberly and Julia are known at the center for their willingness to work wherever they are needed. For Julia, that often means caring for some of the shyest dogs to come through the lifesaving center. As for Kimberly, you can usually find her anywhere she can put her love of organizing to good use.
"They're the perfect mother-daughter team," says Brantlee Vickers, volunteer coordinator in Atlanta. "Their dedication to the mission of Best Friends is truly inspiring. They know every aspect of what it takes to keep the center running smoothly. It's amazing to see a youth volunteer so willing to help with the 'dirty work' and a mother being so supportive of her child's passion."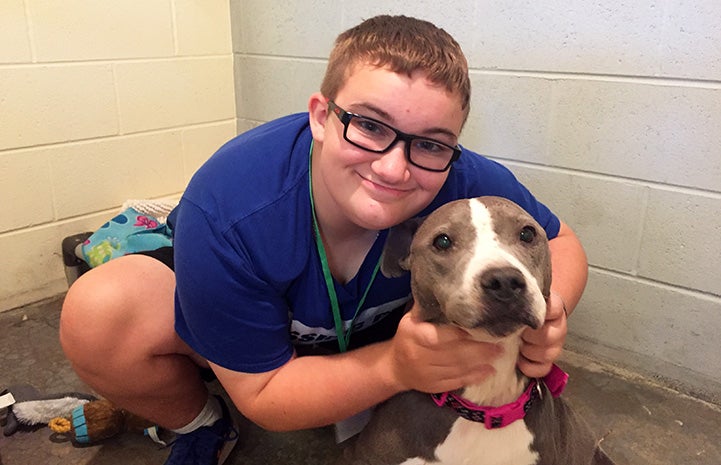 Fostering a teen's love for animals
Julia's love for animals began when she was a young child and it's that love that Kimberly was thinking about when she contacted Best Friends about volunteering. Julia had just turned 12 and Kimberly wanted to add an additional topic of study to her home school curriculum. Since Julia can talk about animals for hours, the Best Friends Lifesaving Center seemed like the perfect place for her to learn.
At first, Julia was very timid, but as she got to know the staff and fellow volunteers, she became more and more confident. Today, she considers it her safe place. "She has no worries there," says Kimberly. "It's where she can relax and be herself."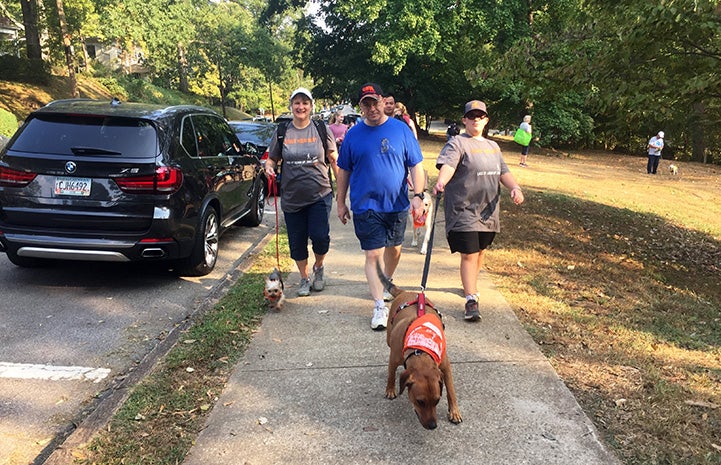 Volunteer advocates for the shyest dogs
Julia thrives most when she's working with dogs arriving from Atlanta-area municipal shelters. Kimberly says Julia identifies and relates to many of these dogs and has an affinity for helping the shy ones who are still building confidence.
Julia has spent many hours cleaning kennels, and she often accompanies her mom to take dogs on walks or take them out to the play yard. She's also a quick learner who's thirsty for knowledge, and since she has hopes of running her own animal shelter one day, Julia shadows and assists staff members any time she gets the opportunity.
For example, by observing the dog behavior team, Julia has learned how to read the body language of dogs in order to gauge when they're experiencing feelings of fear or frustration.
And she's been able to deepen her knowledge of animal care by taking classes. She and her mom were two of the first volunteers to sign up for the center's inaugural pet first aid-CPR class.
True puppy love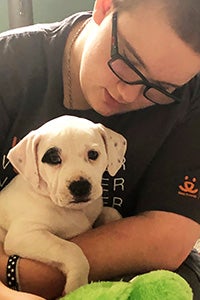 In mid-March, Julia was helping to care for a mom and her 10 puppies when the inevitable happened: A puppy claimed Julia's heart. A few days later, her beloved puppy went on to a foster home and she started talking to her parents about adopting him when he was ready for his forever family. As the conversations carried on, Julia followed his progress through photos shared by his foster mom and reports from the foster team.
As the puppies started getting adopted one by one, Julia began to worry that she'd miss her chance to adopt her favorite, so her parents arranged for a visit to get reacquainted. Was he the one, or was this merely a case of puppy love? Only a reunion could answer those questions. It turned out that, indeed, he was the one for Julia. "What was truly neat about the whole experience was that he was the only puppy still available when she needed to make her decision," says Kimberly.
It was as if the puppy, who Julia named Master Chief, had been waiting for her all along.
Today, she is applying everything she's learned at the center to train Chief, and that includes helping him adjust to life with two new canine friends. And since the Lawsons adopted Chief in March (when COVID-19 cases were starting to climb in Atlanta), Julia was able to continue deepening her knowledge of dog care by helping her new puppy at home while the center remained temporarily closed.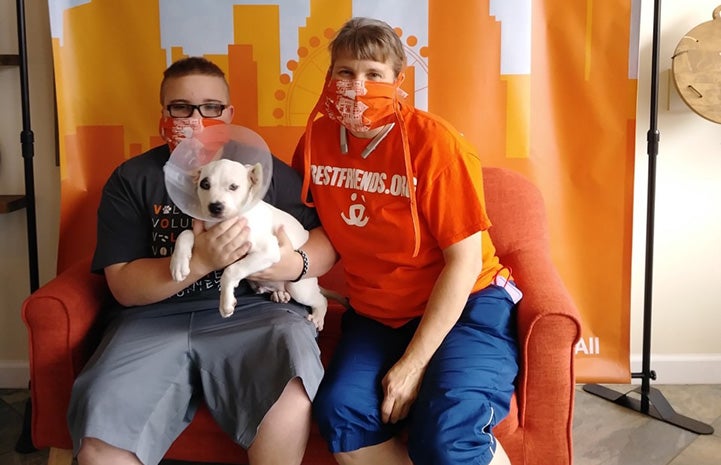 Learning the importance of fostering pets
For Kimberly, COVID-19 was a chance to volunteer in new and different ways to help save homeless pets. "We were honored to be part of and experience how the community came together to foster our precious animals," she says. "Julia and I helped to put together more than 50 foster packs (during the pandemic) in order to ease the jobs of the foster coordinator and adoption specialists."
It was also a chance for Julia to learn about a whole new and incredibly important part of lifesaving ― pet fostering. She loved helping to transition the dogs to their foster parents, love on them while paperwork was done, and to then load their supplies as they left the center.
When volunteering is a double blessing
"Volunteering has been a double blessing for me," says Kimberly. "I have had the opportunity to participate and encourage my daughter's love of animals and to support the staff by learning about and doing mundane tasks. That frees them to work with the animals beyond just daily care."
Kimberly is especially inspired by watching the staff administer love and attention to dogs who haven't yet found homes. But what she's most thankful for is the acceptance and encouragement that Julia receives from the staff and other volunteers.
"Volunteering has helped Julia's self-confidence bloom and it's provided her a place where she can just relax and be herself. There, she is not seen as a child with special needs but one who loves and is loved by the animals with whom she works."
So far, Kimberly and Julia have together logged more than 275 volunteer hours at the center, which amounts to more than 275 hours of mother-daughter time. And that, says Kimberly, is priceless.
Volunteer and help pets where you live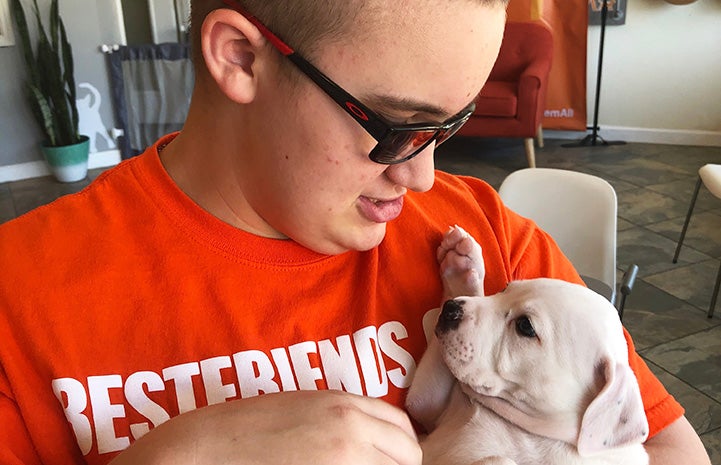 Best Friends in Atlanta works collaboratively with area shelters, animal welfare organizations and individuals to save the lives of pets in shelters in the region. The Best Friends Lifesaving Center is a hub for animals and a base for local programming and coalition-building to help the metro-Atlanta area in its final push to achieve no-kill, while strengthening the movement in the Southeast. Together, we will Save Them All.
Photos courtesy of Kimberly Lawson