Volunteer's help proves invaluable for homeless pets in 2020
For her dedication to helping Best Friends in Utah have an incredibly successful year, volunteer Judy Steiger received a statewide award.
By Nicole Hamilton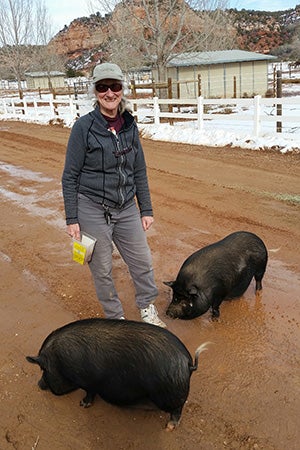 When Judy Steiger retired from the U.S. Geological Survey, she set out to do more of what she loves ― traveling. But after a few years of vacationing and exploring the world, she decided it was time to make a difference a little closer to home.
Since she had adopted her pets from Best Friends in Utah, she decided to start by volunteering with Best Friends.
Little did the former hydrologist know that nearly a decade later, she'd be bottle-feeding newborn kittens on the side of the road in rural Utah (more on that later). She also couldn't have known that her willingness to help in any way possible would be a huge relief to the Best Friends staff navigating the rough waters that defined 2020. In fact, for her volunteer work with Best Friends, Judy was recently presented with the Heroes Award, as part of Utah Philanthropy Day through the Utah Nonprofits Association.
Stepping up for pets at a critical time
The pandemic changed nearly every aspect of daily operations at Best Friends, including the lifesaving center in Salt Lake City. When the center temporarily closed in early spring, team members ramped up its activities by embarking on a massive effort to find foster homes for every cat and dog in their care.
The community responded in an equally massive way. Hundreds of Salt Lake City residents applied to foster pets, and so did Best Friends volunteers (including Judy), who not only provided foster care for 12 kittens from various litters over the past four months, but also took on the role of helping train foster caregivers for the kitten ambassador program. She also helped deliver more than 500 pounds of pet food to families in need.
[High-five for 5 animal loving heroes]
On the road for pets and people
If Judy isn't helping care for neonatal kittens, you're apt to find her on the road logging the miles to help pets, and their people as well. In addition to delivering pet food to families in need, she regularly transports cats and dogs from shelters in rural Utah to the Salt Lake City office of Best Friends in Utah. This is how she ended up one day bottle-feeding hungry kittens on the side of the road.
After the team received simultaneous calls from two shelters that had neonatal kittens needing transportation to Best Friends, Judy jumped in her car, dropped off her own foster kittens for safekeeping, picked up the two litters and bottle-fed them on the side of the road to make sure they survived the long trip.
"She's been a rock star on transports," says Rhoney Farrimond, volunteer coordinator for Best Friends in Utah. Rhoney says Judy recently spent the day driving pets to spay/neuter appointments, but when she heard that an injured cat needed a ride from the shelter in Toole, Utah, to Best Friends, she immediately offered to help.
The team found another volunteer to make that journey, but Rhoney says it was a huge relief just knowing Judy was willing and able to do it herself. "She is an incredible human being," says Rhoney. "She is never frustrated or overwhelmed. She just goes with the flow and problem-solves."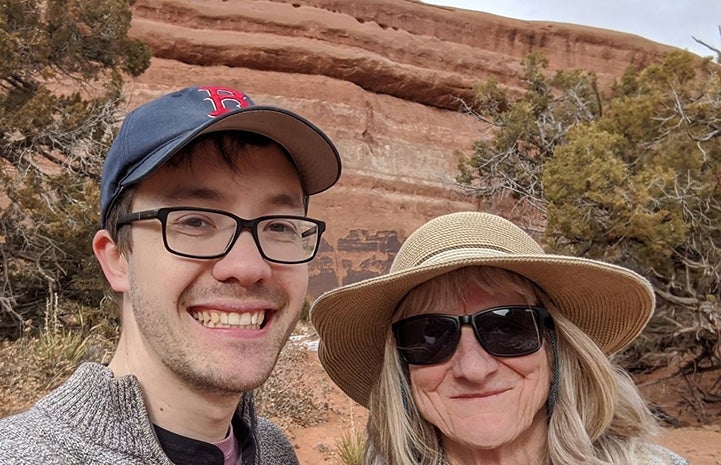 The admiration goes both ways. Says Judy: "I'm inspired by the effort that staff (members) make to save every life that comes through the center, and by the many ways Best Friends interacts with the community of rescue groups and shelters to support their lifesaving work."
[7 reasons to be thankful for pets]
A hero for the animals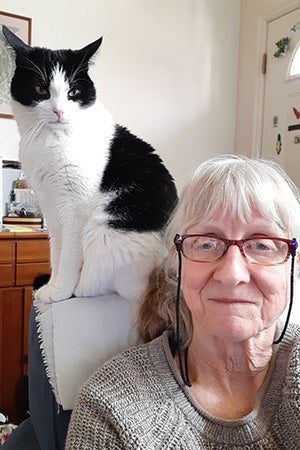 In addition to helping with pet transports and working in the kitten care center, Judy volunteers at adoption and fundraising events. She's also helped the community cat team, walked dogs and has spent a week volunteering at Best Friends Animal Sanctuary. She's been on three "build trips" to India, Philippines and Portugal with Habitat for Humanity Global Villages. And somehow, she finds time to volunteer at the Friends of the Library, a fundraising and advocacy group for the Salt Lake City public library system.
"Volunteering is just kind of in my blood. I got it from my mom," says Judy. "When we were kids she would volunteer my siblings and me to help out whenever she saw a need."
Perhaps this is what led Judy to Nepal, where she served in the Peace Corps, working in water supply construction, and now to Best Friends, where her help has been invaluable, especially during such a challenging year.
"She sets our minds at ease when we have an important task that needs to be done," says Rhoney. "We don't know what we'd do without her."
Your local shelter needs you
One of the greatest gifts you can give pets at the shelter in your community is your time (OK and maybe a treat or two).
Read more
Fierce love for an incontinent cat
Lessons from fostering senior dogs
On loving Hayley: life with a very special dog
Photos courtesy of Judy Steiger