In the wake of Hurricane Harvey, Best Friends goes full speed ahead
Image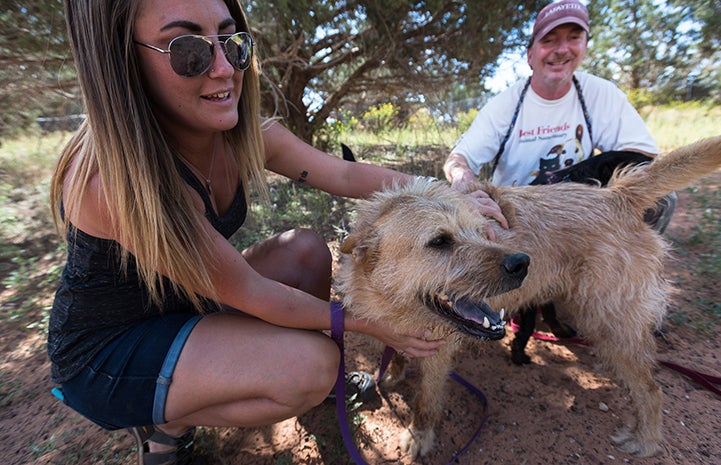 Best Friends is helping with Hurricane Harvey relief and reuniting lost pets with their families, while also focusing on making no-kill a reality.
By Christelle L. Del Prete
As Hurricane Harvey destroyed homes, separated people from their pets and spiraled into the largest natural disaster since Hurricane Katrina, Best Friends mobilized to join the relief efforts. The Best Friends disaster response team deployed to Texas to assess needs on the ground, rescue stranded animals, deliver supplies to hard-hit shelters, drive displaced pets to safety and support emergency sheltering efforts.
Help pets in need after Hurricane Harvey
About 30 Best Friends staff are on the ground aiding in recovery efforts and working to reunite lost pets with their families. As Best Friends CEO Gregory Castle says, "While our focus is getting our nation to no-kill by 2025, we couldn't just sit by and let this happen without doing everything we can for the animals in the affected area."
All hands on deck
Meanwhile, Best Friends' primary work of caring for the animals at our Sanctuary and regional centers and striving to ending the killing of pets in U.S. shelters by 2025 continues. With our work on the hurricane no-kill happening at the same time, the entire Best Friends community — from staff members, volunteers, generous donors across the country and celebrity supporters — is coming together and stepping up in amazing ways.
Last week, a team from the Best Friends maintenance department drove four trucks and trailers loaded with supplies needed by the animals and the crew on the ground to the disaster area. Meanwhile, remaining staff stepped in as needed to keep everything running safely and smoothly at the Sanctuary while their colleagues were traveling.
That's typical of what's happening at Best Friends right now. Everyone's work here is being touched by the hurricane. But no one is letting any other work slip through the cracks.
The Sanctuary after Hurricane Harvey
The center of our lives here remains the same as always: to provide the very best care for the 1,600 animals who take refuge at the Sanctuary on any given day.
Michelle Weaver, director of animal care (who is based at the Sanctuary), says: "Although some of our Sanctuary staff have gone to Texas to assist in rescuing and sheltering animals displaced by the storm, operations at the Sanctuary have not been affected. All the animals here are receiving and will continue to receive the same top-notch love, care and affection they have always been given. Wherever there is a need, our amazing staff and local volunteers are stepping up to take on a bit of extra work to ensure that all the animals at the Sanctuary have everything they want and need during this time, as always."
Many Sanctuary staff are taking on extra responsibilities outside of their regular roles. For example, one of our accountants (also an experienced volunteer) will help cover at Dogtown on her days off if the need arises.
It's at times like this when our community really comes together.
Regional programs remain in full swing
"Full steam ahead with lifesaving" is the reigning theme for Best Friends' regional programs in Los Angeles, New York City, Salt Lake City and Atlanta. Just like the Sanctuary, the animals at Best Friends' pet adoption centers are continuing to receive the same gold standard of care, mixed with plenty of love and attention. As always, the focus is on finding adoptive homes for the animals so that Best Friends can continue to take in animals in need from shelters.
With kitten season still in full swing, it is a critical lifesaving time, especially in Los Angeles where the need is particularly great. Staff, volunteers and Best Friends supporters are taking on extra fostering duties, which goes a long way toward saving these tiny lives. That includes celebrities Amanda Seyfried, Alison Pill, Gilles Marini and Bellamy Young, all of whom have stepped up to foster kittens, as well as raise awareness of our efforts to make L.A. a no-kill city and meet the current urgent need for foster homes.
No-kill 2025: Together, we will Save Them All
No matter how long it takes to save animals left desperate in Harvey's wake — to provide them with shelter, food, care and comfort, to reunite them with their families whenever possible or to ensure that they move on to loving new homes — Best Friends is committed to ensuring a safe outcome for the animals. That work is in partnership with many amazing local and national groups on the ground in Texas.
Despite all this great work, it's important to remember that pets are still being killed in shelters across the country, and that Best Friends' priority is to work collaboratively with shelters to put an end to it. Together, we will help the pets of Hurricane Harvey, care for the animals at our Sanctuary and regional centers, and carry on full speed ahead to Save Them All.
Photos by Kurt Budde