Will the real Dennis Quaid please stand up?
Celebrity adopts cat named after him from Lynchburg Humane Society in Virginia.
By Liz Finch
There's a lot to be said for giving shelter cats creative names that will attract attention and differentiate them from those out there with more common names. Personally, I'm a lot more intrigued to meet a Shorty McGee or Lieutenant Snigglefritz than another Mama Kitty or Max.
Recently, Lynchburg Humane Society (LHS), a Best Friends Network partner organization in Virginia, decided some of its longer-term resident cats could use some new creative names to spark interest. They landed on celebrities for the theme. For a cat named Dennis Quaid, the strategy was a real winner because not only did the four-year-old black kitty manage to find a home, but he's living at home with the real Dennis Quaid, the actor.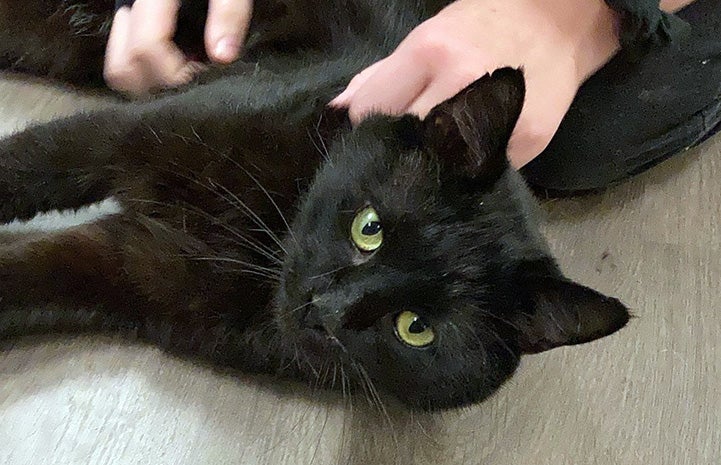 Cat's long journey to a first-class home
Dennis the cat was transferred to LHS about two months ago from a shelter where he was at risk of being killed.
"He had been there for quite a long time, and I just couldn't understand how the heck he hadn't been adopted, because he is the sweetest cat in the entire world," says Danielle Ulmer, LHS adoption center manager. "He loves to be held, but he's also super playful."
Clearly a new strategy was needed to help that special person find him.
[Calling all kitten lovers: The time to help is now.]
"Someone recently watched one of Dennis' movies, so that's how we picked the name for him," Danielle says. "We also decided to feature him on our segment with local radio station WSLS, and somehow he caught the actor's attention."
Is this the real Dennis Quaid?
The original inquiry about Dennis the cat came in the form of an email from Jimmy Jellinek, who co-produces The Pet Show podcast with the actor. The biweekly show covers pet care, pet style, pet media and celebrity pet influencers.
The email read: "I know this is crazy and you probably won't believe us, but the human Dennis Quaid wants to adopt the feline Dennis Quaid."
"I was like, there is no way this is real," says Danielle. "But once I started verifying names on Google and I found the podcast, it sure looked like it was real."
[Rescued cat helps homeless dogs get adopted]
After a Zoom meeting with Jimmy, Dennis the actor and Dennis the cat, the situation was clear: It was the real Dennis Quaid and he couldn't pass up adopting the kitty who shared his name. A week later, Jimmy flew out from Los Angeles to formalize the adoption and bring the lucky cat across the country. The co-hosts currently have "joint custody" of Dennis.
"Dennis has a little dog and Jimmy is a huge cat guy," Danielle says. "Jimmy has a blind cat named George who he adopted from Best Friends in Los Angeles and he actually brings him to the studio a lot. The idea was to start Dennis out as a second studio cat, but now both Jimmy and Dennis the actor are fighting over who he gets to live with."
Join the #DennisQuaidChallenge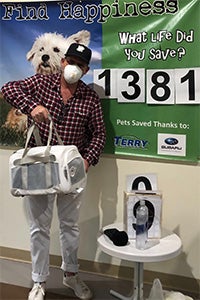 Although this might be the only time they snag such a high-profile adopter, LHS is determined to keep using the strategy for other shelter pets and thus, the #DennisQuaidChallenge was born.
Julie Barger, LHS's director of development, says the hope is to inspire more celebrity pet adoptions through the challenge. Among the stars currently available for adoption are Nicole Kidman, four-year-old tabby; Seth Rogan, a two-year-old pit bull terrier mix; Harry Styles, a 10-year-old shaggy terrier; and Keenan Thompson, a four-year-old tuxedo cat (who according to Danielle likes his head rubbed).
[How Best Friends is supporting our partners in animal welfare]
"We would love it if our fun celebrity-named pets inspire celebrity fans, celebrities themselves or just motivate people who have been on the fence about adopting to take that step and bring home a star of their own," Julie says. "And if you can't adopt, consider sharing the celebrity pet posts, tag celebrity counterparts and use the hashtag #DennisQuaidChallenge."
As it turns out, LHS staff members weren't the only people surprised by the turn of events for Dennis, their beloved cat. Dennis the actor says: "It was really off the wall, but I just couldn't resist. I had to adopt him. Now I'm out to save all the Dennis Quaids of the world."
Adopt a four-legged celebrity near you
Can't find a pet with your favorite celebrity's name? There are homeless pets who'd love a new home and a new name — with you.
Photos courtesy of the Lynchburg Humane Society