Working toward pet reunions in Houston
Image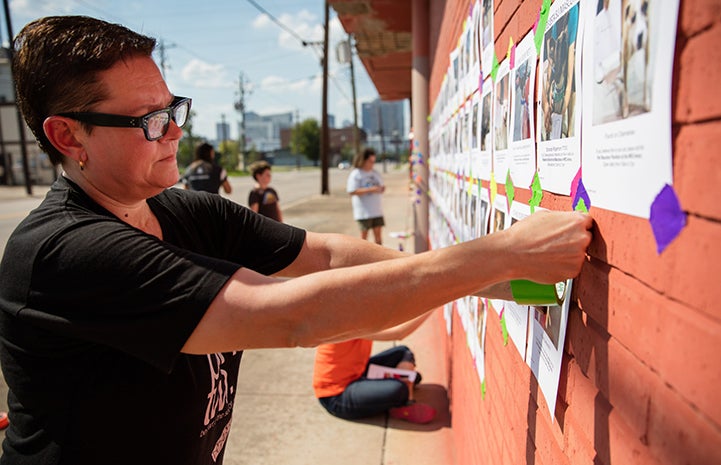 Best Friends is working to reunite lost hurricane pets with families via a lost-and-found page on our website, media coverage and a flyer campaign.
By Arin Greenwood
In the aftermath of hurricanes Harvey and Irma, displaced pets need more than rescuing and good care: They need time. People are still arriving at the Pet Reunion Pavilion at NRG Arena in Houston to search for a pet missing since the hurricane. About 30 pets have been reunited with families at the pavilion, a partnership among Best Friends, Harris County Animal Shelter and Houston PetSet. And a final push is underway to see as many of them as possible go home.
In addition to the lost-and-found page on the Best Friends website, coverage by local media, daily social media posts and a team of volunteers working to reunite missing pets with families, a massive flyer campaign is underway in the Houston area. Staff and volunteers have produced and posted hundreds of flyers trying to reach people without internet access who might not know where to look for a lost pet. The flyers are designed to get information to people where they are, rather than rely solely on one method of communication.
More about saving pets after Hurricane Harvey
"Getting these flyers out far and wide is a way of reaching the wider community to ensure that we are reaching as many people as possible — because lifesaving is a community ethic and a priority," says Tawny Hammond of Best Friends.
Reunite efforts are targeted in neighborhoods where pets were found during and after Hurricane Harvey. The flyer project is in addition to partnering with local faith-based organizations to spread the word for people to check the Pet Reunion Pavilion to see if one of the 400-plus dogs and cats there might be theirs.
Distribution of flyers was inspired by one happy story several states away in Florida, where a much-loved little dog is home again — all because of a flyer.
Dog success story in Florida
Wendy Kaplan was 100 percent sure someone was missing this cranky, elderly, half-blind, nearly toothless dog. And she was absolutely determined to find that person.
In early September, just as Hurricane Irma was blowing into Florida and causing thousands of people to evacuate, the lost dog was found at a gas station in Lauderhill, a city in the southeastern part of the state. He had freshly-trimmed nails and wore a brand new collar. Plus, there were other indications that he was someone's missing pet.
He was brought to the local county shelter, where he stayed for the next 10 days. When his stray hold at the shelter ended, people tried to find someone to take him in. He just needed more time to be found, especially since the entire state was in emergency response mode. Wendy, who lives in Fort Lauderdale and works for Best Friends, learned of the dog's situation through a Facebook post. Her heart went out to the little dog, and soon she was on her way to go get him.
The important work of finding Archie's mom
Since Wendy has a fondness for old man names, she called him Archie, but the dog wasn't exactly an enthusiastic houseguest. He showed little interest in food or walks, and was equally disinterested in Wendy. "He wanted nothing to do with me," she says.
Wendy could not bear the prospect of Archie being permanently apart from the people who'd loved him all these years — people who could get him to eat and wag his tail again. She knew it was possible that Archie's people might not see Facebook or other online postings, so she went the old-fashioned route and made up flyers with his picture on them.
With the help of some neighborhood kids, she set out to paper the area where Archie was found with versions of the flyer in both Spanish in English.
Max goes home
On September 25, Wendy received a call from a woman named Candace, who had recognized the sweet senior face on a flyer. "That's my Max," she said. And then she repeated several times: "That's my Max."
Candace had Max for 12 years since adopting him from the shelter in 2005, and a relative had accidentally let him out just before the storm. So grateful that he was safe, Candace came right over to pick up Max (no longer known as Archie). As she held him close, the dog responded immediately by smiling and wagging his tail.
"You could see how happy he was," Wendy says. And in the end, it was all because she'd put up flyers.
Hope for animals in Houston
Best Friends is committed to giving pets displaced by Hurricane Harvey more time for their families to find them, beyond the standard stray hold, which can be as short as three days at most municipal shelters. In a disaster situation where people have lost homes, cars and more, people need weeks (not days) to get back on their feet and track down their missing pets.
In addition to the posted flyers, binders containing photos of found animals are being placed at the Red Cross, Harris County Animal Services, Montgomery County Animal Services and BARC. Arrangements are also being made to get flyers to local churches.
Best Friends recognizes that some dogs and cats at the Pet Reunion Pavilion may have been homeless before the hurricane. But we're doing everything possible to reunite them with families searching for them. "Pets are family," Tawny says. "And getting them reunited with their families is a priority."
Help pets in need after Hurricane Harvey
Photos by Erica Danger, Erin Miner and Wendy Kaplan