First university-endorsed no-kill leadership class graduates, aims to end killing in shelters
This is truly history-making and trailblazing! I am so excited to share with you that the very first Best Friends Animal Society Executive Leadership Certification (ELC) class graduated yesterday in Jacksonville, Florida. A cohort of 12 executive leaders from around the country completed a six-month blended learning program that included nine days of in-person learning along with weekly cohort calls. And this is by no means extracurricular. The ELC is endorsed by Southern Utah University, making students eligible for six credit hours toward a bachelor's or master's degree. This is truly transforming the future of leadership in animal lifesaving.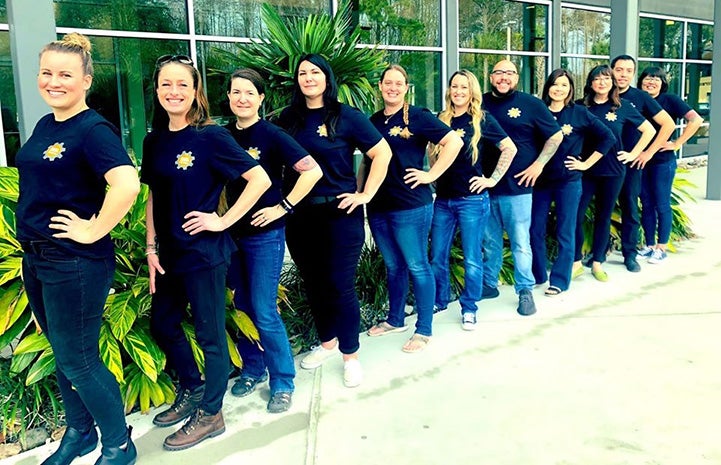 ELC graduates: Kaylee Hawkins, Michelle Logan, Dr. Erin Katribe, Michelle Dosson, Dr. Kim Youngberg, Brittany Sorgenstein, Mike Bricker, Carolyn Evans, Sarah Hock, Luis Quintanilla, Lydia LaSalle, and Liz Finch (not pictured)
Careers in animal services
Animal services as a profession is rapidly evolving as we work to end the killing of pets in animal shelters across the country. The skill set necessary for executive leaders to be successful in this field is diverse and wide. Political acumen to thrive in municipal government, the ability to lead change to transform outdated animal services models, a command of communications and marketing, the ability to make data-driven decisions and implement lifesaving business plans — these are just a sampling of the areas that call for professional excellence as a leader of an animal shelter or animal control agency.
Lives are on the line, and understanding and implementing core lifesaving programming, policies and standards that ensure every animal gets a chance at life are central to success for animal services leadership today, and an essential piece to bringing the nation to no-kill in the next five years.
Southern Utah University partnership
This breakthrough program, developed in partnership with my alma mater, Southern Utah University, will bring bright young minds with new ideas into our movement. I am so proud of the cohort's achievements and their part in being the nation's first Executive Leadership Certification graduating class. People making history seldom realize that they are, but this week we added another event to the lifesaving timeline in our country.
With just five years left to reach our moon shot goal of ending the killing of animals in shelters nationwide, there's truly no time to spare. Our second ELC class will launch in just two weeks in New Orleans, and we'll be celebrating those graduates at the 2020 Best Friends National Conference in Orlando this June.
For more detailed information, check out bestfriends.org/suu or contact academicpartnerships@bestfriends.org. The sky — I mean, the moon — is the limit!
Together, we will Save Them All.