Julie Castle is Best Friends' new CEO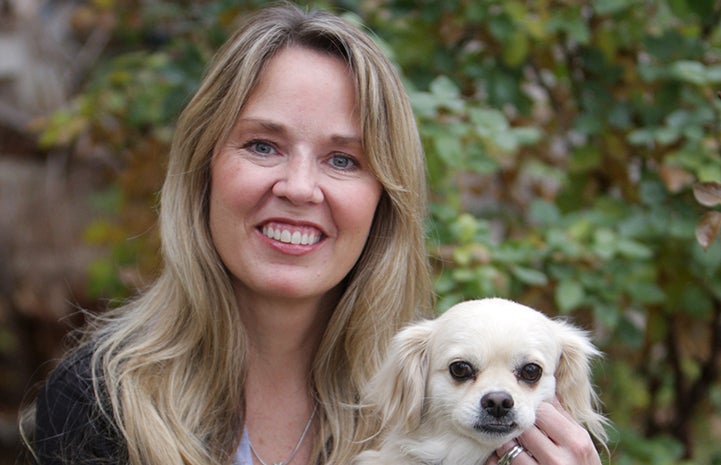 After almost nine years as CEO of Best Friends and with more than 34 years of service to the animals, Gregory Castle has made the personal decision to transition to other responsibilities within Best Friends in mid-April. While this news may come as a surprise to many, it has actually been in the works since 2014, when Gregory stated his long-term intentions to the board of directors and agreed to an extended transition plan.

With Gregory's decision, the board had a critical choice to make based on these priorities: preservation and protection of the canyon and the Sanctuary as the heart of Best Friends, organizational continuity, mission achievement, and preserving and sustaining the Best Friends way and our unique culture. The question was this: Should our next CEO come from within the organization or should we look to outside leadership? After extensive deliberation, the board decided that our next CEO should come from within the ranks of Best Friends.

The board of directors identified Julie Castle as the leading candidate and extended an offer to Julie to undertake four years of board mentoring, executive coaching and increased operational responsibilities in preparation for the transition. That work of intensive preparation is now complete, and we are at a moment of unparalleled significance for Best Friends — a moment of generational change and a passing of the torch. Julie will officially take the reins of Best Friends Animal Society on April 16, 2018. We are fortunate to have such an accomplished individual — someone with the experience and skill set to lead virtually any nonprofit — step into the leadership role at Best Friends.

Julie got to this position the old-fashioned way: She earned it, rising through the ranks after starting in the mid-1990s as sanctuary employee number 17. She's our version of the person who works her way up from the mailroom to the top spot. You can read her impressive bio here, but I want to write about Julie as the animal advocate and individual whom I have come to know and admire during her 22-year career with Best Friends.

I first met Julie when she started working at the Sanctuary. A chance encounter with Best Friends while on a post-college, pre–law school road trip with some friends resulted in a dramatic change in her life path. She was scheduled to leave Utah in a matter of weeks to attend the prestigious University of Virginia School of Law.

Julie comes from a family of high-achieving entrepreneurs and innovators with Utah pioneer roots. Just to give you an idea of the family's bent, Julie's father, a professor of economics at University of California, Berkeley, and a successful Salt Lake City businessman, had his kids read the Wall Street Journal at breakfast. So, her decision to jump ship on law school in favor of what could reasonably be described as a ragtag operation in the desert run by a bunch of impractical idealists was not greeted with much enthusiasm at home, to say the least.

However, for Julie, just as for the founders before her and for many after her, there was no going back. The visceral impact of Angel Canyon and the compassionate vision of Best Friends, coupled with the desperate need of the more than 17 million pets who were being killed annually at that time, defined a new imperative for her. Our mission to bring about a time when this suffering would end, when there are no more homeless pets, became her own personal mission and her "true north."

Julie is a leader, a team builder and a competitor. She was a top multi-sport scholastic athlete. Now, athletics may not resonate with some, but anyone who has competed in any team sport, from junior soccer to the NFL, understands what it means to have all eyes on you as the clock is ticking down and you have a chance to win, or lose, the game. The pressure, the perspiration: I'm sure you've seen the movie. Well, Julie is the kind of person who wants the ball when the game is on the line, and she is prepared to take the last shot or pass it to the open player. Poise under pressure is the kind of personal accountability that has stood her in good stead over the years. She is fearless in pursuit of Best Friends' mission and values, and is prepared to stand up and take responsibility when others might be looking at their shoes.

She is also something of a "raised-by-wolves wild woman," the result of being the youngest of seven, with five older brothers who made her fight for her right to the fridge. That, along with the fact that her dad, a competitive Alpine ski jumper, would turn her loose as a toddler down the black diamond slopes of Utah's legendary ski areas helped to cultivate in her the spirit we see in today's X Games athletes. Fearless, adventurous and fun!

Those are some of her intangibles. More practically, Julie has brought innovation and entrepreneurship into animal welfare to great effect, developing a series of out-of-the-box programs that have brought the issue of homeless pets to the attention of the wider general public. While at No More Homeless Pets in Utah, she launched that game-changing statewide campaign with characteristic flair. She pulled together a press conference on the steps of the Utah State Capitol in front of a sea of supporters clad in purple T-shirts, while skydivers dressed in a dog and a cat costume descended out of the sky.

She inaugurated customer-friendly adoption policies and established the first retail, customer-service-centric pet adoption center, Furburbia, in a Salt Lake City mall and another in Park City, Utah. During her time at No More Homeless Pets in Utah, deaths in shelters decreased by 50 percent, and Utah now boasts 113 documented no-kill communities.

At the start of 2010, Julie was hit with the crushing news that she had advanced-stage, highly aggressive breast cancer, and she wound up spending the better part of two years camped in Los Angeles to undergo treatment at UCLA. At the time, she was the director of Best Friends' community programs and services division, but her fight with cancer (which included chemo, radiation and all the associated indignities) did not deter her. Being in Los Angeles for an extended period simply gave her another opportunity to change the game for pets in shelters.

She called upon the very successful statewide Utah coalition model and pulled together the groundwork for NKLA (No-Kill Los Angeles), including negotiating a successful bid to operate the city's Northeast Valley Shelter as the Best Friends Pet Adoption and Spay/Neuter Center, a landmark public-private partnership. Led by Best Friends, the NKLA Coalition, which officially launched in 2012, has taken Los Angeles Animal Services from a 56 percent save rate to an 87 percent save rate in just five years.

And one more thing: Julie also thumbed her nose at cancer by completing a marathon while undergoing radiation therapy. She got her dose of radiation in L.A. on a Friday morning, drove to Utah the same day, ran the marathon the next morning, and returned to L.A. the next day to resume treatment. She has been cancer-free since 2011.

She could have easily and quite reasonably hidden behind her condition and onerous treatment schedule while in Los Angeles, but her actions reveal the attribute that makes Julie Castle such a great fit to lead Best Friends into our future. Like the founders, Julie is a change agent and does not accept the idea that something is impossible, regardless of the odds. She challenges the status quo, just as we challenged the status quo back in 1984 by proposing the revolutionary idea that as a society we should not be killing homeless pets and that we could become a no-kill country.

Best Friends has a notable history of strong female leadership across the organization, and I am proud that Best Friends has chosen a strong female leader to take us into the future. Faith Maloney was Best Friends' first president and created Dogtown. Jana de Peyer started our first satellite adoption programs; Anne Mejia opened the first welcome center; Diana Asher created Cat World; Sharon St. Joan did the same for Feathered Friends and Wild Friends; Chandra Forsythe started our rabbit department; and Celeste Fripp was instrumental in forming our early human resources and development departments. That trend continues across the organization, and now we have a strong female in the leadership role.

In addition to leading the No More Homeless Pets in Utah coalition for six years, Julie has worn many other hats for Best Friends — director of community programs and services, chief of marketing and communications, and since 2014, chief of marketing, communications and development. It's rare in a nonprofit setting to find someone who can thrive in both the marketing and fundraising arenas, but I know of no one (besides Julie) who also excels in the design and execution of lifesaving programs, always with an eye beyond simply what is best for our organization to what is best for the movement as a whole. If an individual with that experience and skill set existed out there somewhere, we would have recruited that person in a heartbeat. Fortunately, the most uniquely qualified candidate to take the mantle of Best Friends CEO is already with us — in Julie Castle.

Today, the no-kill movement is poised to do what few movements can — achieve its mission. In 2015, Julie planted a stake in the ground on behalf of Best Friends, declaring that we will end the killing in shelters and lead the nation to no-kill by 2025.

I can think of no one better suited or whom I would rather have take charge of Best Friends than our new CEO, Julie Castle.

Together, we will Save Them All.