A look back at 2018, a historic year
Image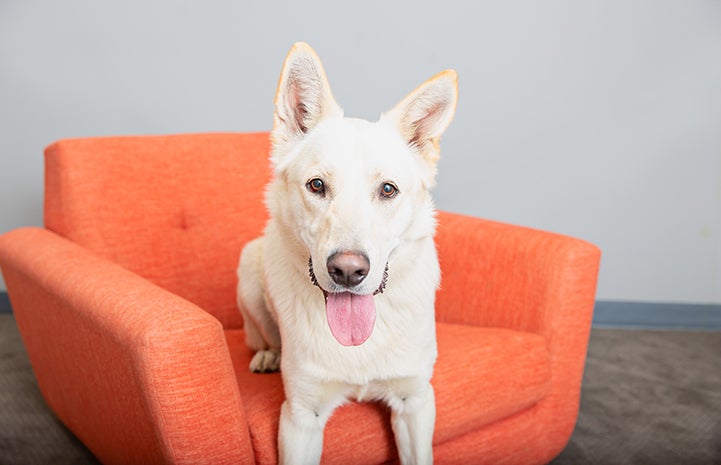 When I announced our goal to achieve no-kill nationwide by 2025, I called it our "moon shot." Referencing President Kennedy's famous speech, that term is important in so many ways. It means we are determined to achieve what was once thought impossible. It means we must think beyond what is and imagine what could be. It means that all of us involved in this work must be brave and leave the safety of our comfort zones and commit to the historic achievement of ending the killing in America's shelters.
Best Friends is pushing the envelope and setting a cracking pace for the movement.
I'm so proud of our staff, and to be with them and all of our members and volunteers on this historic journey. In 2018, our team accepted the challenge and reached beyond their day-to-day comfort zones to do things we might not ever have imagined. Whether it was participating in our new staff embed (embedding Best Friends staff with shelter staff) and mentorship programs, creating new ways to collect and use data, looking at struggling shelters and communities with a new understanding and compassion, or reaching outside of our community to collaborate with new partners to Save Them All, we challenged ourselves to go faster and further than ever before.
Working with our partners, we are gaining momentum at an incredible pace and 2019 is going to be even better! As we speed headlong into the new year, let's look back and celebrate some of what we accomplished together in 2018. Here are our top 10 highlights from a year filled with successes for the animals.
TEN! For the first time in the history of our movement, we have the intel
Good data is critical to lifesaving, and this past year we were able to make significant advancements in this area. We developed the first-ever national master shelter list for brick-and-mortar shelters and associated jurisdictions in our industry, using data from 2017. We also refined our data to give us a much more accurate picture of what is happening at the local level, especially in rural and underserved communities. That means we now have data for 81 percent of all communities with shelters (up from 53 percent last year). Given that some small operations are still keeping paper records, that's darn good.
One major benefit to this improved data set has been more accurate stats for several of our priority lifesaving states. For example, we have increased our data for Texas from 50 percent to a whopping 90 percent. Similar increases were seen in other key southern states: Alabama, 28 to 85 percent; Kentucky, 42 to 92 percent; Mississippi, 21 to 73 percent; Oklahoma, 18 to 62 percent.
That's a big woohoo! We now have a better understanding of the national picture and can target our efforts to the places that need the most help.
NINE! Brand of the year
Best Friends was named Animal Welfare Nonprofit Brand of the Year for the fourth time. We achieved this honor in the 2018 Harris Poll EquiTrend® Study,* as well as the Most Trusted and Most Loved Brand in the same category. Why does this matter? It means that people recognized Best Friends, which means that we can reach more people with our message. We are going to need all of those people on board to help us achieve no-kill nationwide by 2025.
EIGHT! Best Friends Animal Sanctuary rocks!
The Sanctuary continued its vital role as the heart of Best Friends and expanded to meet our ever-growing needs. The Sanctuary's animal care team continued its unparalleled standard of care for Sanctuary animals. Many Sanctuary staff also deployed to frontline shelters to help with their lifesaving efforts, regularly participating in the mentorship programs, deployments for Hurricane Harvey and a transport project out of Texas. These experiences have allowed our animal caregivers to share their specialized knowledge and connect with what we are all working toward by participating in animal rescue on the front lines.
SEVEN! The big brain of Best Friends
We focused on harnessing our collective brain power. A year ago, our mentorship program didn't even exist. We've now built that program significantly and we are doing what no other national organization is doing: taking the collective brainpower of our 800-plus staff and partners to help mentor, train and facilitate program development with key and targeted shelters across the nation.
SIX! Changing laws to support achieving no-kill by 2025
We helped change the laws across the nation to protect homeless animals. More than 96,000 animal lovers took action through our advocacy alerts, sending more than 200,000 messages to policymakers. Our advocacy team tracked more than 1,200 bills affecting pets and the people who love them. California became the second state in the nation to pass a statewide no-kill resolution, and Los Angeles is now on the verge of becoming a no-kill city. That remarkable achievement paves the way for other states to follow California's lead.
We spearheaded the passage of three new laws in Illinois. These measures will help fund the University of Illinois shelter medicine spay/neuter clinics and county pet population control programs, allow animal control facilities to increase innovative lifesaving programs such as foster care, require transparency in animal shelters and prevent reckless owners from owning dogs for a certain period of time. In addition, we helped pass laws in Delaware to legalize return-to-field programs for community cats and got rid of the automatic "dangerous dog" stigma on dogs and puppies seized from fight busts in Massachusetts.
We also worked with the International Municipal Lawyers Association (IMLA) to release its new Model Dangerous Dog Ordinance, a resource that attorneys around the country can use to draft local dog laws in their communities. We worked with IMLA staff for years to help draft and refine the new model ordinance, helping to ensure that it is breed-neutral and behavior-based, with provisions regulating reckless dog owners.
FIVE! More progress on puppy mills
We made incredible gains in our efforts to stop puppy and kitten mills and their cycle of cruelty. In 2018, more than 30 communities (including Atlanta, St. Paul and Salt Lake City, as well as the entire state of Maryland) enacted laws to ban pet stores from selling puppies and kittens from commercial breeding mills.
Our Best Friends advocacy subscribers sent nearly 18,000 emails to their representatives in opposition to the dangerous King amendment in the U.S. Farm Bill, and their representatives listened. Congress passed the farm bill without the King amendment. Had it been included, many important animal welfare laws could have been repealed, including bans on the sale of dogs and cats from inhumane breeding mills. Not only would existing laws be at risk, but states could have been prohibited from passing new laws to protect animals.
We defeated a dangerous proposal by the USDA to allow third-party inspections of puppy mills, which would have effectively given puppy mills the authority to police themselves. Our advocacy alert generated more than 10,000 emails to the USDA in only 48 hours. Also, under pressure from Best Friends and other organizations and individuals, the outgoing Michigan governor vetoed the terrible Petland bills, which would have prevented local governments from enacting retail puppy mill sales bans and would have repealed all existing bans.
FOUR! Training animal control officers in the ways of no-kill
Our shelter outreach team trained close to 700 animal control officers and shelter staff in 14 different states on ways to resolve community cat complaints and incorporate more effective strategic animal control practices; conducted 11 field operations assessments in eight different states; and conducted 11 shelter operations assessments in eight different states.
Through our community cat programs (CCPs), which provide lifesaving trap-neuter-return services for free-roaming cats, 34,695 cats were spayed or neutered. Instead of starting two new CCPs, as originally planned, we doubled the fun by launching CCPs in four communities: Stanislaus County and Bakersfield in California, Osceola County in Florida and Jefferson Parish in Louisiana. The combined annual goal for these cities is fixing 10,500 cats, so we will be spaying or neutering another 31,500 cats by 2020.
THREE! Hitting the front lines
In 2018, our regional programs opened a new action front by placing Best Friends staff in the trenches with our shelter partners, working shoulder-to-shoulder with shelter staff in some of the most challenged and challenging shelters in the country. These efforts include the Palm Valley Animal Center embed program in Edinburg, Texas; the Harris County embed program and CCP in Houston; and the building of a relationship and CCP work in Riverside County, California.
We began the embed program with Palm Valley Animal Center, increasing the number of lives saved by 43 percent and decreasing euthanasia by more than 6,000 animals. Many of Best Friends' staff participated in our short-term embed program there. I know it was a life-changing experience for many of them, and it has been an invaluable opportunity to learn on the ground what the most challenged shelters will need to reach no-kill by 2025.
We partnered with Harris County Animal Shelter in a big way, embedding staff and operating a community cat program there. The result is that we helped this once-struggling shelter achieve an 89.1 percent save rate for dogs and an 84.2 percent save rate for cats from October 2017 through September 2018. And our work with the Riverside County Department of Animal Services convinced them to launch a lifesaving initiative to reach a 90 percent save rate by 2023. In addition, the Pet Alliance of Washington was established to bring the state to no-kill by 2020.
Another development that I'm super excited about is our acquisition of a property in Houston that will serve as the Best Friends Lifesaving Center in that city. It will be a regional hub that will enable us to expand our effectiveness across Texas, the state with the highest number of shelter killings in the country.
TWO! Where the rubber meets the road
Across the nation, 133,816 animals were directly helped by Best Friends programs and 11,503 animals were admitted to Best Friends from October 2017 to September 2018 (our fiscal year).
ONE! No-kill is coming to your town (if it hasn't already)
And the best news of all: There are currently 2,062 no-kill communities, and that number is growing fast. I'd like to thank all of Best Friends' supporters and partners for enabling this historic, lifesaving work. None of this would be possible without the passion and commitment of our members, friends and the animal-loving public.
So, let's blast off to a happy new year! Together, we will achieve our moon shot and Save Them All. In 2019, let's go for warp speed!
--------------
*Best Friends Animal Society received the highest numerical Equity Score and the highest numerical score relating to Trust and Love among Animal Welfare Nonprofit brands included in the 2018 Harris Poll EquiTrend® Study. Please go to the Best Friends FAQs page for further details.