The loss of an unsung hero
I've been in the lifesaving game for close to 30 years now, and for all of that time, there have been hardworking animal lovers quietly moving mountains to find happy endings for pets who otherwise wouldn't have had one. They don't do it for headlines or the spotlight; they do it because they love animals. Because it's the right thing to do. And their efforts often go unheralded.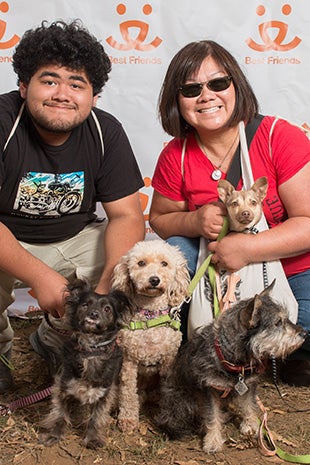 That's why I was particularly moved by a recent New York Times story about one such extraordinary volunteer. Her name was Valerie Louie and she lived in Northern California. A nurse for more than three decades, Valerie loved helping homeless pets as much as she loved caring for humans.
The picture of her in the story is from one of our Strut Your Mutt events. Valerie raised funds for Rocket Dog Rescue, where she acquired her own dog, Ida, a blind bulldog who had endured a lifetime of breeding. Like many of us, Valerie had a soft spot for hard-to-place dogs, such as seniors or those with medical needs or behavioral quirks.
During this year alone, Valerie found homes for 80 dogs, before she fell ill with COVID-19 in November. Sadly, Valerie lost her battle with the coronavirus, leaving behind a network of heartbroken colleagues, friends and family. My heart breaks along with them.
She also left behind a beautiful legacy of the extraordinary difference one passionate, dedicated animal lover can make. Valerie exemplified all the facets of kindness, compassion and determination that so many volunteers show when they do the hard work of saving lives, on their own time and often on their own dime.
Her legacy will guide me to always remember that people like Valerie are the backbone of our movement and to thank volunteers profusely every chance I get. For life is often far too short and I don't want to miss an opportunity to let volunteers know that they are heroes in my eyes.