Solarflare the cat passes away, leaving behind a legacy of resilience and joy
If there's one thing that 2020 has taught us all, it's that resilience is the key to survival. Can we, in the face of adversity, adapt and overcome together? Thanks to some much-needed lessons from a very special cat, I can assure you that the answer is a resounding yes!
Yesterday evening, we said goodbye to Solarflare, a special-needs cat at the Sanctuary who embodied the resilience and joy that I think so many of us are in search of right now. He passed away peacefully, surrounded by devoted caregivers and friends who had the pleasure of sharing their days with him. And while the loss of this special soul is heartbreaking to all who knew him, his remarkable story and zest for life can only be celebrated and emulated, not mourned.
Solarflare came to the Sanctuary from a Best Friends Network partner in New York City in 2016. He was just four years old and had been hit by a car and partially paralyzed. But what might have spelled the end for most cats was just the beginning of a new phase of life for him. He moved right into his digs at Cat World, a building designed for special-needs cats who struggle with lower body mobility issues, and while he was at it, he moved right into everyone's hearts — caregivers and volunteers alike.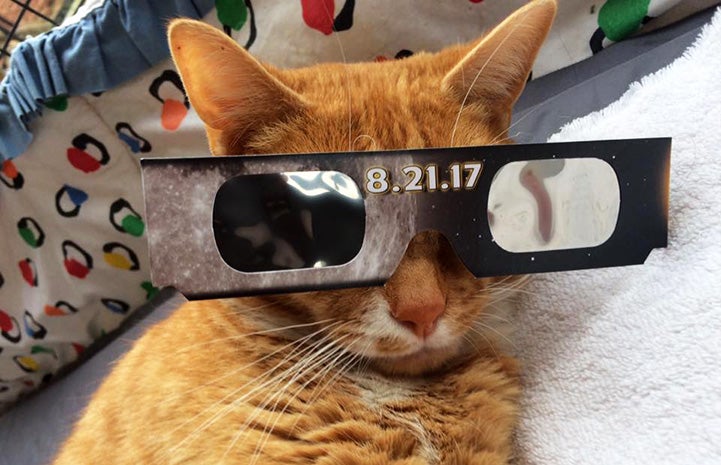 He basked in the sun on his catio, scooted happily around in the red sand, snoozed on people's feet, tackled physical therapy like a professional athlete, and happily claimed whatever slice of floor space he wanted, even if it meant someone had to mop the floor around him. Some folks even created a coloring therapy page in his image. Solarflare was a badass, and he was beloved. He showed us that special circumstances and second chances are ours for the taking and that life is too precious to spend time worrying about what you can't do instead of indulging in all that you still can.
Here are a few thoughts from some of the people who knew him best:
Back when I was a volunteer, Solarflare was what inspired me to move to Kanab and work in Cat World. I just could not get him out of my head. I thought he was my spirit animal. Then I found out that everyone thinks that he is their spirit animal. – Annabelle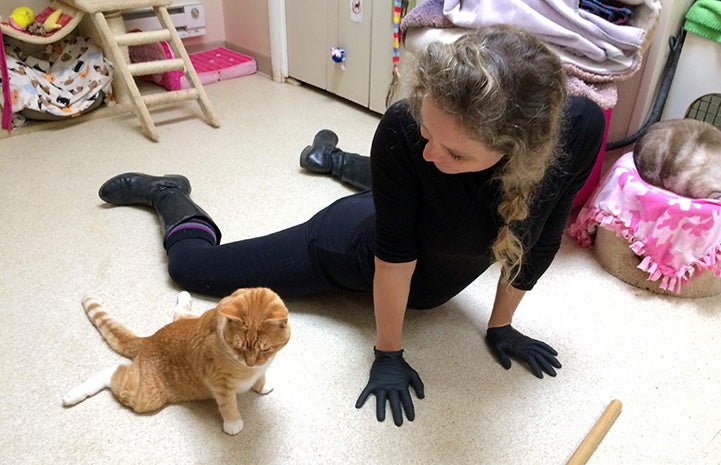 It's fitting that today has been an overcast day. Solarflare brought light and sunshine to everyone who met him. I'm not sure there was a visitor, volunteer or staff member who didn't immediately fall in love with Solarflare. We have a lot of special-needs cats that inspire us every day and Solarflare was definitely one of them. Even though his life changed significantly after he was hit by a car, he found so much to be happy about: sunshine, baby food, shoes, soft beds, heaters, catnip toys, walks in the sand, his cat buddies, cozy blanket caves and heating pads. – Amy
To have met him was to love him. – Tina
I think we could all use a little Solarflare in our lives right now. A reminder that obstacles are to be overcome, friends trusted, and new opportunities embraced. This is what makes sharing our lives with pets so special. Beyond their goofy and glorious individual personalities and the companionship they provide us with, they show us day in and day out how to live life to its fullest, even in the face of seemingly insurmountable challenges.
Please take a moment with me and for yourselves to celebrate this fabulous feline dude who we had the pleasure and privilege of knowing.
Farewell, Solarflare. We love you, buddy. Thank you for everything.