Vicktory dog Cherry, known as the 'heartbeat' of his family, passes away at age 13
It was almost 13 years ago that the Michael Vick dogfighting ring was busted and his canine victims were taken into protective custody by law enforcement. And it was 12 years ago this month that the 22 most challenging of those dogs came to Best Friends Animal Sanctuary. So, it shouldn't be a surprise that these wonderful dogs have almost all passed over the Rainbow Bridge, but it is always a shock to learn that another has passed because they have each been such an important part of our lives.
It's only been a few months since we said goodbye to Mya and Curly, and now another legend has ascended.
The death of Vicktory dog Cherry
It's with the great sadness that I share the news that Cherry the Vicktory dog has passed away. And while we say goodbye to him with heavy hearts, we look back at his life and cannot help but smile.
What a life he had!
Cherry arrived at Best Friends looking like he wanted to stick his head in a hole and never come out. The word "withdrawn" doesn't even begin to describe it. He was living in his own world, trapped in a nightmare replaying over and over inside his head.  At least, that's our best guess. How can you ever really know what's happening inside a dog's mind? All we know for sure is that he was filled with fear. He tried to hide.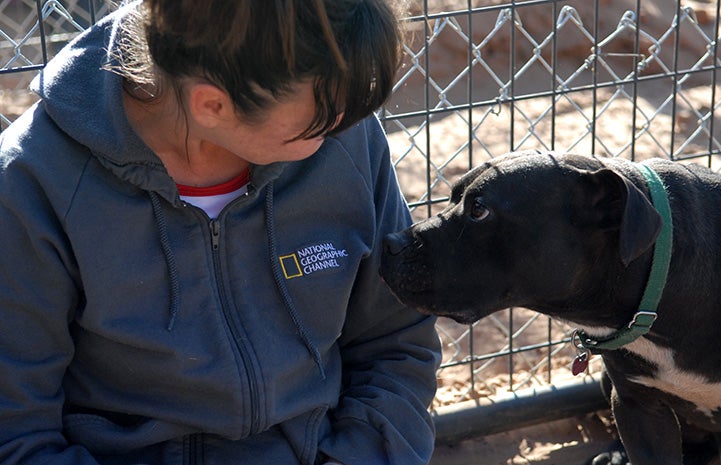 Former Michael Vick dogs come to Best Friends
He was brought to Best Friends along with 21 more of the most traumatized dogs from the dogfighting ring on the property of NFL player Michael Vick. All of them were in bad shape psychologically to different degrees, and it showed up in different ways. Cherry was one of the "let me crawl off into a corner and be alone" ones.
These dogs had suffered unthinkable abuse.
But every single one of them began feeling safe at Best Friends. And when Cherry was ready to get his head out of that corner, he began to trust and started making friends. It turned out that his real personality was snuggle-bug. That was a favorite activity for the rest of his life — cuddling.  He loved it.  He wanted to cuddle with people, cuddle with other dogs and cuddle with cats. Yes, cats.
It was so wonderful to see Cherry become the squooshy-faced lap dog he'd always wanted to be — wonderful because it happened for him and wonderful that he'd come so far from his sad past of abuse.
Cherry adopted by a loving family
He was shy, without a doubt, but ready all the same. And when Paul and Melissa came to meet him, thinking of adopting him, he stayed in his safe place — under a desk. But they were patient. They fell in love with his sweet spirit as he fell in love with their dog Madison, and he was welcomed into their family. And that's where he remained the heartbeat of their home for more than a decade.
He did more than survive his past. He went on to live a pretty big life. He had a couple of cat friends, whom he adored. He had his people who helped him get less and less shy with strangers. He later had children in his life and he adored them. He had a best-doggie friend, of course. He kept up with all of his fans and well-wishers, making public and media appearances as a breed ambassador, sharing his story and showing people that rehabilitation after trauma is real.
And he became what once upon a time no one would have ever guessed a dogfighting victim could become: a genuinely well-adjusted family dog.
This is so important because those dogs might all have been killed as "dangerous," without anyone really meeting them or giving them half a chance to show they could be something else. And Cherry loved his family life so much. It's unthinkable how easily that life might have been taken away from him.
Cherry and the other Vicktory dogs have changed individual hearts, minds and policies. And in doing so they have changed the world.
We are so sorry that his life is over and so sorry for his family's loss. But at the same time, we are also grateful that he was here on earth with us all, and know people everywhere who were inspired by him and whose lives are a little bit better because he was there.
May he rest in peace.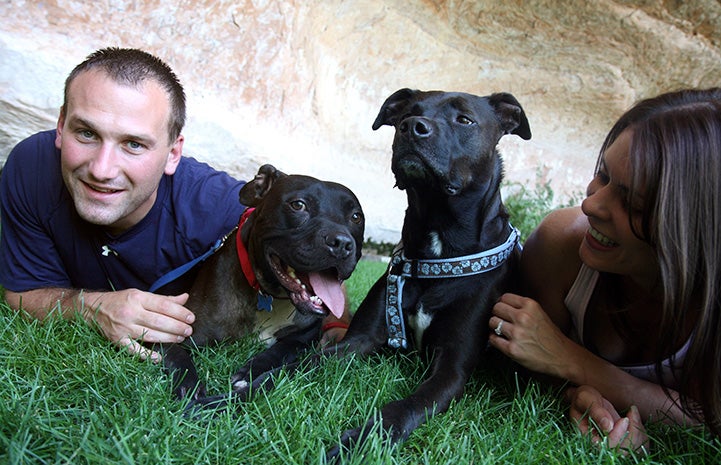 Tributes from his family and caregivers
The words of his family and some of his caregivers during his time at Best Friends, beautifully illustrate his specialness.
From Paul and Melissa Fiaccone:
There is no easy way to say this or words to express how much this hurts us but today we had to say goodbye to the heartbeat of our family. Cherry had grown lethargic and lost weight over the past couple of weeks. Unfortunately, it was a mass growing on his spleen that was deemed operable, but with surgery his life expectancy was four to six weeks and four to six months with surgery and chemo. After hearing this news, we spent the next few hours lying with our boy, much like our first meeting at Best Friends. Not many words were spoken but the message was clear from him. He was tired, he was ready. Melissa and I held his paws and hugged him tightly as he crossed Rainbow Bridge. He was extremely peaceful and we are honored to have been with him at his time of need.
As we sat with our boy Melissa uttered the words: "I don't know who I am without him. He has changed my life so significantly that I don't know who I'll be now". For those of you who don't know, Melissa went back to school years ago and received her master's degree, became a BCBA (board-certified behavior analyst ) and basically changed her career to work with children on the autism spectrum. This career change was inspired by Cherry, and today she works at a school that specializes in autism.
I had a similar feeling come over me as I look back over the past 10-plus years living with Cherry. He taught us so much. He has affected my life as much as any human has. I wouldn't be the person, the husband or the father I am today without him. The most important lesson he has taught me, though, is to live. Life will always throw you curve balls, but live it and live it well. Cherry gave life all he had and he rung every ounce out of his time here. He just loved life and loved sharing his love with his family, friends and whomever he met.
Today we mourn the loss of Cherry, but tomorrow we live. We live for Cherry.
Love,
Melissa and Paul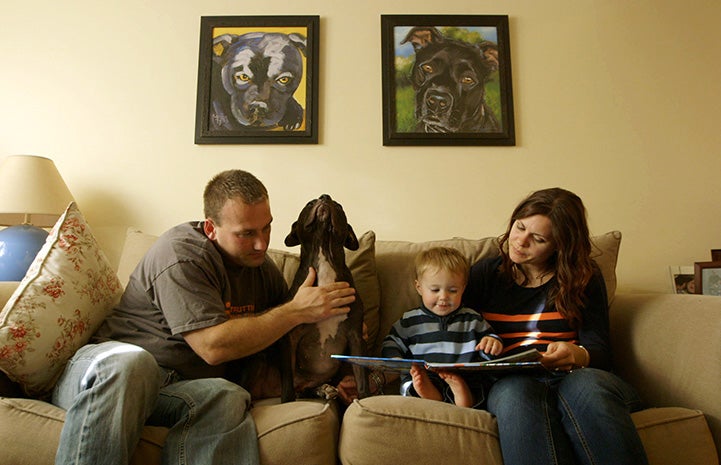 From Michelle Weaver:
In doing this work I have had the opportunity to meet many dogs. While I love and care about each one that crosses my path, every now and again I meet one that I have an instant and deep connection with. Cherry was one of those. I can't easily put into words the impact he had on me, but I can say it was profound. While I am deeply saddened by his departure, I take great comfort in knowing that this brave, silly, loving dog found his perfect family. I am forever grateful to Paul and Melissa for taking a chance on Cherry and for helping him to become the well-adjusted and beloved family pet he deserved to be.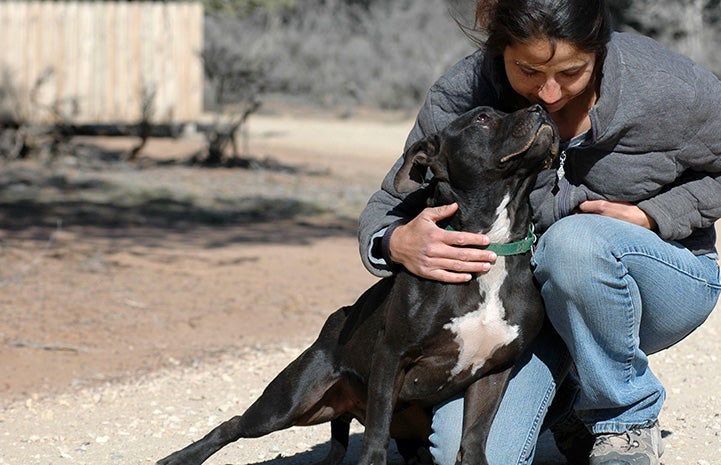 From Angela Rovetto:
The change in Cherry from Day One to what he blossomed into with his family: I don't think on my most optimistic day I could ever have imagined how limitless his happiness and how expansive his goobery smile could be.
Most of my memories of Cherry are from his earlier stages, when open space was terrifying and his kennel card picture was the sweet but scared face and expression we knew as Cherry back then.
For all the strides he made at Dogtown, it's home where he truly became the best version of himself, thanks to his amazing family. The first time I saw a post of him snuggling with his kitty at home, it drove home yet again a lesson all Vicktory dogs taught me in some way: Never underestimate or try to predict to what degree dogs can move beyond what their experiences have been or what they came from. They're much more capable than people in this way.
I'd always say that if people could be more like (insert any Vicktory dog's name here) when faced with trauma or challenges, we'd be so much better off.
All these years later, I still think about the Vicktory dogs as motivation to keep on keeping on when times are challenging. I'm truly grateful to all the Vicktory dog parents who continued to allow us to be a part of their lives remotely.
My heart breaks with each one who passes. But there's also gratitude for their existence, the experiences with them and wisdom they taught us all.
From Mckenzie Garcia:
I knew Cherry well. What a sweet soul. It was such an honor to watch him come out of his shell, literally one step at a time — from being able to walk on a leash to pulling on the leash so he could get to a doggy play date quicker. Little did he know that even in his early days at the Sanctuary, when he was the most scared, that he was a leader. There was something about him that could really reach into a person. He had a calming effect on people and animals, and both seemed drawn to him. I'm not sure if it was because even after all he went through that he continued to have a light about him or if he was just special — probably a little of both.
After going to an amazing home where he was encouraged to bloom, all his potential came out. No dog was more deserving. I know he'll be missed, but I also know he'll be remembered — remembered for the silly guy that he was, remembered for what he went through, and remembered for showing the world that all dogs are individuals and should be treated as such. And for that last one, he'll always be a hero in my eyes.
I will never forget the handsome, gentle dog who paid his good fortune forward by being an ambassador for his breed at Best Friends events, posing with legislators and lobbyists to help change laws and being the beautiful red carpet "celebrity" for the Hamptons Film Festival's screening of the The Champions, in which he stars.
Cherry, we will miss you. I like to believe that you do know how much you helped to change the world just by becoming the beautiful creature you were always meant to be.
Together we will save them all!