The Vicktory dog legacy
Image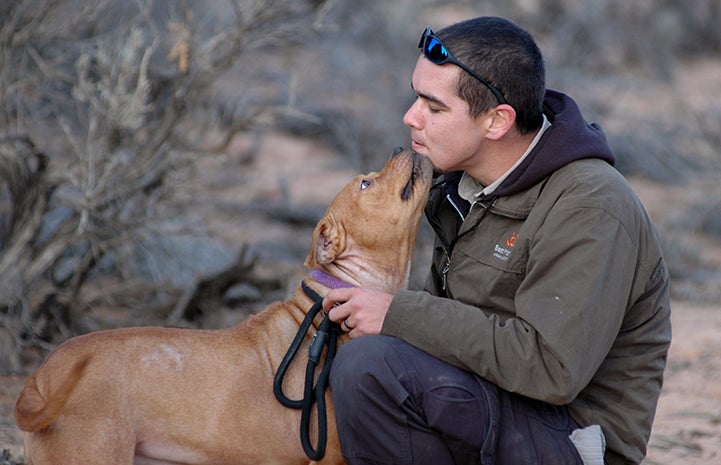 When 22 of the 48 canine survivors of Michael Vicks' Bad Newz Kennels dogfighting operation arrived at Best Friends 10 years ago, they were understandably frightened and confused.

In April of 2007, they had been rescued from Vicks' property, where they were victims of the daily abuse doled out by Vick and his cronies. In addition to harsh fight training methods, these dogs were subjected to being tested in sparring fights and forced to fight in money matches. Females were forced to breed and had their teeth removed to be more compliant. They also witnessed the punishment of dogs for poor performance, which included the execution of at least seven dogs by brutal means.

We knew it would take a while for the true nature of these traumatized animals to emerge and we knew that the spotlight was on our work with the dogs we dubbed the Vicktory dogs. Were they the ticking time bombs that the media and some national organizations portrayed them to be? Or were they, as we believed, just dogs who should be given a chance to prove themselves? While the trial of Vick and his fellow abusers was over, the jury was still out on these unfortunate animals.

The Vicktory dogs were no longer fighting for their lives. Their next journey was a fight for dogs like them who, through no fault of their own, have been imprisoned and forced to fight for their lives or who have been scapegoated and maligned simply because of their appearance.

To track their progress, we established a disciplined protocol under the direction of Dr. Frank McMillan, Best Friends' director of well-being studies and author of the textbook Mental Health and Well-Being in Animals and a book for the general public titled Unlocking the Animal Mind.

Every interaction with each of the Vicktory dogs was documented, along with a daily report from caregivers on their response to enrichment, play, human proximity and contact, as well as their relationships to other dogs. Like child soldiers forced into barbarism by a brutal warlord, some of the Vick dogs were unable to recover fully from the physical, mental and emotional toll taken by Bad Newz Kennels, but most did.

The remarkable story of the work done by Best Friends and others to save the Vick dogs and how most of them went on to become family pets, therapy dogs, agility dogs and, well, just plain dogs is documented in the award-winning film The Champions.

It wasn't long before their example began to reap benefits for other dogs rescued from dogfight rings. At that time, existing laws in most states and even the policy of some of the largest national animal welfare organizations called for the automatic killing of dogs rescued from dogfighting operations.

In late 2008, an infamous fight dog breeder, Ed Faron, was busted in North Carolina. All of the dogs seized, including puppies born after the bust to pregnant females, were killed by a court order and with the support of the Humane Society of the United States (HSUS), in keeping with their long-standing policy. This event precipitated a summit meeting among leading national organizations, including Best Friends and HSUS, at which the Vicktory dogs were "Exhibit A" for the case to allow dogfight ring survivors to be evaluated as individuals.

To their credit, HSUS changed their decades-old policy regarding the canine survivors of dogfighting operations. HSUS is now a leader in calling for the evaluation of fight bust dogs as individuals rather than condemning them as a category. The Vicktory dogs were instrumental in HSUS making that decision.

Over the years, these remarkable animals, who surprised the world by turning out to be just plain dogs, have paved the way for change. Thanks to advocacy based on their example, five states (most recently California) have enacted legislation that ends the automatic killing of dogs rescued from fighting rings and calls instead for the individual evaluation of each dog as suitable for adoption or placement with a rescue organization. Similar bills are in the works in New Jersey and Minnesota.

Lucas, one of the dogs ordered by the court to remain at Best Friends for life because of his notoriety as Michael Vick's champion fighter, was a frequent visitor to my office and would routinely spend his day in the adjoining reception area. Lucas loved people and was a favorite with staff and visitors alike. His heavily scarred muzzle told the sad story of his past, but his bright-eyed happiness in the company of kind people told the story of an entirely different dog and the type of life he might have enjoyed.

You can read more about the individual Vicktory dogs here. Sadly, after 10 years, a number have crossed the Rainbow Bridge, but their legacy as a force for good survives.