Arlyn Bradshaw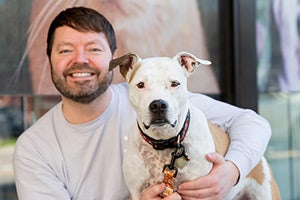 Senior Advisor for Community Relations
Arlyn Bradshaw serves as senior advisor for community relations in the Office of the CEO for Best Friends. Previously, he held the position of Mountain West regional director, coordinating lifesaving collaboration across the eight states of the Mountain West area.
In addition to Arlyn's work with Best Friends, he is an elected official as a member of the Salt Lake County Council. One of his top priorities as an elected official is ensuring that Salt Lake County Animal Services, the largest animal services agency in the state, maintains its status as a no-kill shelter.
Arlyn is an alumnus of the University of Utah, holding a B.A. in political science and a master's degree in public administration. Before coming to Best Friends, he worked at the University of Utah as the assistant dean of Students. Originally from rural Idaho, Arlyn has been active in Utah politics and the University of Utah community for more than a decade. He currently lives in Salt Lake City with his partner, Neil Webster. They have three rescued pit bull terriers, Bella, Atticus and Brass, and a dachshund named Roderick.