Image
Best Friends Professional Development Symposium: Reaching New Heights in Contemporary Animal Services Presented in partnership with Southern Utah University (SUU)
The Best Friends Professional Development Symposium is a dynamic online learning event for animal services professionals and students devoted to creating lifesaving innovation and revolutionary change for pets and people. Our very first online symposium was held on September 16-17, 2020.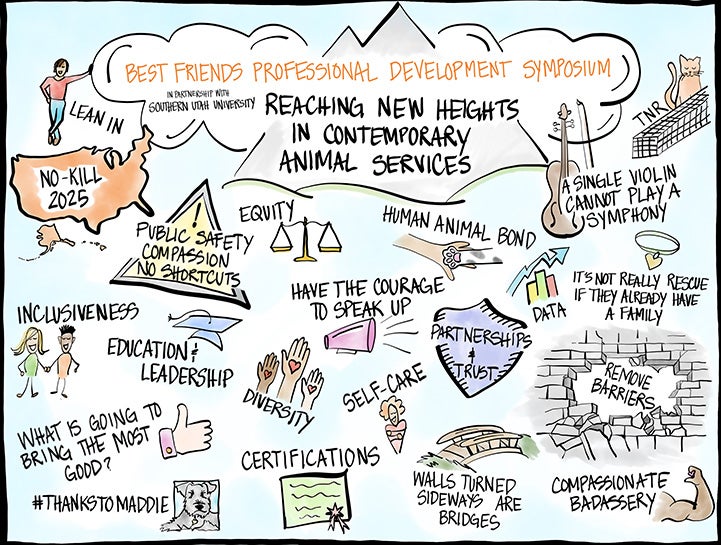 Here's what a few attendees had to say:
"It was well put together and the speakers kept me engaged. I liked the bite-size shorter presentations. I also liked the opportunities to see who the leaders in animal welfare are, and to hear about how they are successfully running programs to save more animals. It was inspiring."
- Vicki, Massachusetts
"The speakers were great and the session length was perfect. Lots of great info!"
- Bethany, West Virginia
"Exploring these subjects was mentally stimulating. This kind of information is going to influence and bring a new light to animal welfare."
- Robert, Louisiana
Be sure to check back here as we plan our events for 2021. We will update this page as soon as more information is available. In the meantime, we are happy to offer you the following educational opportunities:
To get regular updates on educational events, be sure to like and follow our Best Friends Lifesaving Resources Hub Facebook page.
For information regarding future professional development opportunities, sign up below:
Questions? Email us at conferences@bestfriends.org.