Image
Turning losses to lifesaving in the Rio Grande Valley
The Rio Grande Valley once suffered the bleakest of outlooks for dogs and cats entering its animal shelters. With shelters full and resources in short supply, only one out of three who entered were coming out alive. But that was before Best Friends took up the challenge on behalf of the valley's homeless dogs and cats, and those who care for them.
It's become nothing short of a revolution in pet lifesaving, and you're invited to take part. Join the local action team to start volunteering, fostering or adopting, maybe even working with local leaders for change. And spread the word!
Hablar Español? Haga clic aquí.
Networking to save lives
At Best Friends, we are all about uniting with you and fellow animal advocates to make sure every pet who can be saved is saved.
Here's a list of valley shelters, rescue groups and like-minded partners in lifesaving:
Brownsville Animal Regulation and Care Center
The Humane Society of Harlingen
Palm Valley Animal Society
Not from the Rio Grande Valley?
Events and activities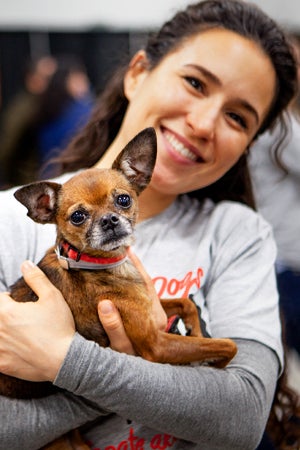 Some 60,000 pets make their way into animal shelters throughout the Rio Grande Valley each year. Puppies, kittens, cats and dogs of all ages and sizes will be available to adopt during the three-day event. New pet parents will also go home with a free bag of goodies and coupons for their new pet.
Looking for a way to multiply your impact and meet your fellow animal advocates? Check out these upcoming local events.
PetSmart Charities national adoption events in partnership with Best Friends Animal Society:
Friday, March 4 from 3–5:30 p.m.
Saturday, March 5 from 11 a.m. – 4 p.m.
Sunday, March 6 from 11 a.m. – 3 p.m.
Two Locations:
PetSmart
2317 W. Lincoln Street
Harlingen, Texas 78552
PetSmart
7600 N 10th St., Bldg. 200
McAllen, Texas 78504
The event is equipped to welcome Spanish-speaking communities with bilingual staff on-site.
Meet your next family member
It's not as hard as you might think to become a lifesaving hero. There are so many lovable dogs and cats just waiting for you to adopt or foster them.
Join the Rio Grande Valley action team
Help create big change for the pets and people in your community.
Connect with your local team of advocates today.
About Best Friends
Best Friends Animal Society is working to save the lives of cats and dogs all across the country, giving pets second chances and happy homes. As recently as 2016, nearly 1.5 million cats and dogs were killed in America just because shelters didn't have the community support or the resources needed to save them.
Best Friends is committed to change that by 2025, by operating the nation's largest sanctuary for homeless animals and working with shelters across the country. Together, we can Save Them All.